50 to 60 injured after car drives into hikers at Virginia parade, emergency official says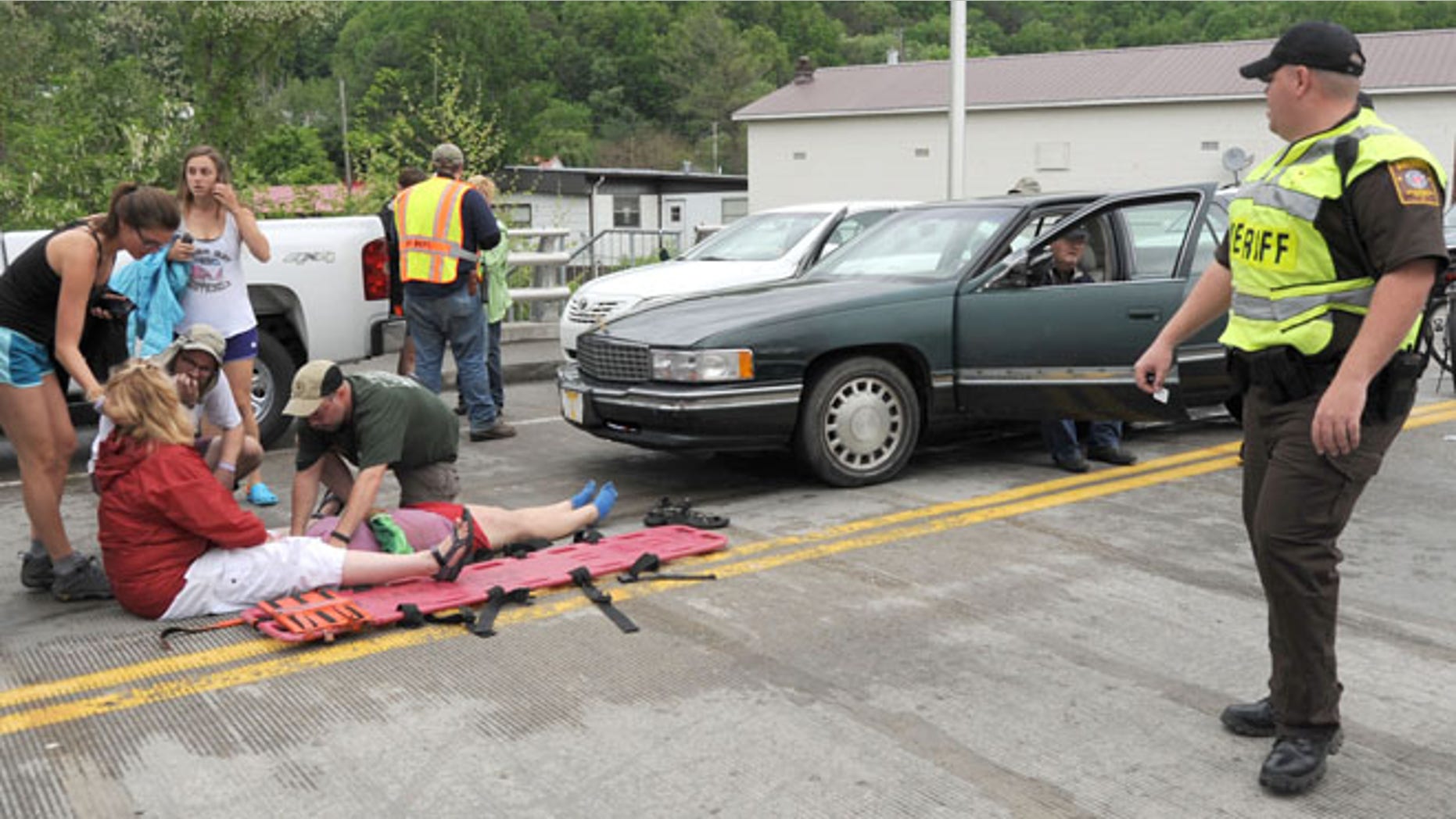 DAMASCUS, Va. – About 50 to 60 people were injured Saturday when a driver described by witnesses as an elderly man drove his car into a group of hikers marching in a parade in a small Virginia mountain town.
It happened around 2:10 p.m. during the Hikers Parade at the Trail Days festival, an annual celebration of the Appalachian Trail in Damascus, near the Tennessee state line about a half-hour drive east of Bristol.
Washington County director of emergency management Pokey Harris said no fatalities had been reported.
The injuries ranged from critical to superficial, he said. Three of the victims were flown by helicopters to regional hospitals. Another 12 to 15 were taken by ambulance. The rest were treated at the scene.
At a news conference, Damascus Police Chief Bill Nunley didn't release the driver's name or age but said he was participating in the parade. Multiple witnesses described him as an elderly man.
Nunley said the man's 1997 Cadillac was one of the last vehicles in the parade and the driver might have suffered an unspecified medical problem when his car accelerated to about 25 mph and struck the crowd on a two-lane bridge along the town's main road. The driver was among those taken to hospitals.
"It is under investigation and charges may be placed," Nunley said.
There were ambulances in the parade ahead of the hikers and paramedics on board immediately responded to the crash.
Nunley cited the "quick action" by police, firefighters, paramedics and hikers to tend to the victims, including a Damascus volunteer firefighter who dove into the car to turn off the ignition. The firefighter, whose name wasn't released, suffered minor injuries.
Nunley said about 1,000 people participated in the parade. Nunley said the driver was a hiker, too -- someone who had traversed the Appalachian Trail in the past.
What caused the car to drive into the crowd wasn't immediately known. A thud could be heard, people yelled stop, and at some point, the car finally stopped.
Witnesses said the car had a handicapped parking sticker and it went more than 100 feet before coming to a stop.
"He was hitting hikers," said Vickie Harmon, a witness from Damascus. "I saw hikers just go everywhere."
Damascus resident Amanda Puckett, who was watching the parade with her children, ran to the car, where she and others lifted the car off those pinned underneath.
"Everybody just threw our hands up on the car and we just lifted the car up," she said.
Keith Neumann, a hiker from South Carolina, said he was part of the group that scrambled around the car. They pushed the car backward to free a woman trapped underneath and lifted it off the ground to make sure no one else was trapped. Another person jumped inside to put it in park.
"There's no single heroes. We're talking about a group effort of everybody jumping in," he said.
Mayor Jack McCrady encouraged people to attend the festival on Sunday, its final day.
"In 27 years of this, we've never had anything of this magnitude, and is it our job to make sure it doesn't happen again," he said.
McCrady said a donation fund was being set up to assist the injured, some of whom don't have medical insurance.
"We want to make sure they don't suffer any greater loss than they already have," he said.