4 arrested in murders of 2 Mississippi police officers during traffic stop
NEWYou can now listen to Fox News articles!
Mississippi's governor says his state is in "mourning" Sunday after the shooting deaths of two police officers Saturday night during a traffic stop in Hattiesburg.
Officer Benjamin Deen, 34, had stopped a 2000 Gold Cadillac Escalade in an industrial part of the city at around 8:30 p.m. local time Saturday, said Warren Strain, a spokesman for the Mississippi Department of Public Safety. Officer Liquori Tate, 25, arrived afterward to assist him, shots were fired, and both officers were wounded.
Strain said both officers died of their injuries at a hospital. The officers' deaths are reportedly the first for the Hattiesburg police force in 30 years.
"This should remind us to thank all law enforcement for their unwavering service to protect and serve. May God keep them all in the hollow of his hand," Mississippi Gov. Phil Bryant said.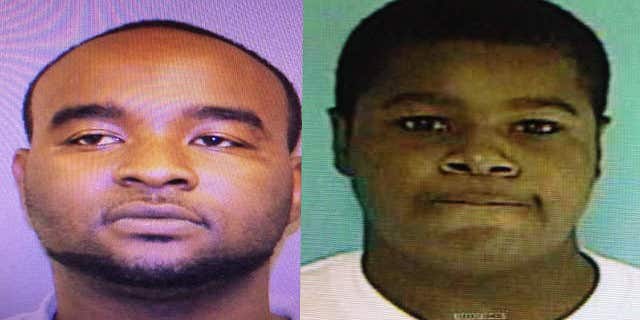 Warren Strain, a spokesman for the Mississippi Department of Public Safety, said Marvin Banks, 29, and Joanie Calloway, 22, were each charged with two counts of capital murder. Banks was also charged with one count of being a felon in possession of a firearm and with grand theft for fleeing in the police cruiser after the shooting, Strain said.
"He absconded with a Hattiesburg police cruiser. He didn't get very far, three or four blocks and then he ditched that vehicle," Strain said.
Banks' 26-year-old brother, Curtis Banks, was charged with two counts of accessory after the fact of capital murder.
A fourth suspect, Cornelius Clark, 28, was charged with obstruction of justice.
Strain said officers arrested the three Hattiesburg residents at different locations overnight without resistance.
The Hattiesburg American reports that Curtis Banks was brought to the Mississippi Highway Patrol Troop J headquarters Sunday at around 3 a.m. local time. His brother Marvin Banks was arrested about two hours earlier.
The Jackson Clarion-Ledger reported that as reporters were asking Curtis Banks if he had shot two of the Hattiesburg patrolmen, he blurted out "no sir, I didn't do it."
"All I know right now is that there was a traffic stop and someone started shooting at them and both of the officers were struck," Lt. Jon Traxler, a police department spokesman, said Saturday night. He said he didn't know how many shots were fired, or exactly by whom, adding that was now part of the investigation.
Traxler said the state's chief law enforcement agency, the Mississippi Bureau of Investigation, had taken up the probe of the shooting.
Local reports identified Deen as a past department "Officer of the Year," and Tate was a newcomer to the force who Strain said was a 2014 graduate of the law enforcement academy.
The last Hattiesburg police officer killed in the line of duty was Sgt. Jackie Dole Sherrill, who died on New Year's Eve in 1984, according to police department records. Sherrill, 33, was gunned down as she attempted to serve a warrant on a suspect.
The pain of the deaths hit particularly close to home for Erica Sherrill Owens, the daughter of Sherrill.
When she heard the news of the two officers, Sherrill Owens said, her first thought was that she hoped it was someone she didn't know.
"I know that sounds so selfish because you don't want to hear of any police officer losing their lives. Then when I heard one of the names, my heart just sank because I went to high school with him."
She was referring to Deen, who had graduated from Sumrall High School in 1998, one year ahead of Sherrill Owens.
"We were great friends in high school. He married his high school sweetheart and he's got two kids and a great family," she said. "It's just heartbreaking."
Tony Mozingo, a local judge, left red roses near the scene of the shooting.
"We all just are heartbroken because we know and work with these officers every day," said Mozingo, who was accompanied by his wife and two daughters. Deen was a "consummate law enforcement professional."
Hattiesburg Mayor Johnny DuPree told the Clarion-Ledger he lamented the deaths.
"The men and women who go out every day to protect us, the men and woman who go out every day to make sure that we're safe, they were turned on (Saturday) night," DuPree said outside Forrest General Hospital in Hattiesburg, where the officers were taken.
DuPree said Sunday that both officers' lives aren't to be mourned, but celebrated, WDAM reports. Community events in honor of both men are being organized.
DuPree praised law enforcement and residents for coming together to find the suspects.
"We were able to catch these individuals and keep our promise to the officers' families with the public's help," he said.
Hattiesburg resident Tamika Mills was quoted by The Clarion-Ledger as saying some bystanders came upon the officers on the ground, and that one of the officers asked "... `Am I dying? I know I'm dying. Just hand me my walkie-talkie,"' Mills told the paper.
She added, according to the account, that seeing the officers down was "shocking and heartbreaking."
The Associated Press contributed to this report.