3 dead, at least 20 hurt in I-94 pileup in Indiana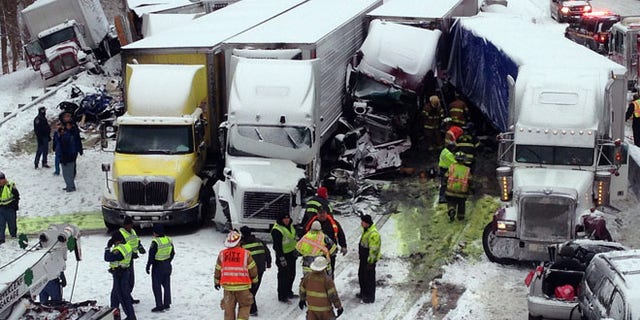 NEWYou can now listen to Fox News articles!
MICHIGAN CITY, Ind. – About 30 vehicles, half of the semitrailers, collided amid whiteout conditions in a massive highway pileup that left three people dead and more than 20 others injured in northwestern Indiana, police said.
The pileup on Interstate 94 Thursday afternoon involved about 15 semitrailers and about 15 passenger vehicles and pickup trucks, according to Indiana State Police.
One injured person remained trapped in a vehicle hours after the pileup began, police said.
"They're still trying to get to all the vehicles. They are cutting and extricating the vehicles," LaPorte County Coroner John Sullivan told The Associated Press amid the rescue effort.
The accident happened near Michigan City, about a 60-mile drive from Chicago, and amid snowy, frigid conditions. I-94 is the main highway heading east from Chicago to Michigan and Indiana and is the main thoroughfare between the nation's third-largest city and Detroit.
Photos of the scene showed at least a dozen semitrailers jammed together the width of the highway near an overpass. Some passenger cars were sandwiched in the wreckage.
National Weather Service meteorologist Evan Bentley said heavy snow was reported in the area at the time of the crash. He said a band of lake effect snow moved in late in the afternoon, dropping 1 to 2 inches of snow per hour and reducing visibility to a quarter mile or less, with some reports of visibility near zero.
The temperature in Michigan City was around 10 degrees on Thursday night.
The city provided two buses that were used to warm people and transport the injured to hospitals, police said.
Eastbound I-94 was expected to remain closed through the night, police said. Cranes and wreckers were being brought in to help clear the scene.
Franciscan St. Anthony Health in Michigan City had received at least 10 patients, said Dr. Jim Callaghan, president of the hospital.
Six people from the accident were taken to IU Health LaPorte Hospital, a nursing supervisor there said.
Dixie Juchcinski told WMAQ-TV that the accident occurred amid whiteout conditions.
"It was kind of a surprise to us because we could only see one or two cars in front of us," Juchcinski said.
Another witness, Laura Burcham, told WLS-TV she was "in tears just looking at it."