Truck in Border Patrol chase, fatal crash was carrying Mexican immigrants in smuggling attempt, officials say
An American citizen trying to smuggle nearly a dozen people into the country was behind the wheel of the pickup truck involved in a fatal crash late last week that left three people dead along the U.S.-Mexico border, officials revealed.
Luis Alberto Virgen, a 21-year-old who had been living in Tijuana, is now expected to be arraigned this week on three counts of gross vehicular manslaughter, according to the San Diego Union-Tribune.
The crash happened Thursday in Boulevard, Calif., after a truck believed to be driven by Virgen led Border Patrol agents on a chase that reached speeds of up to 100 mph along the westbound lanes of Interstate 8, weaving in and out of traffic. Three of the 10 passengers onboard the truck died after being flung from it – and all but one were piled into the truck's bed.
The Border Patrol told the Associated Press the passengers who survived the crash are from Mexico. Their exact identities as of Monday, however, are still unclear, and it is not known if they are from the migrant caravans traveling through Mexico. In recent weeks, the caravans have been passing through the region where the crash happened, on the other side of the border.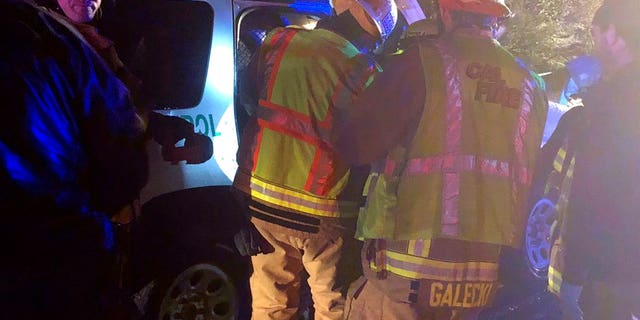 The incident began Thursday afternoon when Border Patrol agents discovered tire tracks for several cars that ran from the international border north into the U.S. The agency calls such incidents "drive-throughs" — instances in which cars illegally enter the U.S., often through remote areas.
They found a piece of a vehicle that they recognized as likely being from a Chevrolet Silverado pickup truck spotted nearby 10 minutes later. Agents tried to stop the pickup, but it fled, entering and exiting Interstate 8 twice during the ensuing chase, according to witnesses.
Agents then deployed a tire deflation device and the truck lost control within a minute, crashing and rolling over amid the rainy weather.
One of those killed was a 38-year-old Hispanic woman, who was the only female passenger onboard and was riding in the cab of the truck, the San Diego County Medical Examiner's Office said. The two others who died were Hispanic males -- one 34 years old and another between the ages of 18 and 25 years, it added.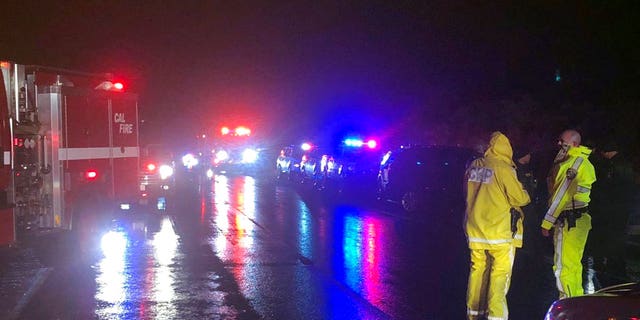 The passengers who survived reportedly are being treated for their injuries – some of them major.
The incident happened along one of the busiest corridors for illegal crossings on California's border with Mexico. The Border Patrol uses motion and ground sensors as well as cameras, but it is still viewed by smugglers and migrants as a route with better chances of success than San Diego.
Agency spokeswoman Takae Michael told the Associated Press the pickup was traveling with another car before agents spotted it. Agents later found that car abandoned in the driveway of a home, and they arrested 12 people who also were believed to be involved in smuggling.
The Border Patrol has been involved in several fatal pursuit crashes before, including one in Texas this June in which five of 12 passengers in a car being chased by agents died. In March 2016, two people were killed while in a car that was fleeing Border Patrol agents on I-8 near Yuma.
Border Patrol policy states agents can only chase vehicles when the benefit outweighs any immediate danger of such pursuits. It also states that agents can use tire-deflating devices if a vehicle they're trying to stop fails to do so, but that agents should consider how safe it is to do so, like whether there are other cars around and what the area's topography is.
The agency's vehicle pursuit policy was overhauled in the 1990s after a Border Patrol chase in California's Riverside County ended in a deadly crash near a high school. Four students and a father who was driving his son to school were killed.
The Associated Press contributed to this report.
Fox News' Bradford Betz and the Associated Press contributed to this report.