3 charged after 'sickening' video beating of New Jersey man goes viral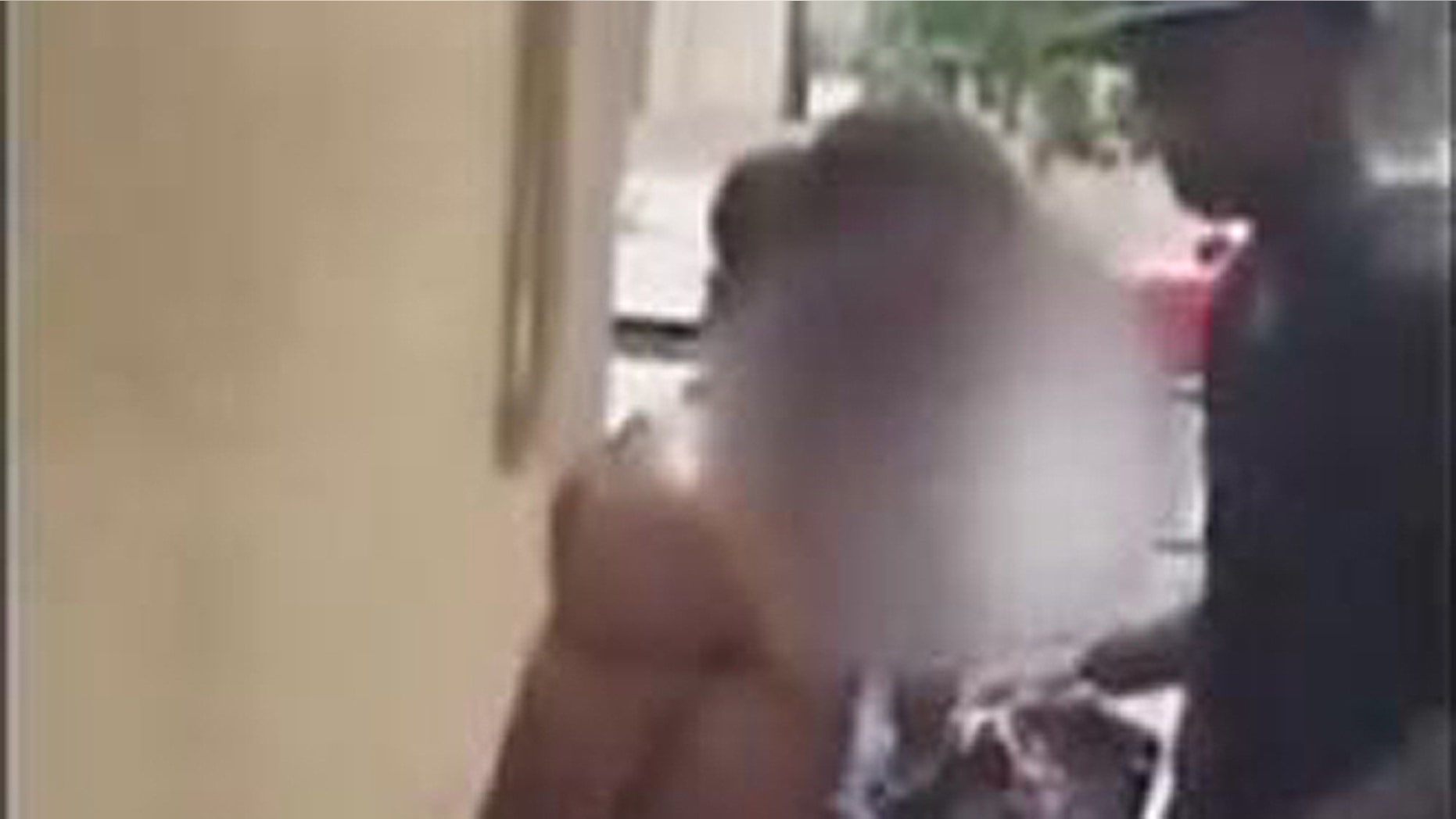 Three people have reportedly been charged in connection with a sickening viral video that shows a man being forced to strip and then being whipped mercilessly on the streets of Newark in what Mayor Corey Booker called a "human tragedy."
"We do not tolerate this type of evil in the community," Booker said at a Wednesday news conference, banged his hands on a podium in frustration. "This is not who we are."
The troubling video has garnered national attention and drawn more than 40,000 views on YouTube since being posted last week. It's unclear when the 2-minute clip, which has been called "sickening" by Police Director Samuel DeMaio, was made. The video, which has since been removed, shows the unidentified victim being forced to strip naked before being whipped with a belt because, according to the assailant, his father owed someone $20.
[pullquote]
Ahmad Holt, 19, was charged with aggravated assault, conspiracy and robbery in connection with the video, DeMaio said. Alleged cameraman Jamaar Grey and another man identified as Raheem Clark has also been charged DeMaio said. Holt was already in a Trenton jail on an undisclosed charge, records show. He was arrested on Feb. 5, just days before the video went viral.
City Councilman Anibal Ramos appeared at the news conference and condemned the shocking brutality of the assault.
"I'm sick and tired of seeing this national trend of young men engaging in such unacceptable behavior and then posting it for all to see as if it were a sport," Ramos said.
Authorities identified the victim as a 21-year-old man who has "reluctantly" cooperated, and has since moved out of the area.
"Take everything off right now," a man is heard telling the victim on the clip. "You're moving too slow, man. Your father owes me money, dog."
The cameraman then splashes water on the naked victim after he removes his clothing, including his socks, at the direction of the lead assailant.
"We gotta clean him up," the unidentified cameraman says. "He takin' a shower."
The victim, who indicates he has no money to settle his father's purported debt, is then instructed to turn around before he's ferociously whipped as onlookers laugh and mock him.
The beating lasts at least 90 seconds as the victim is ordered by the perpetrators to say it's a "dog eat dog" world.
"Get dressed," the lead assailant says at the end of the disturbing clip.
Sources told the Star-Ledger that the assault happened on Irvine Turner Blvd. and Clinton Ave.
West Ward Councilman Ronald Rice told FoxNews.com the video is documentation of "our dysfunction" as a community.
"And this was an example of that, that happened to be in Newark," Rice said. "My heart goes out to the young man, but my heart also goes out to the men who did that. It shows that a lot of us have to step up and do more to protect young men like the victim and also to change the culture of violence and humiliation. These are our children and we have too long been a community that has preyed on our children."
Rice, a lifelong Newark resident, said he can unfortunately recall several incidents that remind him of the depravity seen on the clip.
"We've got to the change the culture," Rice told FoxNews.com. "We have to really look at ourselves in the mirror and ask ourselves, 'What are we doing that's not working?'"
DeMaio, who could not be reached for comment Wednesday, reportedly dispatched three detective squads to locate the suspects.
"We need to show in our city that something like that is not acceptable," he told the Star-Ledger. "It's not something we're going to tolerate as a police department."
Booker, a two-term mayor, has gained national attention for his aggressive stance against open-air drug dealing in the crime-plagued city and acts of public service, including the rescue of a woman from a house fire. He announced in December that he plans to challenge Sen. Frank Lautenberg for his seat, ending speculation that he would challenge New Jersey Gov. Chris Christie.