3 Americans freed from North Korea reunited with their families
The three Americans who were freed from detention in North Korea last week were reunited with their family days after being welcomed back to the states by President Trump and first lady Melania Trump, the Pentagon announced Sunday.
Kim Dong Chul, Kim Hak Song and Tony Kim were released from Walter Reed National Military Medical Center after receiving physical examinations upon their return from North Korea early Thursday, Pentagon spokeswoman Maj. Carla Gleason said on Sunday.
"The returnees have left Walter Reed National Military Medical Center. All three were grateful, in good spirits and coping well," the statement read. "The returnees have been reunited with their families. Their time together has been an incredibly joyous occasion."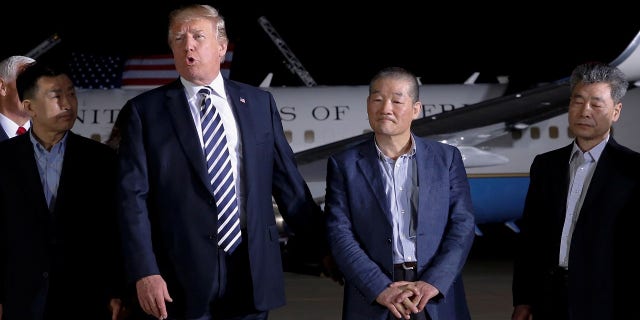 Gleason said the three Americans asked for privacy as they return to their lives in the U.S.
Trump, the first lady and Vice President Pence met with the three Korean-Americans at Andrews Air Force Base in Maryland moments after their plane landed. The plane arrived from Alaska, where it had stopped Wednesday after leaving North Korea. The former "hostages," as Trump called them, left the Hermit Kingdom on Wednesday following talks between North Korean leader Kim Jong Un and U.S. Secretary of State Mike Pompeo.
TRUMP GREETS AMERICAN DETAINEES FREED FROM NORTH KOREA
Trump had announced the three men's release on Twitter Wednesday and said they were in "good health." About a week before, he hinted that their return to the U.S. was imminent. The president later said it was a "great honor" to welcome the former detainees home, but said "the true honor is going to be if we have a victory in getting rid of nuclear weapons."
The three men said they thank Trump and the American people for bringing them home.
"We thank God, and all our families and friends who prayed for us and for our return. God Bless America, the greatest nation in the world," the three men said in a statement released by the State Department.
The three men were detained or sentenced in North Korea in the last couple of years. Kim Dong Chul was the longest-serving detainee among the three. He was sentenced in April 2016 to 10 years in prison with hard labor for allegedly "perpetrating state subversive plots and espionage against" North Korea. Tony Kim and Kim Hak Song were accused of engaging in "hostile acts" against the regime in separate incidents.
Their release comes ahead of the historic summit between Trump and North Korean Leader Kim set for June 12 in Singapore.
Fox News' Lucas Tomlinson, Adam Shaw and The Associated Press contributed to this report.