2013 'First Spouse' gold coins unveiled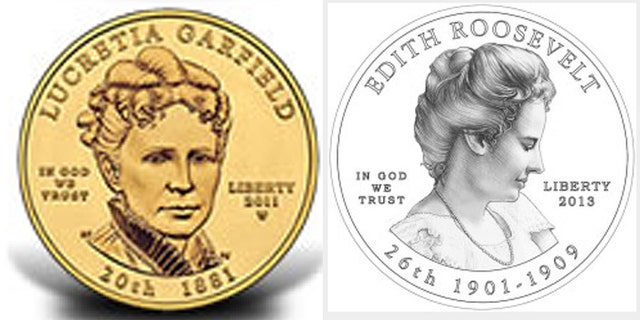 NEWYou can now listen to Fox News articles!
Collectors and investors alike are eagerly awaiting the U.S. Mint's latest set of $10 gold coins honoring former first ladies, including the wife of Teddy Roosevelt and both wives of Woodrow Wilson.
The gold pieces are legal tender, but with the price of gold at more than $1,300 an ounce, these coins are struck for collectors.
Like the others, the latest edition of coins are one-half ounce, 24-karat pure gold and minted in collector proof versions. The five honorees this year are Ida McKinley, Edith Roosevelt, Helen Taft, and Ellen Wilson and Edith Wilson -- Woodrow Wilson's two wives.
Each coin has a portrait of the first spouse, as well as her name, inscribed on the gold and the orders and years of her service as first lady.
The first 2013 coin -- honoring Ida Saxton McKinley -- will be available for sale in early fall, according to a press release by the U.S. Mint, which was created by Congress in 1792 and became part of the Department of the Treasury in 1873.
Former first ladies who have already made it on a coin include Eliza Johnson, Julia Grant, Lucy Hayes and Lucretia Garfield.
The series of gold coins was first introduced in 2007 and is expected to last until 2016. The U.S. Mint had set a maximum of 40,000 strikes per release, but scaled that down to 5,000 in 2010.
The price of gold is not static -- the cost is constantly adjusted according to the London Fix weekly average. The price of gold settled at $1,312.90 an ounce on Friday. On Monday, gold was trading at $1,337.70.