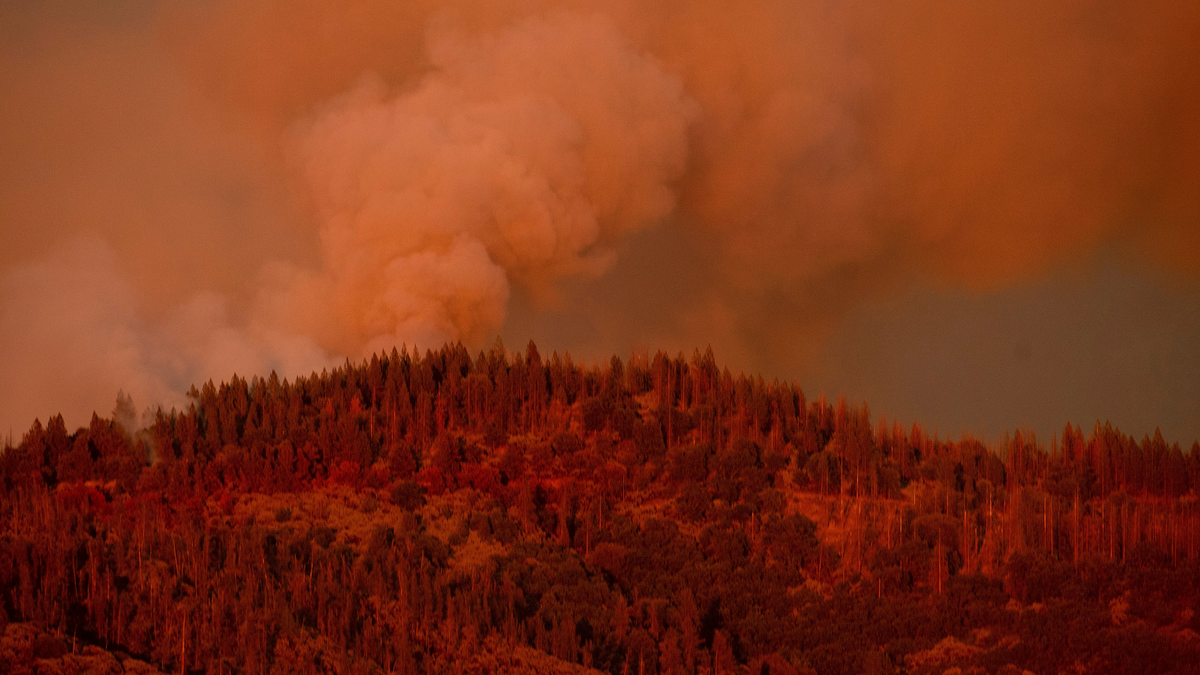 MARIPOSA, Calif. – A California forest fire just west of Yosemite National Park was steadily growing Saturday after two more firefighters were injured while battling the flames in blazing summer heat to protect mountain communities in the Sierra Nevada.
The Ferguson fire was churning northward within Sierra National Forest, sending up smoke that obscured valley views in the park. Yosemite remained open, but one of its scenic routes, Glacier Point Road, was closed to stage firefighters.
Crews were getting a break from light winds but were contending with rugged terrain and sweltering temperatures, said Deputy Chief Scott McLean of the California Department of Forestry and Fire Protection.
"The vegetation is so dry out there, and it's so hot. This fire will continue to grow," he said.
Flames have charred about 42 square miles (110 square kilometers) of timber.
Two firefighters, who were hospitalized Friday after suffering back injuries, have since been released and were expected to fully recover, said fire spokesman Rich Eagan.
A total of four firefighters have been injured since the blaze broke out July 13. A bulldozer operator was killed the day after the fire started while trying to stop its spread.
More than 2,800 firefighters aided by a fleet of aircraft were battling the fire, but only 7 percent of its perimeter was contained.
Several areas were under mandatory evacuation orders. Residents of other communities were advised to be ready to leave if necessary, but no homes had been damaged or destroyed.
Wildfires burned or smoldered elsewhere in the state, including east of Los Angeles near the Riverside County city of Corona. Most evacuations ordered at the height of the fire Thursday afternoon were lifted that night, but firefighters had extensive work to do to complete a containment line around the 250-acre (101-hectare) burn scar.
In Santa Barbara County, fire crews were able get a handle on a fast-moving brush fire that broke out Friday in Buellton. It was more than 30 percent contained.
The National Weather Service warned that an extended period of high heat was brewing for a large swath of the state.
Excessive-heat watches and warnings were to go into effect early next week across Southern California and throughout the Central Valley as high pressure strengthened over the Southwest states, the weather service said.
A memorial service for Braden Varney, who was killed while operating the bulldozer for Cal Fire, will be held Monday in Modesto.