2 dead after Amtrak train strikes backhoe on tracks near Philadelphia
Two construction workers were killed when an Amtrak train traveling from New York to Savannah, Ga., Sunday struck a backhoe that was on the tracks about 15 miles south of Philadelphia, Delaware County officials said.
The crash, which occurred around 8 a.m., derailed the lead engine of Palmetto Train 89, according to a statement by Amtrak.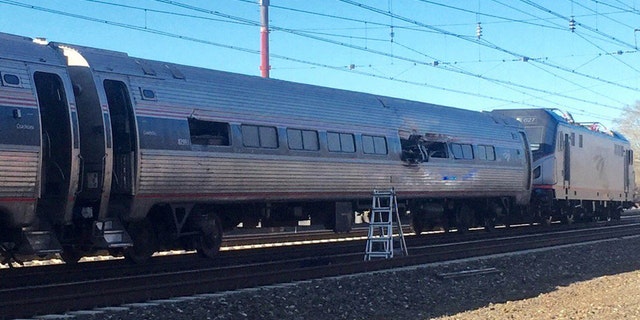 Of the 341 passengers and seven crew members on the train, 35 people were hospitalized with non-life threatening injuries, according to Chester County Fire Commissioner Travis Thomas.
"We have the situation under control now," Thomas said.
National Transportation Safety Board Investigator-in-Charge Ryan Frigo said Sunday evening that the NTSB had recovered the locomotive's event data recorder, inward-facing video and forward-facing video.
Frigo said one of those killed was the backhoe operator, but did not identify the second person killed. Neither person was named. U.S. Sen. Chuck Schumer, D-N.Y., told reporters in New York that both workers killed were Amtrak employees.
Schumer said debris from the crash flew into the first two cars, injuring some passengers. Schumer said it's unclear whether the backhoe was performing regular maintenance or whether it was cleaning up debris from high overnight winds. He called for a complete investigation.
Reports from witnesses on the train indicate the Amtrak conductor blew the train's horn, but construction workers were unable to clear the tracks in time.

A passenger on the train described a fireball and windows on the train being blown out upon impact.
"The conductor did inform us that there was a fatality, that there were people working on the track," Stephanie Burroughs told Fox News. Burroughs said she was told the death was someone who was "working on the tracks."
She also said there were "some injuries" to passengers in the front car, but she had heard the worst injury was a broken arm.
Linton Holmes was towards the back of the train and described a "rumbling" and "a bunch of dust" when the derailment occurred.
"There were some people, they were pretty bloody, because it was like an explosion," Holmes said at a news conference. "We got off track and there was an explosion and there was a big fire."

Another passenger, Ari Ne'eman, told Fox News that despite the shock of the crash, passengers evacuated in an orderly manner.
"The evacuation was not panicked," Ne'eman said. "The Amtrak personnel told everybody not to take their luggage during the evacuation."
Amtrak said it was providing limited service between Wilmington and Philadelphia by Sunday afternoon after temporarily suspending service in that area earlier in the day.
The crash comes nearly a year after the Amtrak Northeast Regional derailed on May 12 in Philadelphia, killing eight and injuring more than 200. That was the deadliest Amtrak crash since a 1987 derailment near Baltimore that killed 16.
The Associated Press contributed to this report.