1-year-old dog becomes newest member of South Carolina baseball team
LEXINGTON, S.C. – When he sees his cue, he runs out to the baseball field to deliver water to a sweaty umpire.
But this is no ordinary water boy. Phisher is a 1-year-old Boykin Spaniel that is the newest member of the Lexington County Blowfish, a summer collegiate baseball team in South Carolina. The Blowfish, named after South Carolina's own "Hootie and the Blowfish," consists of 32 college athletes, plus the canine equipped with a blue backpack.
The specialized backpack, filled with water bottles and baseballs, is fastened onto Phisher's back so he could deliver the goods onto the baseball field and make sure everyone is hydrated.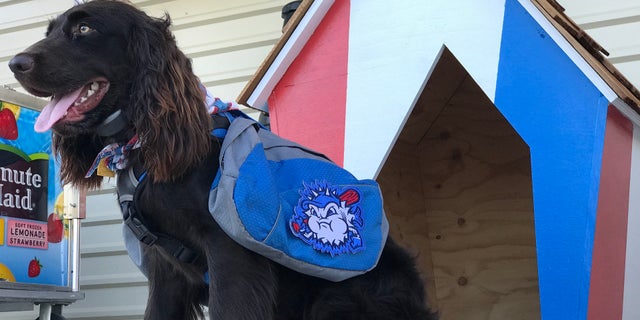 "He's enjoyable in the dugout and I think he's enjoyable to the fans and kids watching the game," four-time second base player Jared Williams said.
Although it's rare for dogs to be part of a baseball team, it seems to be a growing phenomenal. Most teams, however, use labs or golden retrievers as bat dogs – they retrieve the bat from the field and return it to the dugout.
Right field player, Isaiah Lewis, said he's always wanted to play baseball, but he never thought he would have a dog as a teammate.
"It was a fun experience when I got here to have a dog in our dugout," Lewis said. "…he's pretty useful."
Blowfish Head Coach Marshall McDonald told Fox News the pooch is reliable – though a bit anxious.
"He's getting to know all these players and he may be a little nervous. I'm sure it's a little nerve-wracking for Phisher, but he's doing well," the Blowfish Baseball Club co-owner Bill Shanahan said.
Shanahan came up with the idea after partnering with the Batesburg Leesville Animal Hospital in May of last year.
He says he asked the local animal hospital if they had a dog that could come out and be a part of the game and entertainment.
"They said, 'Yes, we have this beautiful, young little puppy that was just born, named Phisher.' And we said, 'Well that fits perfectly with the Blowfish,'" Shanahan said.
The puppy started training in December with Kirk Sharpe and made his debut in May at Blowfish Stadium's season opener.
"He is just the cutest. His little legs just sprint out there and the umpire has this little giggle. It's just so cute," season ticket holder Samantha Montgomery said as she watched the game with her mother Barbara.
He has fans of all ages.
"It makes me happy because it's kind of funny when he walks out," 6-year-old Brayden Caton said. "I like to see him walk out and give the balls to the umpire."
But Phisher does have a fear of fireworks, something Kevin Sharpe said they will have to continue working on, especially during a Saturday's fireworks display.
"He is still young. So, he needs to continually train," Sharpe said.
Sharpe works with the new water boy five days a week on obedience, hunting and retrieving training.
"You have to make it fun for them, so they don't get bored," Sharpe said. "You want him to be excited and easy to work with."
A spokesperson with the AKC says overall, the breed is eager to please, loves to work and is versatile.
"They are a sporting breed….. They are built for activity and endurance, especially outdoors. They are fiercely loyal and dedicated and truly wonderful breed," the spokesperson said in a statement.
His teammates agree, and add that he helps build morale throughout the team.
"He plays it cool in the dugout. I mean, obviously nothing gets to him and I think we can take a learning to that," Williams said. "Don't let things get to us and keep morale up in the dugout."
The team's coach hopes Phisher will learn how to retrieve the wooden bats before the season ends.
Until then, he will continue being their MVP.