What's New at the Ski Slopes This Winter?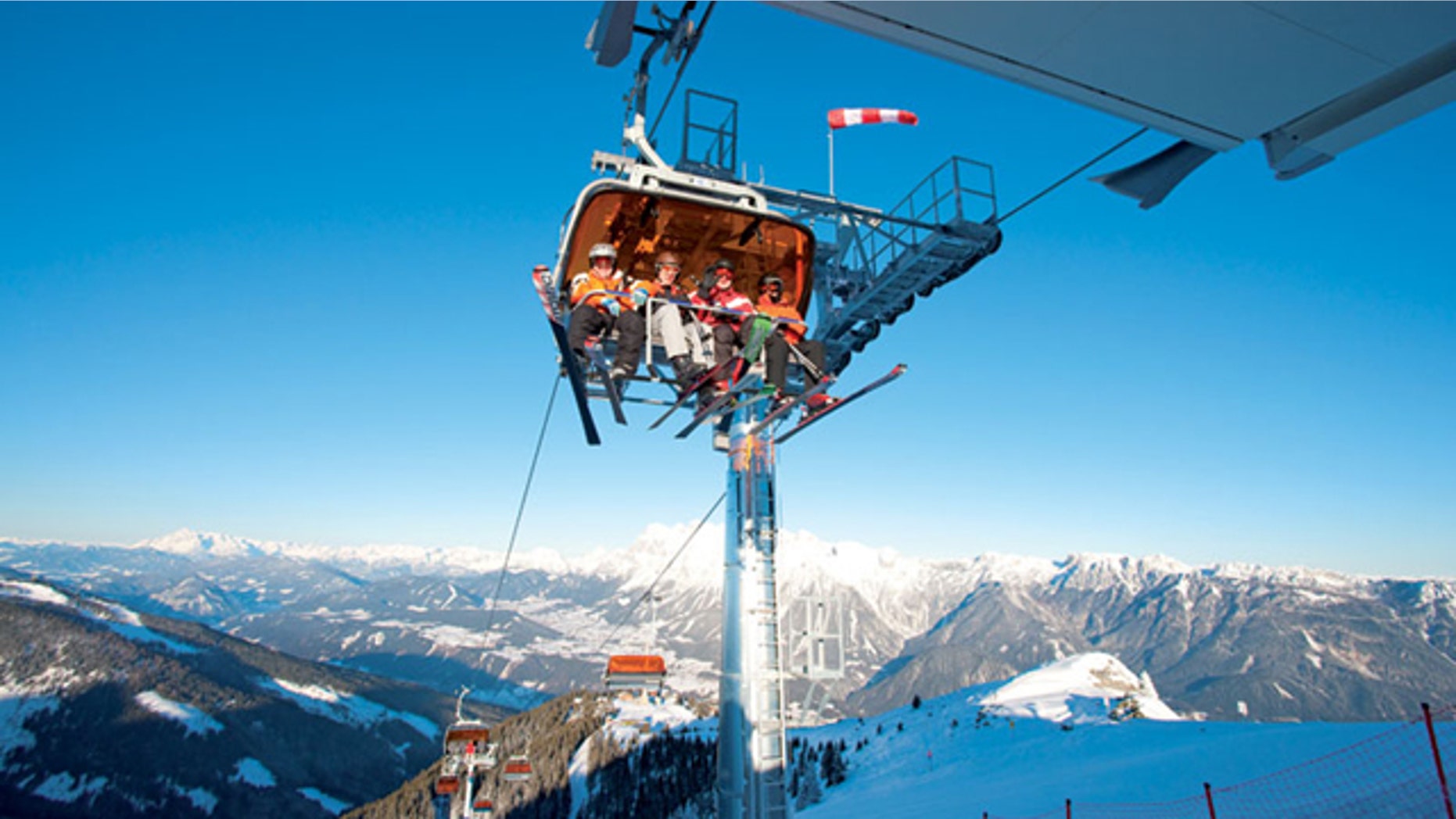 If the idea of enduring Utah's wintry chill in an ordinary ski lift is too much to bear, the Canyons Resort in Park City will be introducing North America's first heated chair lift this coming ski season. Not only will your seat be warm, but you'll also be encased in an orange bubble shield so you can finally understand what it feels like to be inside a pair of giant ski goggles.
Meanwhile, over in California's Mammoth Mountain Ski Area, snowcats tricked out as food carts will help you take the edge off your appetite. And if you find yourself at any one of the five Vail Resorts in Colorado, radio frequency (RF) chips embedded in your season passes and lift tickets will track the vertical feet and runs you've skied. You'll be able to store and share those stats with a mobile app, EpicMix, which will also alert you if any of your Facebook friends show up on your mountain.
Many new resort expansions and après ski amusements are also on tap for the 2010-11 ski season. And if you're actually interested in skiing, new chutes and bowls, expended terrains, faster snowmaking, and other upgrades await in several popular U.S. ski destinations.
Colorado
One Ski Hill Place, a new resort at the base of Breckinridge Mountain Peak 8, debuted quietly this summer and will open officially when the mountain does on November 12. Among the amenities is a large outdoor plaza with a heated deck. Peak 8 will also unveil a new 22-foot superpipe -- the first major upgrade for the resort's Freeway Terrain Park in more than a decade -- when the Winter Dew Tour for world-class freeskiers and snowboarders kicks off Dec. 16.
If you want to avoid the hassle of shepherding all your ski stuff through the airport, a vacation package offered by the Inn at Lost Creek in Telluride includes home pick-up and delivery of your luggage. And if you find yourself in a relationship where one of you skis and the other never has, a deal at Capella Telluride includes ski instruction, starting with how to fasten your boots.
Aspen fans will encounter the resort's usual slate of parties and film screenings as well as the holiday-themed 12 Days of Aspen beginning Dec, 20. Don't expect to see Ruth's Chris Steakhouse, however; in its stead you'll find an outpost of popular Miami eatery Casa Tua, due to open mid-December. Until then you can rediscover Aspen favorite Red Onion, which reopened this summer. And if you're looking for potential bargain airfares, United will have 21 daily flights heading in and out of Aspen/Snowmass as of mid-December, adding an additional flight each from Houston, Chicago, San Francisco, and Los Angeles.
Utah
In addition to its orange bubble lift, the Canyons will be adding 300 acres of terrain as well as an après ski beach. Park City will also welcome a new resort, Montage Deer Valley, which will include a 35,000-square foot spa when it opens in December. A new resort, Eagle Point, will open in southern Utah's Tushar Mountains in December and will include 36 ski runs. Powder Mountain, about 20 miles northeast of Ogden, adds a thousand more acres of chutes and bowls this season, and Snowbasin in Huntsville will close out the final stop of the Winter Dew Tour by showing off its own new 22-foot superpipe.
Montana
Big Sky Resort is unveiling two new zip lines that are more than three times as long as the resort's three existing lines. Plus, the lines have been strung side by side, enabling you and a companion to ignore the lush scenery as you snap digital pictures of each other during your run.
California
Along with its snack-laden snowcats, Mammoth will introduce "Early-Up" ski passes on Saturdays, enabling visitors a crack at the slopes between 7:30-8:30 a.m. A pedestrian bridge is also being added to the Village Ski Back Trail. When Lake Tahoe's Squaw Valley USA opens next month the former Belmont Park will have been transformed into a kids terrain park that'll include kid-friendly jumps and a snow fort. Squaw Valley has also created a resort map that kids can follow to learn about the area's wildlife.
Maine
Shawnee Peak, about an hour northwest of Portland, is upgrading to a faster chairlift that'll get skiers up the mountain in about nine minutes. To expedite the ride further, the resort is installing the state's first loading conveyor system so that at the bottom of the lift, "skiers will line up side by side on the moving conveyor," according to resort marketing director Melissa Rock, "and the chair will come around the bullwheel and whisk the skiers up the mountain. So, instead of standing still at the loading area, you're moving at about half the speed of the chair, making the loading process easier and faster."
New Hampshire
Cranmore Mountain Resort is expanding its tubing park from seven to ten lanes and "will feature a new Sun Kid surface lift in addition to a handle-tow lift," says resort marketing director Kathy Bennett. The tubing park is also being relocated to make way for a new mountain coaster that permits up to two passengers per car to ride up and down the mountain on a stainless steel track. Riders can control the speed of the car, limited to around 25 mph, making it a family-friendly way to travel the mountain.
Vermont
Sugarbush in Warren "began replacing key sections of its snowmaking infrastructure in early July," according to Wendy Knight, who represents the resort. "Over two miles of primary-supply snowmaking pipe will be replaced at both Lincoln Peak and Mt. Ellen," she says. At Stowe Mountain Resort, Stowe Mountain Lodge will debut 171 new slope side guest rooms in December, says commuinications director Jeff Wise. Also in December those in need of après ski drama at Stowe can visit the new 420-seat Spruce Peak Performing Arts Center, whose programming will include theater, dance, film, music, and comedy.
Mount Snow is sprucing itself up, too. Six new fan guns mounted to "a new mobile carriage design" will debut this winter, says Mount Snow events and public relations director Vinnie Lewis, who adds that "this is the first year of testing out an increased portability that will allow us to get more of that amazing snow to locations previously unreachable by fans." The tubing hill has been re-graded "to remove the uneven pitches that require a lot of snow in order to open," Lewis says. Also expect improved snowmaking pipe. Notes Lewis, "Ever wonder what snowmaking pipe looks like after it's been buried in the ground for a few decades? Basically Swiss cheese. Our team of superhuman snowmakers have been replacing thousands of feet of pipe all summer long to ensure our valuable water gets from point A to point B with minimal detours."