Venezuela sees Delta, Avianca halt flights to country amid political and economic turmoil
Colombia's Avianca airlines announced earlier this week that it was immediately suspending service to Venezuela – becoming the latest commercial carrier to halt flights to the politically-fractured socialist nation.
Avianca's announcement, coming the same day that U.S. carrier Delta Air Lines announced it would suspend service to Venezuela in September, is seen as another sign that the government of President Nicolás Maduro has become even more of a pariah on the world stage amid ubiquitous unrest, economic mismanagement and claims human rights abuses.
"Avianca cancelling service to Caracas shows the increasing isolation Venezuela is facing," Jason Marczak, director of the Latin America Economic Growth Initiative at the Atlantic Council's Adrienne Arsht Latin America Center, told Fox News. "The situation in Venezuela is one of the greatest tragedies, if not the greatest tragedy, in our hemisphere over the last 20 years."
Over the last year a host of some of the world's largest airlines have stopped flying to Venezuela – United, LATAM, Lufthansa, Aeromexico and Air Canada are just a few – due to the country's severe economic crisis and mounting political turmoil, while other carriers have decreased the number flights going into the country as the demand for seats plummets.
US ORDERS DIPLOMATS' RELATIVES TO LEAVE VENEZUELA AHEAD OF CONTROVERSIAL VOTE
Avianca cited "operational limitations" as the reason for the abrupt cancellation of service, while Delta made no official statement on its move. A letter submitted to Venezuela's National Institute of Civil Aviation by Delta informed officials in the country that the last flight from the airline's hub in Atlanta to Caracas will be on Sept. 16, 2017, with a return flight the next day.
While safety has been cited by some airlines as a major concern, most carriers have said that the service cuts have been largely due to the financial unfeasibility of maintaining the routes. The number of people going to and coming from Venezuela has dropped drastically in recent years and the currency controls put in place by the Maduro government have made it nearly impossible to convert earnings into dollars to send abroad.
A number of airlines last year asked the U.S. Department of Transportation for antitrust immunity in order to figure out a way to retrieve $3.8 billion trapped in Venezuela amid its economic collapse. The government has halted the repatriation of ticket sales made in Venezuelan bolivars.
There are now only 10 international airlines that maintain service to Venezuela: American Airlines, Air Europa, Air France, Caribbean Airlines, Copa Airlines, Cubana, Iberia, Latin American Wings, Tame, TAP and Turkish Airlines.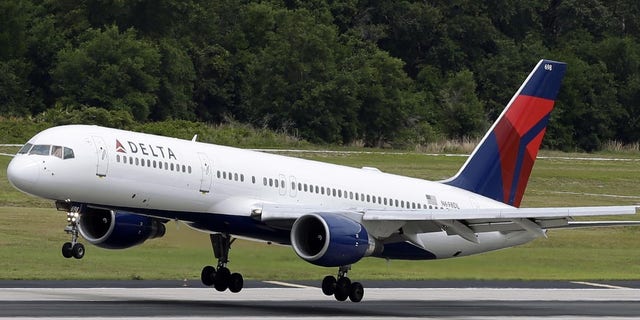 The suspension of flights may help airlines from losing money to the Maduro regime, but experts contend that it could also have the negative side effect of keeping the few Venezuelans with the means from fleeing the country and prevent human rights leaders from traveling abroad in search of much needed aid.
"This is a real tragedy for every Venezuelan," Marcazk said. "Commercial flights are critical for Venezuelans who have the ability to leave the country and for those who lobby for help from abroad."
Home to the world's largest oil reserves, Venezuela was for decades an economic leader in the western hemisphere and, despite a massive gap between rich and poor, was a major destination for neighboring Colombians and other Latin Americans fleeing their less prosperous and more troubled homelands.
But in 1999 with the rise to power of the late Hugo Chávez – whose social and economic reforms initially endeared him to the poor but also set up an unsustainable system of state spending – Venezuela's economy began to creep toward a crisis.
CHIEF PROSECUTOR: AT LEAST 114 DEATHS IN VENEZUELA CRISIS
The situation has been exacerbated by Maduro, Chávez's successor, who took power in 2013, and by a plunge in global oil prices in 2015. The International Monetary Fund projects Venezuela's inflation rate could reach 720 percent this year, and 93 percent of Venezuelans said their income was not sufficient to buy the food they need, according to a study by some of country's top universities.
Food shortages in the country have gotten so bad that Coca-Cola ceased production in Venezuela in 2016 because there was not enough sugar.
The economic mismanagement paired with Maduro's crackdown on civil rights has led to a widespread protest movement that has engulfed Venezuela for nearly four months.
The situation in Venezuela is one of the greatest tragedies, if not the greatest tragedy, in our hemisphere over the last 20 years.
Most of the 114 people who have died in the anti-government protests have been young men killed by gunfire, but the death toll also includes looters, police allegedly attacked by protesters and civilians killed in accidents related to roadblocks set up during demonstrations.
The protests began in April following a Supreme Court ruling that stripped the opposition-controlled National Assembly of its remaining powers. Though quickly reversed, the decision ignited a protest movement against Maduro.
The Trump administration earlier this week announced sanctions on 13 current and former members of Maduro's administration, freezing their U.S. assets and barring Americans from doing business with them. The U.S. also joined with a dozen other regional governments in urging Maduro to suspend Sunday's election of a national assembly for rewriting the charter.
Far from derailing Maduro, the Venezuelan leader appeared emboldened by the sanctions, praising those accused by the U.S. government of undermining the nation's democracy and abusing human rights.
"We don't recognize any sanction," he said. "For us, it's a recognition of morality, loyalty to the nation and civic honesty."
UN RIGHTS OFFICE VOICES CONCERN OVER VENEZUELA VIOLENCE
The U.S. on Thursday also ordered relatives of American diplomats working in Venezuela to leave the country ahead of Sunday's vote. The State Department said it's also allowing U.S. government workers to depart the embassy in Caracas and limiting the movement of those who stay.
Few specifics have been disclosed on what constitutional changes might be in store following the vote. But allies of the socialist president say the assembly will target opposition leaders, stirring warnings Maduro will use the assembly to install an autocratic regime.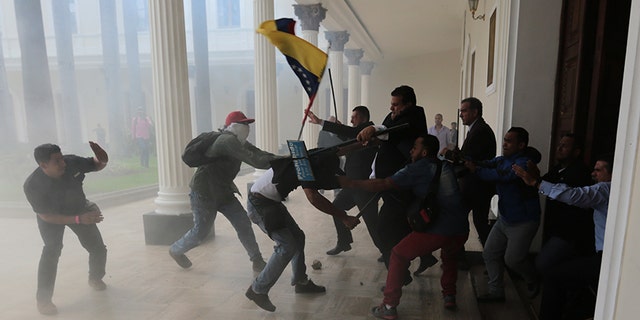 A June survey by Venezuelan polling firm Datanalisis said just 23 percent favor the constituent assembly. Only 19 percent said they thought a new constitution would "guarantee the peace of stability of the country," as Maduro has asserted. Nearly half said they believe the purpose of the assembly is to ensure Maduro stays in power.
Earlier this month, more than 7.5 million Venezuelans voted in an unofficial opposition referendum rejecting the constitution rewrite.
But those numbers do not mean Venezuelans are unlikely to show up at polling stations Sunday. Aside from government loyalists, groups of state workers and government organization are being mobilized and pressured to cast ballots.
The Associated Press contributed to this report.