Vegas-bound plane diverted after bachelor party gets into midflight brawl
Five British passengers were removed from a Thomas Cook Airlines flight bound for Las Vegas for disruptive behavior that included fighting and lighting a cigarette, according to reports.
WOMAN CLAIMS SHE WAS KICKED OFF FLIGHT FOR MENSTRUAL CRAMPS
The group was flying to Nevada from Manchester, U.K., for a bachelor party when they became "abusive" and started "fighting with each other," eyewitnesses said, per The New York Post.
"They had been fighting with each other and lighting a cigarette," Krystyna Sczcygiel, who filmed a video of the men, told The Daily Mail. "Every time they were told to sit down or fasten their seat belts, they just ignored them."
"Then the other passengers were telling them to be quiet, so they started abusing them. They were warned so many times," she added.
The flight was rerouted to Winnipeg, Canada, where the passengers were arrested and removed by the Royal Canadian Mounted Police.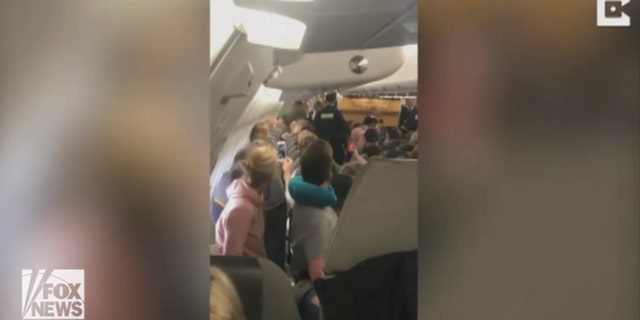 "Five disruptive passengers were offloaded" for "mischief and causing disturbance," an airline spokesperson told the Winnipeg Sun.
Passengers booed the group of men as police officers led them off the plane in handcuffs. One of the arrested members fired back obscenities at the other passengers.
FOLLOW US ON FACEBOOK FOR MORE FOX LIFESTYLE NEWS
An airline spokesperson told the New York Post that they could not confirm whether the group had been drinking, but did say that alcohol was served on the flight, as well as back in Manchester.
The flight landed in Las Vegas two hours and 40 minutes behind schedule. The stranded bachelor party will have to find their own transportation out of Winnipeg, as Thomas Cook Airlines does not fly out of that airport.