United makes short-term exception to transportation of military pets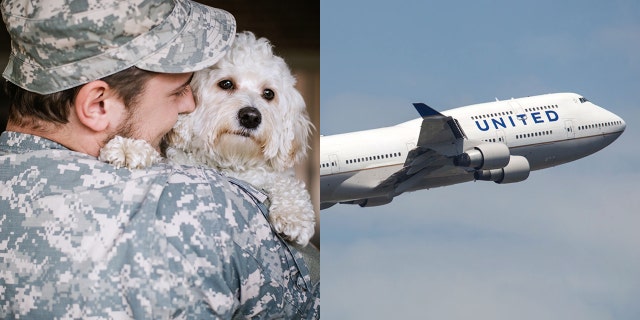 NEWYou can now listen to Fox News articles!
United Airlines has announced it will make an exception to its new PetSafe restrictions for U.S. military members and their animals through June 18.
PetSafe is the company's "specially designed program" for transporting cats and dogs that are not eligible to travel in the aircraft cabin.
The airline suspended its animal travel program in March following a number of incidents, including a dog being sent to Japan instead of Kansas. Since then, United has been revamping the program, including implementing new restrictions to take effect June 18.
NAZI BUNKER WITH A VIEW FOR SALE ON JERSEY SHORE
When the program starts up again later this month, United will only fly cats and dogs. There will also be breed restrictions, with 21 breeds of dogs and four breeds of cats banned from flying in the cargo hold, including Shih-Tzus, Pit Bulls, bulldogs, and Burmese and Persian cats, among others, due to their higher potential for health risks.
But if you're a member of the military and United flew you and your animal to wherever you're stationed, the airline is making an exception.
For any military members or their spouses who need to travel with a pet between now and June 17, United will transport your animal wherever you need, despite the program's current suspension.
"We are committed to the principle of 'If you're in the military and United flew your pet there, we will fly it back to the U.S.' We're still working out the details of the post-June 17 exception process, and we will open up reservations for this pet travel as soon as we can," United spokesperson Charles Hobart told Fox News.
FOLLOW US ON FACEBOOK FOR MORE FOX LIFESTYLE NEWS
Starting June 18, United will begin accepting reservations from anyone looking to travel with a cat or dog that meets the new restrictions for travel after July 9.