Trump signs bill requiring airports to provide spaces for nursing mothers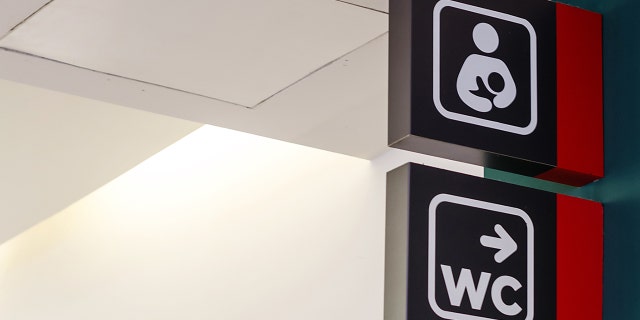 Airports in the United States are now required to provide a private space for moms to nurse their children.
A five-year reauthorization of the Federal Aviation Administration Act was signed by President Trump on Oct. 5, but with a new mandate introduced by Democratic senator Tammy Duckworth that all large and medium-size airports have lactation rooms for breastfeeding mothers to nurse or pum by Oct. 1, 2020.
BREASTFEEDING MOM TOLD TO COVER UP, INSTEAD PUTS CLOTH OVER OWN FACE
All airports will be obligated to provide a private area with a door that can be locked in each terminal after the security checkpoint for nursing moms. The lactation spaces also must not be in a bathroom and need to be shielded from public view, have a place to sit, an electric outlet and a flat surface, as well as be accessible for those with disabilities.
MICHIGAN CHURCH APOLOGIZES AFTER BREASTFEEDING MOM ACCUSED OF INSPIRING 'LUSTFULNESS'
"This is a strong step forward toward a world where breastfeeding families across our country are seamlessly supported wherever they are — at their places of work, in their communities, in an airport, anywhere," says Mona Liza Hamlin, chair of the United States Breastfeeding Committee. "No one likes flight delays, but for people who are lactating, extra time in the airport can mean finding a place to express milk or risking a dwindling milk supply or even infection."
FLORIDA DAD'S PLEA TO 'FIX' CHANGING TABLE PROBLEM IN MEN'S RESTROOMS GOES VIRAL
"Breastfeeding in public is protected in all 50 states and families are encouraged to nurse wherever and whenever they are comfortable. These lactation accommodation provisions ensure that those who need or prefer a private space have access to one," she added.
FOLLOW US ON FACEBOOK FOR MORE FOX LIFESTYLE NEWS
The act also takes another progressive step, requiring airports to have baby-changing tables in both men's and women's restrooms in each terminal.