Tropical Super Bowl trips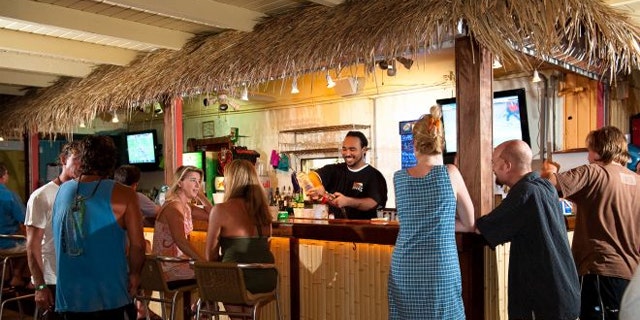 This upcoming weekend, Lucas Oil Stadium in Indianapolis, Ind. will be overflowing with rabid New York Giants and New England Patriots fans all rooting for their team to take home the coveted Super Bowl XLVI title.
Now, chances are you're probably not among one of the lucky ones with a ticket to Sunday's Big Game since they run about $1,500 a pop, and that's on the low-end. Even if you can get a ticket, there's the price of a hotel. Right now two-star hotels will run you north of $400 per night, according to Cheaphotels.com, and some have raised rates a whopping 1,500 percent (yes, you read that right). And this doesn't include all the wings and beer you'll eat.
We did a little research and found out that Indy may not be worth draining your bank account for, especially since you can watch the game with your toes in the sand.
The Bolongo Bay Beach Resort in St. Thomas is currently offering the "Kick Back in the Caribbean with Super Bowl Savings" package. "It's been almost about 10 years we have been doing this package," Colleen Doumeng, the advertising manager at Bolongo Bay, told FoxNews.com. "We came up with the idea because the timing was perfect because it's so cold and snowy on the East Coast, and it just seemed like a good way to entice people to come on down and enjoy the nice warm weather and watch the Super Bowl on the beach."
And when she says watching it on the beach – she means it.
"It's literally like a big tailgate party right on the sand," Doumeng said. "The big screen is on the beach and people pull up lounge chairs and lots of picnic tables.
With the temperatures hovering in the low 80's in St. Thomas right now, no passport required, and a price that's easy on your wallet – this package is looking more attractive all the time.
For around $900 per person, Super Bowl fans will receive:
-Free night on a five-night stay for two guests in an oceanview room
-Tailgate party at Iggy's Beach Bar
-Two adult meals for the all-you-can-eat Iggies Tailgate Party buffet
-A free bucket of beer
-Two squares per room on the football pool board for a chance to win $500
-Unlimited non-motorized water sports
-Complimentary scuba dive lesson
For more information on this package, check out BolongoBay.com.
A Long-Standing Annual Tradition
While Bolongo Bay has been doing their game-day party for about a decade, there are others who have an even longer tradition of making the Super Bowl super-special.
Our own Refet Kaplan, the managing director of FoxNews.com knows all too well the benefits of watching the game in a warmer climate.
It started 30 years ago when he and a group of college buddies started gathering for the Super Bowl. They did this for nearly 15 years, partying at various friends' houses around the East Coast, until one bitter winter day when they came up with a better idea.
"There were a couple of tough year's weather wise, and in particular, there was one in Troy, N.Y. where it was absolutely frigid and nasty," he said. "And we just got to talking and some of us said, 'Well they do the Super Bowl itself in a warm place every year and they make a big weekend out of it, why don't we do the same?'"
From there, they ran with the idea, and for the past 16 years Kaplan and his friends have been traveling to destinations like Puerto Rico, the Bahamas, St. Maarten, Key West – and this year – Turks and Caicos. They'll be staying at the Ocean Club West Resorts, because it was the most reasonably priced, says Kaplan. Rates at the resort, which will have a large screen TV set up for game day and an all-you-can-eat buffet, start at $289 based on double occupancy.
"It's worked out really well because it has given us a chance, not to just to be with friends and catch up and all that, but to see interesting places and do things like rent a boat and take an afternoon sail, which we did in Aruba a few years ago," he said.
It's a weekend all about escapism and having a good time, but the group does have a few requirements including access to a beach and pool during the day, a short walk to bars and restaurants, and in the last few years a casino.
"We're hardly big-time players," Kaplan said. "But we like to hit the beach during the day and go out at night and have fun and hit the casino. At the same time, we try to keep everything mid-range as far as accommodations."
One potential way to keep the cost down is to contact the hotel/casino ahead of time and let them know you're coming with a big group, and see if they can give you a cut-rate on your rooms. (A word of caution though. The casino might want something in return, which usually entails you dropping a decent amount of coin at the tables.)
Despite not being high rollers, Kaplan said they've had their fair share of adventures over the years from having a private Super Bowl party at a beach bar in Cancun to playing cards and hanging out with the St. Louis Rams cheerleaders at their hotel in St. Maarten.
Super Bowl on the High Seas
If staying on dry land doesn't sound appealing to you then you might want to consider a cruise. Janet DeVito, a franchisee of Cruise One and an all-around cruise aficionado, has a group of about 60 football fans embarking on her "2012 Super Bowl Cruise" onboard Celebrity Millennium.
"It's a great way to watch the Super Bowl," DeVito, whose been doing this trip for the past three years, told FoxNews.com. "There's a party spirit on the ship, and each ship makes accommodations for the game. They set up huge TV screens at different locations. All over the ship they bring out trays of hot dogs and wings, you know all the things you would typically see and experience at a football game, and it's just a lot of fun."
This year's four-day cruise departs from Miami on February 2 and makes stops in Key West, Fla. and Cozumel, Mexico. Along the way, guests will be treated to a "Super Bowl Pub Crawl" through the historic streets of Key West as well as a football beach party at Carlos n' Charlie's Beach Club in Cozumel.
The package starts around $450 per person and includes accommodations, all meals, entertainment and activities. If you want to throw unlimited cocktails into the mix, add $40 per day.
As DeVito says on her website, "Its unlimited sun, unlimited fun and unlimited laughs." Click here for more information on this package.
Other travel sites like Cruise Holidays of Kansas City are offering similar packages starting at just under $500. Their five-night "Super Bowl at Sea" cruise departs from Tampa, Fla. on February 4 and makes stops in Cozumel and Costa Maya, Mexico. Click here for additional booking information.
More Than a Game
For some, the Super Bowl has become synonymous with more than a game. For Kaplan and others who take advantage of the warm weather and hit the beach, it's all about something to look forward to.
"This is a way to continue a tradition and get together with your best old friends, but also to add new layers of activity, intrigue and fun because people really get behind the idea of, 'Oh, where are we going this year?'
So, what are you waiting for? Start your own Super Bowl tradition now, because after all like Kaplan said: "The Super Bowl is really special because of the location."