Too naughty or nice? Spirit Airlines launches $69 fare promotion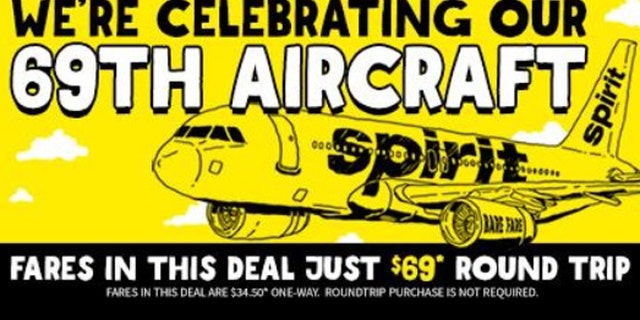 Spirit Airlines, self proclaimed "Home of the Bare Fare," may be pushing the limits of good taste with their latest $69 round trip deal.
To celebrate the first flights of their 69th aircraft, the budget carrier is offering super cheap, accordingly priced fares for travelers who book today through midnight. Leaving little to the imagination, the company released a promotional statement:
"We've been waiting to hit 69 planes for years. It's our favorite number - ever since we were twelve and found that magazine under our brother's bed (the one with the fantastic articles). #69 is perfect: just the right size, with a cockpit that's in your face (because it's bright yellow). Use your mouth to spread the word: Spirit is in an even better position to get you where you're going. We're popping an epic Bare Fare in celebration! $69.00* round trip!"
Though many may be left wondering if this is a real promotion-- and not in fact, a viral stunt performed by a pre-pubescent teen-- Fox 9 KMSP reached out to the airline for confirmation. Company spokesman N. Paul Berry confirmed that the $69 fare is the real deal, citing the airline's use "unconventional" methods to promote new deals.
"It's not atypical for us to have these types of ads. Spirit isn't your typical airline," Berry explained
So is Spirit worried about offending potential customers?
Berry continued,"The vast majority of our customers think they're funny, and accept them for what they are. We realize and accept that a small group of people might not think the same way."
Unfortunately the airline has already upset more than a few would-be travelers.