Tiny Trailers - Big Dreams
Maybe you've dreamed of an All-American road trip of your own or even a weekend getaway just a few hours down the road. No matter what your adventure looks like, one of the easiest ways to travel is with a lightweight trailer like the Little Guy Mini Max by Liberty Outdoors we used in St. Augustine, FL.
Many of the RVs produced today are smaller, lighter, more aerodynamic and fuel-efficient. A small trailer is perfect for couples, families with small children or even single travelers like our friend Janine Pettit of Girl Camper. She covers country in her Mini Max, sharing her adventures on blog.gorving.com.
One of the best reasons to own a trailer is the ease of it all. You can unhook your vehicle, park the RV at your campground and take off for a day of adventure. A small trailer makes it super easy to pack up and go too – making the most of your time away.
Most lightweight trailers come with kitchens, bathroom/shower combo, living rooms that transform into beds and plenty of storage for all your comforts of home. The Little Guy even has solar power options so you're never away from a power source. And because they're lightweight, you can pull most small trailers with a family SUV. There are some small trailers like the MyPod you can pull with a Prius!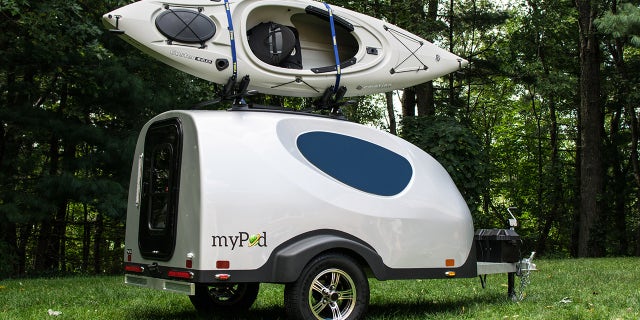 Pulling a trailer is easier than you think too. You don't need a special license and will get plenty of tutorial from your dealer or rental agent. The biggest decision you'll make is where to go. We stayed at the Anastasia State Park in St. Augustine, just feet from the beach. There are 18,000 campgrounds in the U.S. that appeal to every kind of traveler from outdoor adventure to luxury; family-focused to 55+; beach to mountain retreats; spas to vineyards; eco-conscious to golf and tennis. Thousands of state and national parks have campgrounds too.
A PKF Vacation Cost Comparison Study found that it's upwards of 46% less expensive for a couple to travel by RV over the expense of airlines, hotels, restaurants combined. Add in the fact that you can eat exactly what you want when you want, sleep under the stars instead of a stuffy hotel room, don't have to board your pet and never have to pay an extra baggage fee again – RVing is an easy, affordable, healthy and fun way to find your away.
How to start RVing
Rent an RV
Choose between a motorhome or trailer and spend a weekend at a campground within a few hours' drive from home. You can pack it with all your favorite foods, games, clothes, bedding, gear – anything that you'd want for a weekend of fun. GoRVing.com has a search engine for a rental agent near you.
Stay in a Park Model RV at a local campground
Park Model RVs look like a cabin and generally have a bedroom, full kitchen and bath and living area. Some have a sleeping loft and a front porch with a swing. All you need to bring are your clothes and food for a great camping experience.
Pick the right RV for you
Find a local dealer where you can see the different makes, models and floor plans to decide which size, style and features best suit your needs.
Pick the right camping experience
Depending on your adventure, you may want to stay close to a city or out in the country; have a rustic experience or a full-service resort; drive a motorhome or unhook from a trailer and go sightseeing in your tow vehicle. One great thing about an RV is that they give you the flexibility to have many different adventures.
Visit a local RV Show
Click here and input your city and state to find the show closest to you. RV shows give you the opportunity to see nearly every make of RV available. You'll also find representatives from campgrounds and all sorts of products you might want while you're RVing.
Visit GoRVing.com for help picking the right RV and campground, finding a dealer or rental outlet, lists of what to bring, sample road trips, recipes, advice – everything you need to know to help plan your adventure.