Theme parks ramp up security: What to know before you go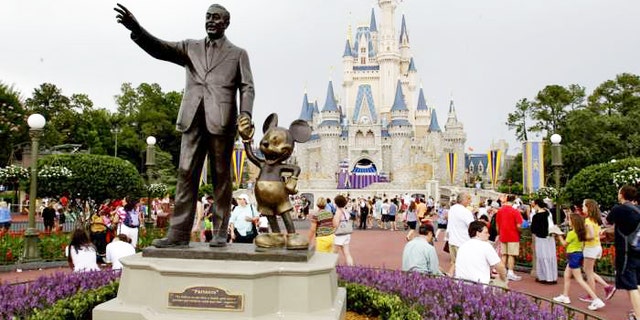 Amid a heightened fears about domestic and gun violence, several theme parks in the U.S. are beefing up security measures.
On Thursday, Walt Disney World, Universal Orlando and SeaWorld installed metal detectors at all park entrances. Outside of Florida, Disneyland and Universal Studios Hollywood have said they are also installing detectors.
"We are enhancing security measures at all of our parks for the busy holiday season, including increased security presence both inside and outside the parks. Guests entering SeaWorld Orlando can also expect thorough bag checks as well as metal detector checks," SeaWorld spokeswoman Suzanne Pelisson-Beasley told FoxNews.com via email.
In addition to enhanced security checks, Disney also announced that it would stop selling toy guns throughout its theme parks and will ban visitors over the age of 14 from wearing costumes.
But will the new security measures keep families and visitors from enjoying a day at the park?
"The Orlando theme parks are acting out of an abundance of caution rather than a specific threat," says Suzanne Rowan Kelleher, family travel expert for About.com.
"Just as we saw an increased security presence at the Thanksgiving Day Parade in New York City and at some major sporting events and concerts, we can expect this to be the 'new normal' for at least the immediate future at many places where large numbers of people gather."
Park experts and insiders say tourists can expect a few changes in the wake of extended security measures.
Allow more time per attraction.
"For families traveling this holiday season, give yourself a little extra time at the front gate before the start of your favorite show," explains Pelisson-Beasley.
Whether attending a show or waiting at the park entrance, families can expect longer than usual wait times.
But frequent park goers likely won't be shocked by the extra detectors. Universal has already been experimenting with metal detectors during special events like its Halloween Horror Nights and earlier this year to prevent customers from bringing items like cell phones on rides.
Take advantage of pre-planning tools.
Some Disney attractions, like "Frozen" character meet and greets, are already suffering from extended wait times.
Though Disney will not be installing metal detectors in front of additional attractions, the company says that some guests will "be randomly selected for a secondary screening using a metal detector," which will likely extend the overall waiting time to get into the park. And who wants to wait even longer than usual? Line-cutting tools like Disney's electronic Fast Pass will become an even more attractive option for those who want to speed through the park once inside.
The Universal Orlando app offers accurate wait times for all rides, attractions and theme park shows. Unofficial third party apps like Touring Plans and Undercover Tourist offer daily average wait times and suggested schedules based on how much time you have during your visit.
Pay attention to the banned items lists.
Theme parks already have long lists of items that are banned from the grounds but with more thorough bag searches, people attempting to sneak these in shouldn't risk it.
Souvenir shopping may change.
Disney announced that it will be discontinuing the sale of toy guns, including toy blasters and squirt guns throughout Disneyland Resort and Walt Disney World properties and such items will no longer be permitted within the park. So keep your toy guns at home unless you want to end up like the kid whose Buzz Lightyear toy was recently confiscated by the TSA.
But there's good news for Star Wars fans. Disney confirmed that light sabers and other sword-like toys will still be sold throughout Disney properties. Since very few guests were bringing gun toys into the park before the announcement, the company says the impact of this change will be "minor."
Universal, which houses attractions based on decidedly more adult franchises like the "Fast and the Furious" and "Transformers," has not released any information on whether it will stop selling toy guns.
Big kids will have to tone it down.
If you've been fantasizing about meeting Elsa dressed as Olaf, you'll have to table those dreams-- unless you're a kid. As part of its new security measures, Disney says that guests over 14 will not be permitted to wear costumes inside the park. The effort will allow security personnel to more effectively screen guests as they enter.
But theme parks putting parameters on adults dressing up is not new. In October, a man of Scottish heritage was banned from Busch Gardens when he tried to enter wearing a traditional kilt.
Kelleher says the new measures shouldn't deter families from proceeding with their dream vacation-- but a little extra planning may be required.
Says the travel expert, "It shouldn't stop anyone from visiting these theme parks or doing anything else."