The world's most thrilling cliff diving spots
Cliff diving may seem like a simple sport—the kind of activity anyone can do. After all, you'll find most jump spots at laid-back beaches or carefree lakes. Seemingly no specialized skills are involved, no equipment, no high-tech gear. Just step to the cliff's edge, say a little prayer, jump, and hope for the best. Right?
Wrong. Just look at the activity's nickname, "tombstoning," to get some idea of its deadly reputation. This sport, in the wrong hands, is no laughing matter.
What most amateurs fail to realize is that cliff diving is a precision sport that requires impeccable timing and an intimate knowledge of the particular cliff on which you're standing. In the few seconds before you make your leap, you'll have to calculate the distance to propel your body so you miss the rock wall, the angle and speed of your entry into the water, the length of the wave swells, and the depth of the water at different tides.
It's no cliche: mere seconds could mean the difference between life and death.
When it comes to cliff diving, you'll have one of three options. First, the easiest: leave it to the professionals! There are spectacular viewing opportunities in resort towns like Acapulco and Negril, where you can see locals master the art of the jump. Or you can watch for international diving competitions, such as the Red Bull Cliff Diving World Series, where dives are combined with acrobatic twists, turns, and flips to become a true art form.
Second, seek out amateur-friendly spots—some of which made it onto our list—where the water is deep enough and the cliff heights are manageable.
Or finally, do your homework, train, and respect the cliff before attempting any dives. Just remember: look before you leap!
1. Kamari Beach—Santorini, Greece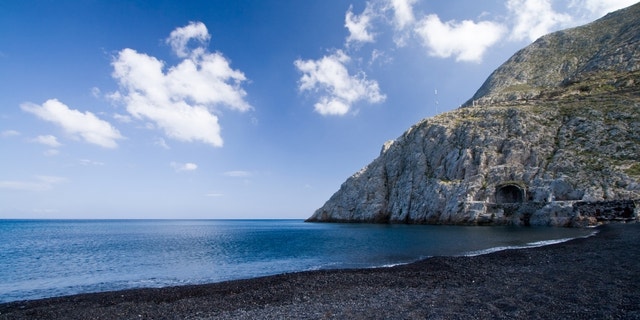 Santorini's famed cliffs are well known for the whitewashed architecture that spills down from the mountains to the sea. Though the volcanic island attracts jetsetters, life here isn't just about sunbathing by day and partying hard by night. There's also a more rugged crowd who comes to Santorini to dive from the cliffs over black-pebble Kamari Beach. Though the 35-foot-high rock walls might seem daunting, the water underneath is deep enough to be safe for most amateur jumpers.
2. La Quebrada Cliffs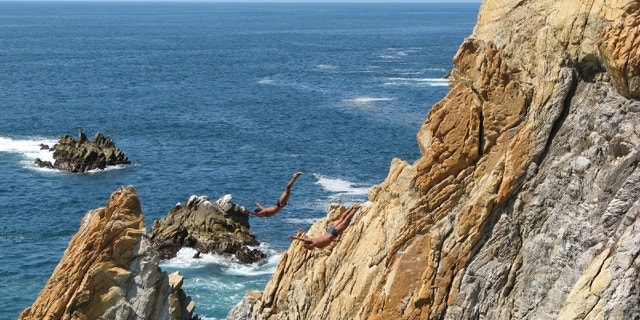 In the 1950s, Timex cast one of Acapulco's famed cliff divers in a commercial to prove their watch's durability. But the watch's presence had added symbolic value: At La Quebrada Cliffs, with heights of up to 136 feet over the Pacific, jumping is a precision sport, where mere seconds can mean the difference between life and death. The waves below swell to a safe depth of 11 feet for only five seconds. Taking into account the three-second trip to reach the water, that leaves no room for error. Generations of locals have trained to make this death-defying leap, and you can now catch them during one of their five daily displays, including four torch-lit night shows.
3. Red Rocks Park—South Burlington, Vermont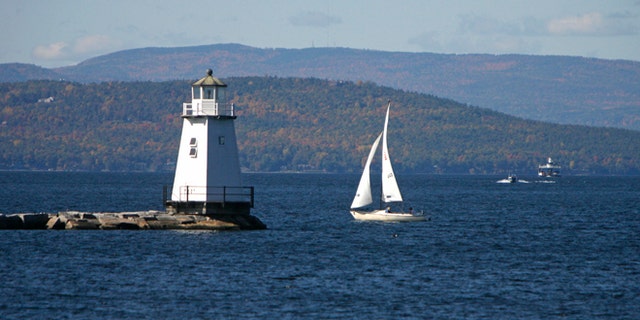 You might not think a lakefront cliff jump could be as dangerous as one set above roaring ocean waves, but even a lake dive can prove treacherous for the uninitiated. The 100-acre Red Rocks Park along Lake Champlain in South Burlington contains some of the most thrilling jumps in the country. The highest cliffs are about 80 feet tall, but it's not just height that make these jumps so risky. Some of the leaps will leave you sandwiched in very narrow inlets between adjacent rock faces—plus, the water is always notoriously freezing.
4. Ord River—Kimberley, West Australia, Australia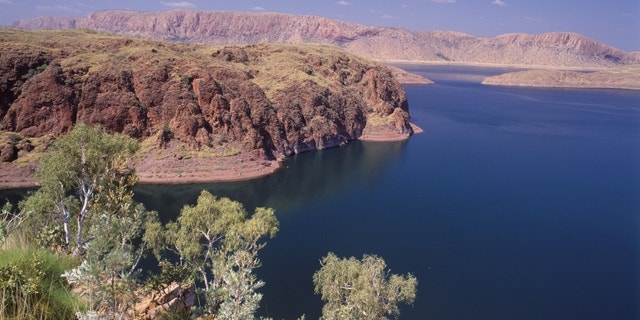 Located on the northwestern tip of Australia, the rugged, remote Kimberley region is one of the least densely populated places on Earth. That means you'll have lots and lots of elbow room to explore the area's famed cliffs, waterfalls, mountains, and gorges. Though there are many different cliff-jumping options at the lakes and rivers in the area, you'll find the highest over the Ord River, reaching heights of up to 84 feet.
5. Serpent's Lair—Inis Mór, Ireland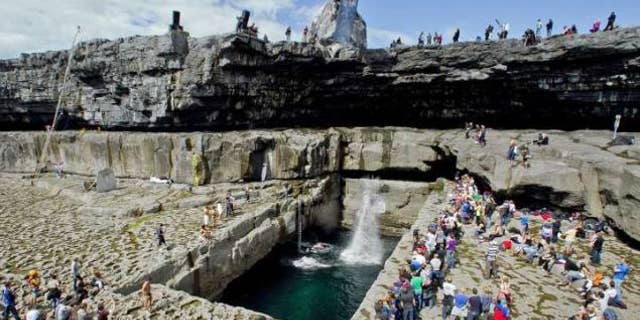 The 2012 Red Bull Cliff Diving World Series brought its diving daredevils to the rugged island of Inis Mór, off the west coast of Ireland. Here, they were tasked with conquering the Serpent's Lair, a natural blowhole carved out by the raging waters of the Atlantic. What makes this spot so unique is that the hole is almost perfectly rectangular, leading ancient Celts to believe it was the home of a mythical giant sea serpent. Divers have about three seconds to decide whether or not the legend is true once they jump from their 85-foot perch.
6. Rick's Cafe—Negril, Jamaica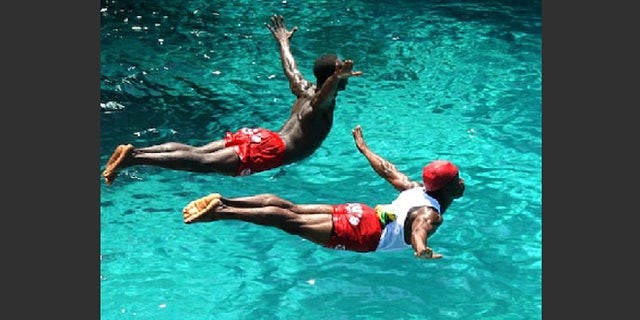 Perched on a limestone cliff on Jamaica's western tip, Negril is one of the best places on the island to catch a Caribbean sunset. At the end of each day, locals and tourists alike flock to Rick's Cafe, a popular cliffside bar which opened back in 1974 when this town was little more than an undeveloped fishing village. Sit back with a tropical drink and watch as locals conquer the three dives here, the tallest of which reaches 35 feet above the cove. While you'll see many tourists make the dive, it should go without saying that drinking and diving is as terrible an idea as it sounds.
Click for more from The Active Times
Also from The Active Times
America's Nastiest (and Cleanest) Beaches
10 Outrageous Artificial Climbing Walls
The World's 15 Craziest Zip Lines