Superyachting not just for the mega-wealthy
Tell friends you're going on a cruise and they may be a little jealous. Tell friends you're going on a superyacht and watch their jaws drop.
But who can afford such a luxurious getaway?
Thanks to the game-changing debut of Crystal Cruises' new yacht line, the dream of island hopping via yacht is within reach. And it's a little more affordable.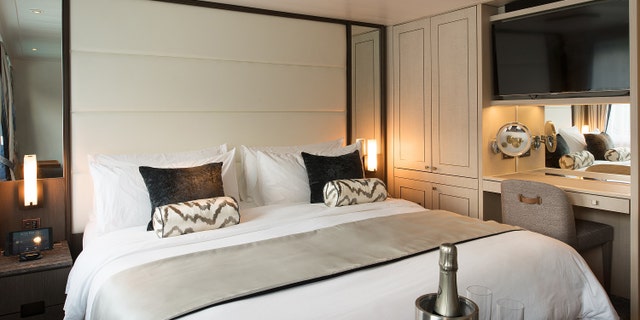 The definition of superyacht depends on who you ask in the boating industry, but it's safe to say when it comes to luxury, size does matter. Aboard the Esprit, guests will find all the comforts of a five-star hotel at sea—without the overcrowded hustle and bustle of a mega liner designed for thousands of guests.
Fares for the Esprit's all-inclusive voyages start around $900/day per person. It includes a personal butler, twice-daily cleaning and turndown service, Michelin-star worthy meals (I wanted to bathe in the basil soup) and the same amenities as standard cruise ships—pool, fitness center, spa, lounge—albeit on a smaller, and more sophisticated scale. The lavish setting and intimate atmosphere elevate the passenger experience from cruising to yachting.
Even the dress code doesn't reference cruising. It's yacht casual, darling.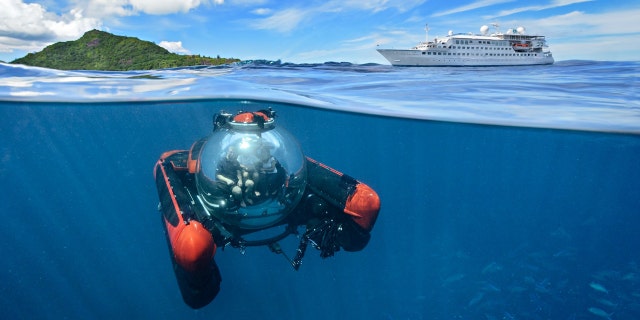 In typical superyacht fashion, the on-board marina is compact and includes equipment for water skiing, wakeboarding, kayaking and jet skiing. But it's the spider-like red submarine guests walk by every time they enter and leave the boat that gets the most attention.
Yes, the Esprit has its own submersible—a 3-passenger C-Explorer able to take guests practically from the front door of their staterooms down to shipwrecks and dive sites. For about $600 per person, guests can charter the submarine for 30-minute dives. Currently, the Esprit is only yacht in the world to over this subterranean experience. Crystal Cruises is still working on securing submarine permits in certain ports.
The Esprit's port excursions include the usual suspects: castle tours, guided hiking, scuba diving, vineyard tours depending on where you're sailing. Because of the boat's size, groups are small and excursions can be customized in ways that larger ships would laugh and shake their hulls at. While it's always great to stretch those sea legs, I often found myself heading back to the boat hours before dinner so I could indulge in a lavender facial or simply relax in one of the four plush robes hanging in my closet. At the push of a button, my personal butler, Clark, would be at my beck and call—balancing a tray of truffles and a bottle of champagne.
It's clear the staff, with their uncanny ability to remember names and nuances, is the A-team the A-team wishes it could be. SeaDream Yacht Club, probably the most comparable yachting cruise on the market, boasts a staff of 95 for a maximum of 112 guests. Crystal Cruises takes that level of personal attention even further by offering 95 staff for a maximum of 62 guests on its yacht cruises. Each member, whether from Portugal, Serbia or the Philippines, is incredibly well traveled, and subsequently, the hospitality they provide is world class. When they found out there was a stuffed monkey on our voyage, they made him daily animal companions out of folded towels. They even let him job shadow the ship's sommelier for a day while his family was out on an excursion.
The Esprit's 2016 calendar includes cruises ranging from 7-14 days with destinations such as Dubrovnik, Venice, Athens, Dubai, Jordan and Cyprus. Indian Ocean sailings around the Seychelles begin in early 2017.
Intimate is a good way to describe it, but at the end of the day, your friends just need to hear one word: superyacht.