Stranded mother caught sobbing as cruise ship sails away with kids onboard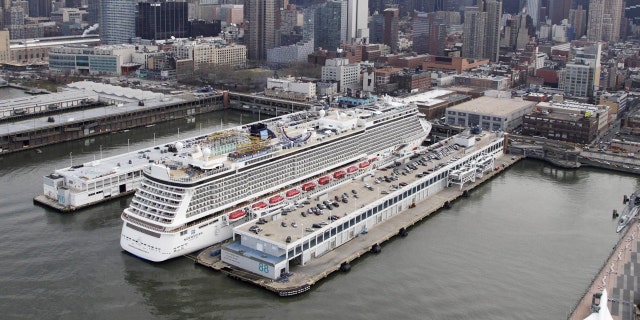 NEWYou can now listen to Fox News articles!
A Caribbean cruise turned into a nightmare for a tardy couple left sobbing and pleading at a Bahamas pier as their ship sailed off with their kids on board.
"That is someone that has missed the boat," said fellow passenger Scott Thomas, who took video of the scene and uploaded it to YouTube.
"Apparently she has her kids on the boat and she's not on there. There's a guy there, too. That right there is not cool," he says about the woman, who dropped to her knees on the Nassau dock.
The 144,000-ton Norwegian Breakaway inched away at 5:30 p.m. April 21, just before the unidentified woman and her husband — who had left the ship to look for her — ran back.
The 4,090-passenger behemoth left New York City on April 17 for a week-long Bahamas and Bermuda cruise. It was headed back to the Big Apple when the parents were stranded.
"How come her kids are on and not her?" another passenger is heard saying in the two-minute clip. "Wow! I didn't think they'd do that," another person says.
Norwegian Cruise Line said the woman had not returned by the "widely communicated scheduled all aboard time of 5:30 p.m."
Thomas said: "I told you they'd do that. When they say 5:30, it's 5:30. Not 5:31, not 5:32. 5:30."
Another person notes that "this ship ain't even trying to slow down, either."
"I would have ran to the end and jumped in!" a passenger adds.
Passenger Brady Forbes told MailOnline Travel that the parents had at least two kids on the ship — a boy about 9 years old and a girl about 12.
"The dad was on the boat and the mom had not come on yet … So the ship told the dad to go find her before the ship left," he wrote on YouTube. "Unfortunately they couldn't find the mom until the ship left."
He said he spoke to the kids in a ship elevator a couple of days later and found out that the family reunited in New York on April 24.
"The children seemed really upset that their parents had missed the boat," he told MailOnline.
The company said in a statement: "The ship went beyond normal protocol and waited alongside an additional half an hour for the guest."
The husband was allowed to disembark with the family's travel documents to wait for his wife — while the kids stayed with their uncle and his family on board for the rest of the trip, the company told The Post.
"The company offered travel and lodging assistance to the couple," NCL said, adding that arrangements were made for them to reunite with the children.