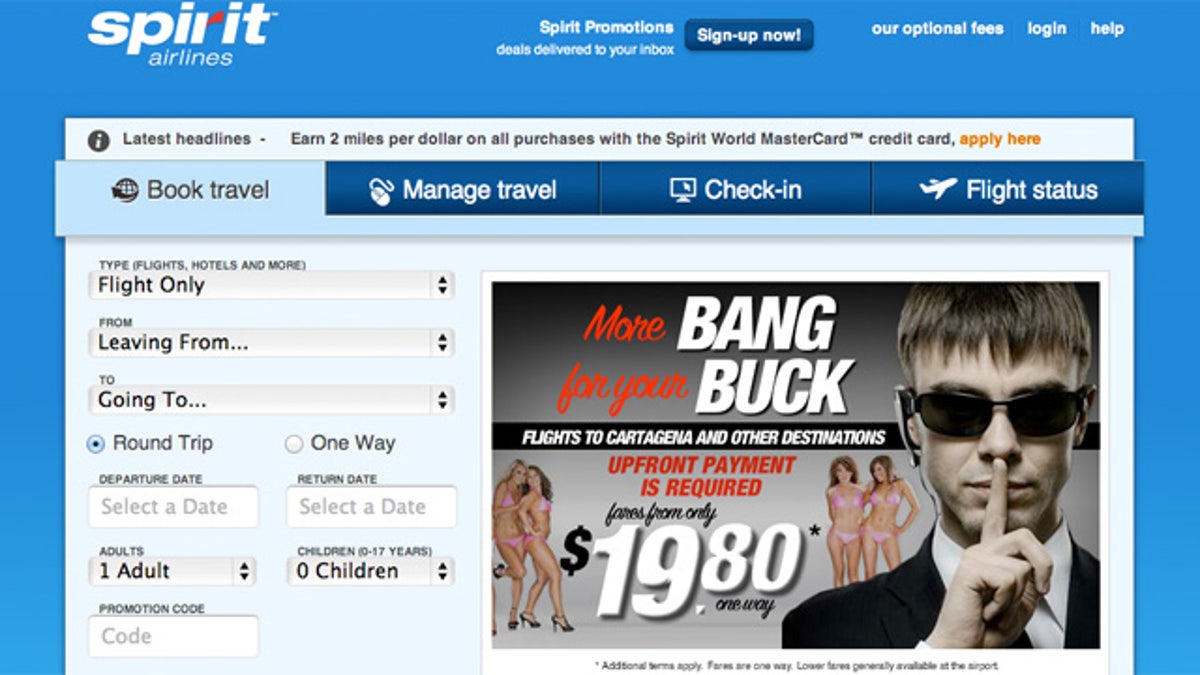 Spirit Airlines, the company that has mocked the likes of Tiger Woods, Charlie Sheen, Rob Blagojevich, is now capitalizing on the Secret Security prostitution scandal by advertising a special for one-way flights to Cartagena, Colombia, starting at $19.80.
The Florida-based budget airline's "More Bang for your Buck" promotion, that features an ad depicting a sunglass-wearing agent in front of four scantily glad women, appears to be poking fun at the allegations that Secret Services members had been in hotel rooms with at least 20 women just before President Obama's arrival in Latin American for a summit. The scandal has embarrassed the president, and has led to three agents being forced out.
The tag line on the Spirit sale, which extends to other destinations besides Cartagena is: "Get more bang for your buck ... This sale is no secret." Terms of the deal require you have to book by midnight tonight, Thursday.
Spirit has another special that ends midnight Friday lampooning the General Services Administration and it's scandal over excessive spending at a lavish 2010 Las Vegas conference. Spirit's GSA sale stands for "Great Savings Always," that is "scandal-free," and "even your interns can afford it!"
Spirit Airlines ran several Blagojevich-themed ad campaigns during the former Illinois governor's pay-to-play scandal, including one with a campaign: "Thought you could escape Chicago for Colorado.. You Thought Wrong." Amid the drug-fueled ramblings of Charlie Sheen, it ran the "BRING IT' ad with 'WINNING' fares starting as low as $27* each way, based on round-trip purchase!"