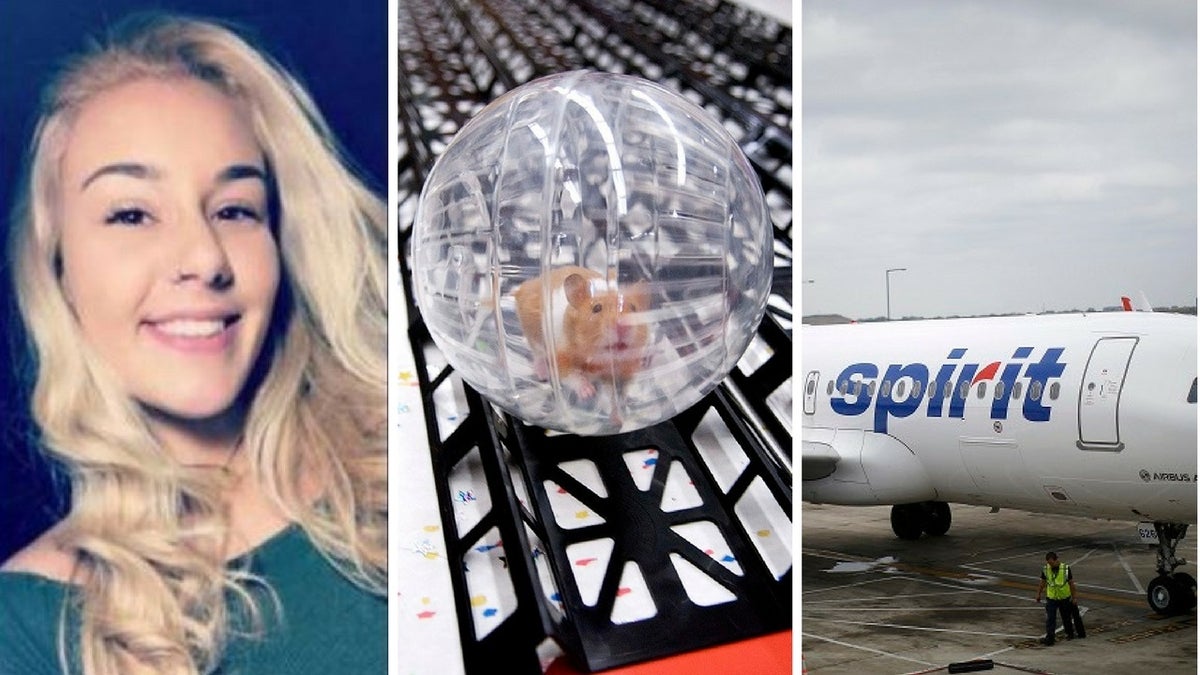 A college student said she flushed her emotional support hamster down the toilet after Spirit Airlines refused to let her bring her furry pet on the plane.
Belen Aldecosea, 21, of Miami Beach, Florida, told the Miami Herald that she contacted Spirit Airlines before her flight from Baltimore to South Florida on Nov. 21, 2017, regarding traveling with her dwarf hamster, Pebbles. Aldecosea claimed the airline told her it was not a problem to bring her hamster on the flight.
However, when the student arrived at the airport she said the airline refused to let Pebbles on the plane. Aldecosea said she did not have many options since her family was in Florida and her friends were hours away. The student claimed a Spirit employee suggested she either flush Pebbles down the toilet or let the animal free.
WOMAN DENIED EMOTIONAL SUPPORT PEACOCK ON UNITED FLIGHT
Aldecosea skipped her flight and tried to rent a car instead, but said she was too young to rent one. So she did what she felt was the most humane choice.
"She was scared. I was scared. It was horrifying trying to put her in the toilet," Aldecosea said. "I was emotional. I was crying. I sat there for a good 10 minutes crying in the stall."
The student said she considered letting Pebbles run free outside but could not bear thinking of her hamster freezing to death or getting hit.
"I didn't have any other options," she said.
In a statement, PETA Senior Vice President Daphna Nachminovitch told Fox News: "One phone call could have saved this animal, or some kind person at the airport could have helped. Flushing a living being down the toilet is not only cruel but also illegal, and both the person who killed this animal and Spirit Airlines - if an employee did, in fact, advise the woman to drown the hamster - should be charged. This must have been a horrific, terrifying death."
Spirit Airlines spokesman Derek Dombrowski told Fox News that an employee misinformed Aldecosea that Pebbles was allowed on the flight but denied that an employee suggested she flush the rodent down the toilet.
"After researching this incident, we can say confidently that at no point did any of our agents suggest this guest (or any other for that matter) should flush or otherwise injure an animal. It is incredibly disheartening to hear this guest reportedly decided to end her own pet's life," Dombrowski told Fox News.
The Miami Herald noted that the U.S. Transportation Safety Administration was fine with hamsters on the flight, but airlines are allowed to choose if they want the rodents on board.
NAKED PASSENGER FORCES TURNAROUND ON ALASKA AIRLINES FLIGHT
Aldecosea said Pebbles was a doctor-approved emotional support animal that helped her when she developed a growth in her neck while at school in Wilson College in Chambersburg, Pennsylvania. The student said she bought Pebbles for some company.
"She (Pebbles) was so loving. It was like she knew I needed somebody," Aldecosea said.
Aldecosea, who now attends the Texas State University, said she was considering legal action against Spirit due to the airline "pressuring her into making an anguished decision with a pet certified by her doctor as an emotional support animal."
Her attorney, Adam Goodman said this case was different than the woman who made headlines last week after a United Airlines flight refused her request to bring her emotional support peacock on a flight.
"This wasn't a giant peacock that could pose a danger to other passengers. This was a tiny cute harmless hamster that could fit in the palm of her hand," Goodman said.