Sleep in a Box Makes Dreams a Reality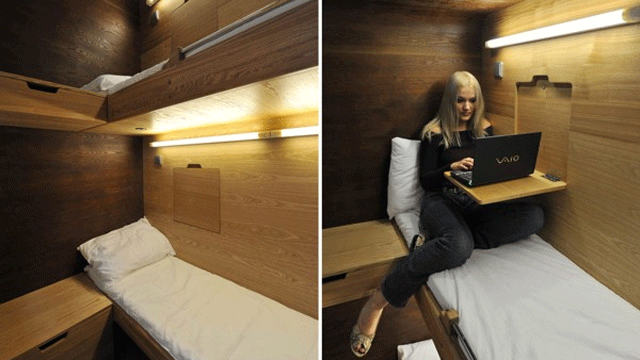 Who thought that getting stuck at an airport could result in a dream come true.
With the arrival of the Sleepbox -- a portable sleep pod that allows you and your gadgets to be recharged at a rate of about $10 per hour - catching some serious winks while traveling is now a possibility.
Last month the Sleepbox -- designed by the Russian-based architectural firm Arch Group --  arrived at Moscow's Sheremetyevo International Airport, but could be coming to an airport near you.
Requests for the pods have reportedly come in from such far-flung places as the Fiji Islands and Spain.
Arch Group says that the soundproof capsules are about 118" high and come with one, two or three bunks. They have electricity for lights and laptop/phone charging capability, built-in LED reading lamps and electric-drive blinds on the windows for privacy.
There's also space for luggage under the beds, that come each with a nightstand. Additional features like TV's, Wi-Fi, and alarm and intercom systems could also be incorporated.
The Japanese developed the similar pod-style hotel idea decades ago, but this concept  --which could be installed at railway and bus stations -- means a traveler can catch a power nap without ever having to leave the terminal.
Travel experts say the Sleepboxes are a great idea, as delays have increasingly become a mainstay of travel.
Would you use it? Leave a comment and let us know.