SeaWorld considers branded resort hotel in San Diego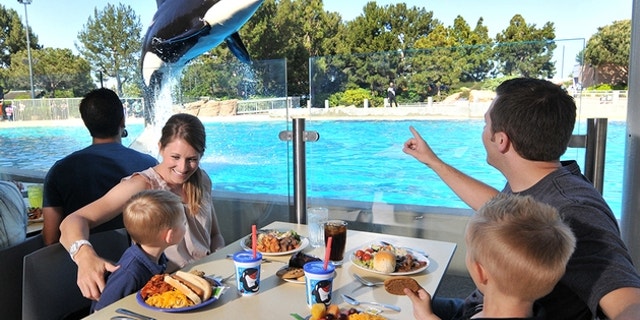 SeaWorld Entertainment recently announced that it has signed a letter of intent with Evans Hotels Group to explore development of a branded resort hotel at its San Diego theme park.
The project is firmly in the "idea" phase, though, and there is currently no timetable for construction.
SeaWorld's theme park/hotel dreams are no doubt motivated by the model's rampant success at Disney's parks and at Universal Studios.
"Hotels attached to theme parks generally do very well and you'll find there's a premium guests will pay for the perks," theme park consultant Martin Lewison told Lori Weisberg of the San Diego Union-Tribune.
However, SeaWorld will need to clear several hurdles with the city of San Diego and the California Coastal Commission in order to turn resort development hopes into reality.
During an investor and analyst presentation earlier this month, SeaWorld Entertainment CEO Joel Manby said that room rates at a SeaWorld hotel could be twice as much compared to a similar hotel located outside of the park.
In addition to higher room prices, SeaWorld is certain to benefit from visitors spending more time at its San Diego theme park and in turn, spending more money.
"Evans Hotels and SeaWorld Entertainment have been pioneers in helping to make Mission Bay the leisure and entertainment destination it is today," said Evans Hotels president and CEO Robert Gleason in a statement. "This project is an exciting opportunity for our iconic brands to join together to create the ultimate resort experience."
Weisberg points out that a several-hundred-room hotel has been part of SeaWorld San Diego's master plan for decades. However the plan has just recently begun to materialize.
If a hotel is constructed at the theme park, it's likely to be no taller than three stories, Weisberg reports. The property is also likely to cost somewhere in the range of $60 and $80 million.
More from TravelPulse
7 Christmas Markets in Europe Worth Experiencing
A Hotel That Brings Christmas To Your Room
Early Black Friday and Cyber Monday Deals On the Seas
4 Hotels Perfect for Celebrating Thanksgiving
7 Cruise Lines Foodie Travelers Should Be Watching