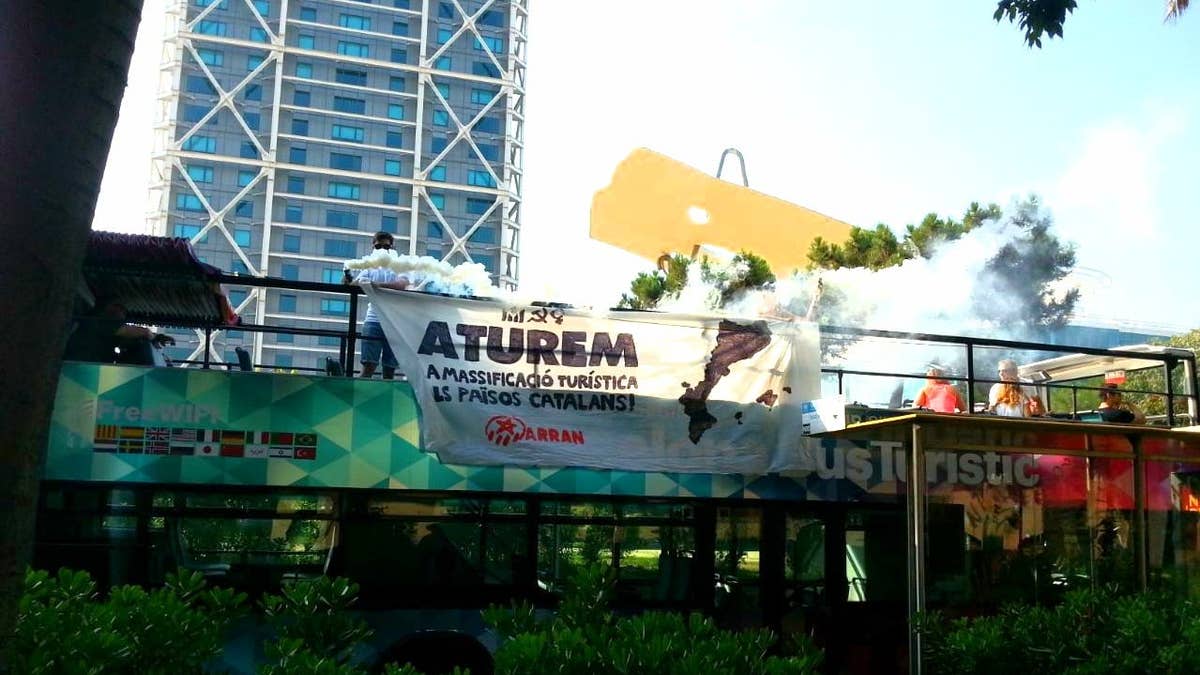 An anti-tourism group in Spain is lashing out against what they perceive to be an influx of sightseers who are ruining the local culture.
Two members of Arran, a radical youth organization affiliated with Spain's Popular Unity Candidacy (CUP) party, stormed a double-decker bus in Barcelona on Monday morning to protest "mass tourism" in Catalan countries, The Sun reports.
During the demonstration, the two Arran members ascended to the second level of the bus where they lit two flares and unfurled a banner reading "Stop mass tourism in the Catalan countries," in the Catalan language.
COUPLE CRITICIZED FOR PULLING 'STUPID' STUNT ONE YEAR AFTER WOMAN DIES ON SAME BEACH
The two quickly left the bus, Barcelona's transport department confirmed. None of the sightseers were injured, and no permanent damage to the bus was reported.
Arran later announced on Facebook that the Barcelona demonstration was one of three they carried out on Tuesday, along with photos of two others which presumably took place in Valencia and Palma.
"Throughout [the day] we have carried out a coordinated action in the cities of Barcelona, Valencia and Palma to denounce the tourist model of the Catalan countries," reads a translated statement posted to Arran's Facebook page. "We have stopped 3 tourist buses to denounce that massive tourism is sustained at the expense of our misery, that of the working class, forced from its neighborhoods by the disgraceful rise of rents and condemned to work precarious jobs with terrible salaries."
"It is not tourismphobia, it is a class struggle to survive!" the post concluded.
The bus attack is the latest of several demonstrations carried out by Arran, which argues that large-scale tourism initiatives harm the landscape, force people from their neighborhoods, and "eat up the coastline," The Express reported.
In June, members of Arran also chained themselves to Barcelona's Gaudi sculpture — a popular tourist site — to protest the effect of tourism on the locals, whom they say are being exploited and forced to work for low pay. They also claimed that the Gaudi demonstration was "just the start" of a series of planned anti-tourms demonstrations planned for the summer.
PHOTOS: GROUP TAKES TOURISTS TO JUMP FROM CLIFFS, WATERFALLS IN COSTA RICA
Previous tactics used by Arran members include spray-painting tourist buses with slogans reading "Tourism kills neighborhoods," and slashing the tires of tourists' bikes and buses. In August 2017, Arran members in Mallorca also set off smoky flares at a marina, and threw confetti in the faces of tourists dining nearby.
Gerardo Pisarello, first deputy mayor of Barcelona, has responded to the latest protest, calling it "a symbolic initiative," The Express reports.
"It is one of the many that occur in Barcelona, we must promote a debate on the city's tourism model," he added.
FOLLOW US ON FACEBOOK FOR MORE FOX LIFESTYLE NEWS
Backlash against tourists, in general, has been flaring up in recent years in Barcelona, especially. Anti-tourism marches have been organized in Mallorca and San Sebastian, and Barcelona residents have been especially vocal about home-sharing services such as AirBnb and HomeAway leading entrepreneurs and landlords to buy up whole buildings and jack up rent, The Independent reported.
A member of Arran once outlined the group's problem to The Sun, telling the outlet that "tourism here is totally out of control."
"It is focused on partying and being uncontrollable and it attracts all kinds of people who have no respect for the places they visit," added the Arran member.
"They leave it in a state that nobody can then enjoy… The problem can be seen across the island."