Pregnant woman upset with Disney Cruise Line after family escorted out by armed officer
An expecting mom from St. Louis says she's unhappy with how the staff at Disney Cruise Line treated her family after they were denied entry to the ship.
Emily Jackson, who is 25 weeks pregnant with her third child, had flown with her family to Miami to board their cruise on the Disney Magic, due to leave on a 6-day trip to the Caribbean. But upon arriving at the port of departure, Jackson claims she was not allowed on the ship because she "missed the pregnancy cutoff" of 24 weeks, despite providing the staff with a note from her doctor.
CARNIVAL CRUISE OFFERS TEEN FREE TRIP IN EXCHANGE FOR SNAPCHAT HANDLE 
Jackson, however, says she was more upset by subsequent treatment of her family, claiming that an armed officer was called in to escort her entire party — which included multiple children — out of the ticketing building while their luggage was removed from the ship.
"They had the guy with the gun following us. They had the K-9 unit," Jackson told Miami's WPLG. "So we then had to take both babies outside, wait almost two hours for our luggage, outside in the heat, and both babies are red-faced."
Jackson also shared footage of her family's ill-fated trip in a YouTube vlog post, in which she explained how the armed man arrived after her father asked the staff if they could "hurry up" with their luggage.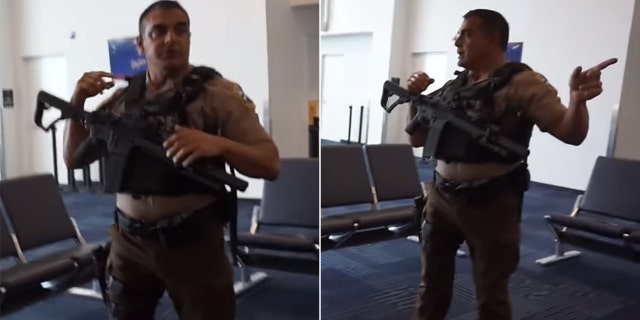 Jackson's vlog also captured footage of Disney Cruise Line employees appearing to ignore her family's concerns while sorting out the situation.
SOUTHWEST IGNORED BOY'S PEANUT ALLERGY ON FLIGHT, CAUSING SEVERE REACTION, FAMILY CLAIMS
In response to the incident, Disney Cruise Line has released the following statement to Fox News:
"While we understand the guests' disappointment with not being able to board the ship, for health and safety reasons, our policy does not allow women who have reached the 24th week of pregnancy to travel, which is consistent with other cruise lines and is noted on our website and in travel documents our guests receive before sailing," stated Cynthia Martinez, a spokesperson for Disney Cruise Line.
"The Miami-Dade Police Department is responsible for security at the port and handled the situation as they felt appropriate given the guest's actions."
The cruise line's FAQ webpage also outlines the same policy concerning pregnant passengers. "Women who have entered their 24th week of pregnancy as of their embarkation date or who will enter their 24th week of pregnancy during the cruise will be refused passage due to safety concerns," the site reads. "Neither a doctor's medical statement nor a waiver of liability will be accepted."
Jackson explained on YouTube that she was unaware of the cruise's cut-off for expecting passengers, but understands their concerns. She then added that she was more upset with the staff's treatment of her party.
"Forget the policy, OK? That is not my issue," she said in the post. "What our problem was, was how they treated us after that point."
"I'm mad because of how they treated me and my children."
FOLLOW US ON FACEBOOK FOR MORE FOX LIFESTYLE NEWS
Disney Cruise Line has since offered to refund the Jackson family's fares. She tells WPLG their other vacation expenses were not covered.