Pilot makes amazing emergency landing on California freeway: 'I went with my gut'
NEWYou can now listen to Fox News articles!
A small plane headed for Van Nuys, Calif., made an emergency landing on a freeway in Costa Mesa after experiencing engine trouble on Sunday night.
The pilot, identified as 24-year-old Izzy Slod by KNBC, has stated that he and a friend had taken off from San Diego in a Beechcraft Bonanza aircraft when the engine lost power mid-flight. He then informed air traffic controllers that he would be attempting to land on the 55 Freeway near the Orange County Fairgrounds.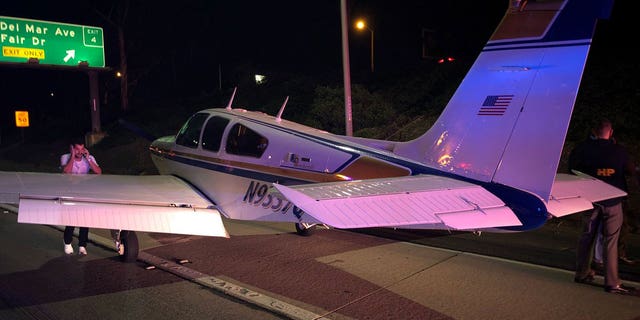 'SERIAL STOWAWAY' ARRESTED AGAIN, JUST DAYS AFTER BEING RELEASED FROM JAIL
"You don't have a choice, you have a minute, maybe two minutes max to figure something out," Slod told KNBC. "I went with my gut on the freeway. I didn't know if I was going to make it."
Slod added to KTLA that he considered trying to land at the John Wayne International Airport in Santa Ana, but soon realized that wasn't feasible. The station further reports that Slod flew under an overpass before touching down.
"I had to make a last-minute, last-second judgment on whether or not we could make it over, and we didn't have the airspeed to make it over, so I went under it," he told the station.
AIRASIA EMPLOYEE DIES DURING FLIGHT FROM MALAYSIA TO INDONESIA
Officials at the California Highway Patrol say the plane landed shortly before 8 p.m., and the Costa Mesa Fire Department confirmed that Slod and his passenger were uninjured.
The aircraft itself was also intact, according to footage of the incident shared by Twitter users.
Chris Coatez, the captain of the Costa Mesa Fire Department, added that the department initially received a call that the plane crashed at the fairgrounds, but soon learned that the plane landed safely on the freeway, reports KTLA.
He also added that it was a "complete miracle" that there was no traffic when Slod needed to land his plane.
FOLLOW US ON FACEBOOK FOR MORE FOX LIFESTYLE NEWS
The Federal Aviation Administration is said to be investigating the incident, a spokesman for the FAA tells the Los Angeles Times.