Photos show damage to American Airlines plane from hail storm following emergency landing
An American Airlines flight en route to Phoenix from San Antonio on Sunday made an emergency landing in El Paso due to "damage sustained by weather" during the flight, Fox 4 News reported.
Flight 1897 left San Antonio International Airport at 6:57 p.m. and landed safely at 8:03 p.m. MT, the airline confirmed.The Airbus A319 had 130 passengers and five crew members.
SEE IT: PLANE HITS TRACTOR-TRAILER FULL OF PIGS DURING CRASH LANDING
Reports said the plane's nose and windshield were damaged during the flight.
"The aircraft is currently being evaluated by our maintenance team. We never want to disrupt our customers' travel plans, and we are sorry for the trouble this caused," a statement read.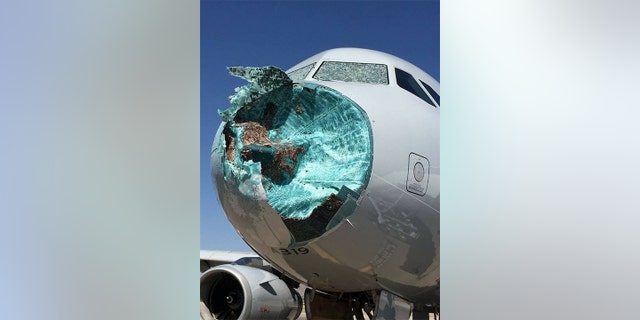 Jesus Esparza, a passenger on the plane, described a chaotic scene to KENS 5.
Esparaza said passengers observed lighting outside their windows during the flight and said it sounded like the plane was being pelted with hail. He said at one point it dropped "like a rollercoaster."
He said some passengers gasped and he had to let a passenger behind him use his sickness bag because the person already used their bag.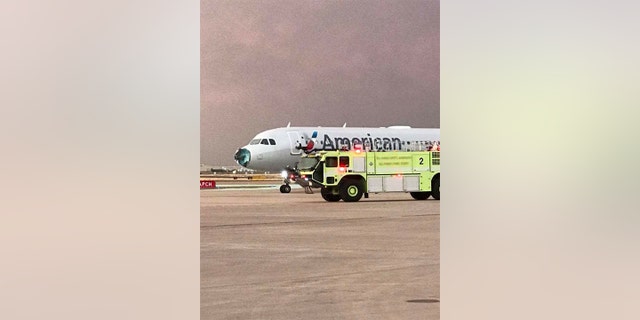 FOLLOW US ON FACEBOOK FOR MORE FOX LIFESTYLE NEWS
"I'm just glad to be on the ground," he said.
No one was injured due to the incident.