Off-limit countries and gadget-free getaways are new travel trends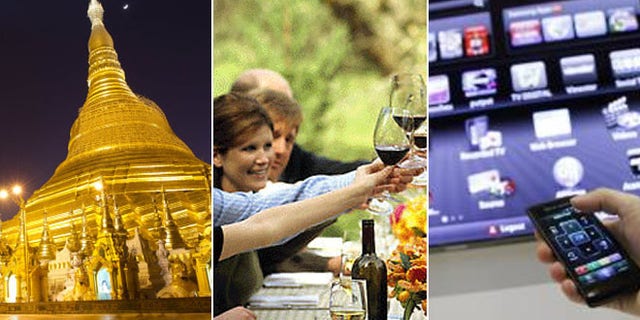 Tired of indistinguishable hotels and crowded tourist hot spots?
A new study released Monday reveals that some future travel trends include trips to off-the-beaten path countries, gadget-free getaways and vacation bookings made on smart TVs.
The "Global Trends Report" by market research firm Euromonitor International looked at nine key emerging travel and tourism trends worldwide --accounting for how the global, regional and national political, social and economic situation is shaping the travel industry.
According to the report, U.S. travelers are increasingly interested in experiencing countries that have previously been off limits, such as North Korea, Libya, Cuba and Myanmar -- thanks to the lifting of travel restrictions.
"It's a small but growing market. Most U.S. visitors to previously banned countries are expected to come from the Baby Boomer generation," Caroline Bremner, head of travel and tourism research at Euromonitor said.
Another future travel trend revolves around technology, and in some cases of the lack of it.
With more consumers addicted to their mobile devices, some hotels are offering "technology-free" packages that require visitors surrender their gadgets and digital gear, allowing relationships to be renewed.
Trips that concentrate on relaxation, such as spas, wine tours, cruises and rail trips were expected to perform particularly well through 2016.
On the other hand, travelers will continually rely on the advancement of technology to book their travel, according to the report. Smart TVs are cited as a vital new platform for travel marketers to directly connect consumers to the market by enabling them to make immediate bookings through the TV or via travel apps.
"The next big thing is to have a presence on these machines," Bremner said in the report. "With 50 percent penetration by 2014, it's going to be fast adoption."
The report also predicts a rise in travel packages which cater to tourists on shopping trips.
Nouveaux riche shoppers from Brazil, Russia, India and China (so-called BRIC countries) are expected to flock to American and European cities to splurge on luxury goods. In addition, hotels in the Middle East are increasingly continuing to build either within or beside shopping malls to take advantage of the shopping travel trend.