New York City's Metropolitan Museum considers ticket fees after decades of free admission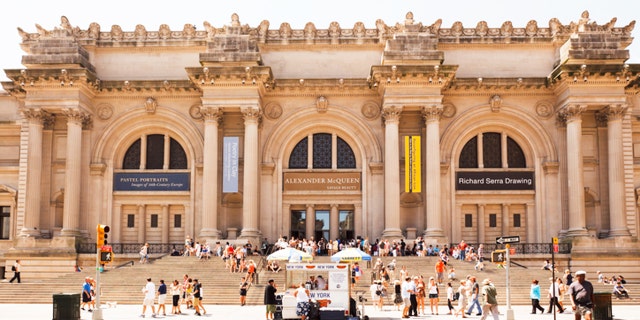 NEWYou can now listen to Fox News articles!
After decades of free admissions for both tourists and locals, the Metropolitan Museum of New York and the city government are considering charging admission for the first time in the museum's nearly 125-year history.
On Wednesday, New York City Mayor Bill de Blasio endorsed the idea of having the Met charge admission for visitors from outside of New York City, reports The New York Times.
"I'm a big fan of Russian oligarchs paying more to get into the Met," de Blasio said during a press conference.
The museum, a taxpayer-supported institution established in 1893, currently has a "suggested" entrance fee of $25 for adult visitors. According to the New York Times, entrance fees generated "about $39 million" last year— 13 percent of the museum's total revenue.
The museum has previously been in talks with de Blasio's administration on how to close the museum's current budget deficit of $15 million. A mandatory entrance fee could raise tens of millions of dollars annually.
Even with mandatory tickets, de Blasio said the move shouldn't be seen as a replacement for any funding the city currently provides to the museum. The museum receives $26 million a year from the city, which owns the Met's buildings.
FOLLOW US ON FACEBOOK FOR MORE FOX LIFESTYLE NEWS
"I don't think we have an assumption about city funding," de Blasio said. "It's about them being able to sustain their operations long term and would actually mean they wouldn't need additional city funding, in theory. But no, the real issue is just to allow them to defray some of their costs in a way that's fair to city residents."
Currently, 63 percent of the Met's 7 million annual visitors come from outside New York state.
City officials are still calculating how a fee might affect visiting tourists—i.e. whether a prohibitively expensive entrance fee might deter millions of art-lovers who would otherwise flock to the museum.
The Associated Press contributed to this report.