New Jersey passenger who threatened to put flight attendant 'in a body bag' pleads guilty to disrupting flight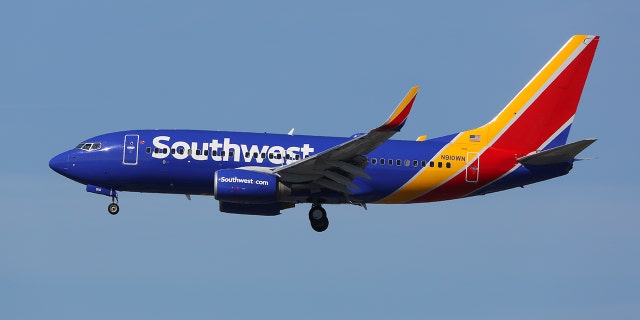 A New Jersey man pleaded guilty to one count of interference with a flight crew after punching two policemen and threatening to put "in a body bag" an airline crew member who denied him a fourth drink on a Southwest Airlines flight last October.
Joel Michael Bane, a martial arts instructor and combat veteran, issued the plea in a New Orleans federal court Thursday, The New Orleans Advocate reports.
RYANAIR FLIGHT KICKS OFF 'DISRUPTIVE' PASSENGER DRESSED AS TINKER BELL
Bane was flying from Chicago to New Orleans in October 2017. During the flight, he had three alcoholic drinks, and when he requested a fourth was denied by flight crew because the plane was preparing to land.
According to reports, Bane became unhinged and refused to return to his seat and threatened a flight attendant and the plane's captain by saying he had served in Iraq and Afghanistan and would have no problem handling them.
DELTA PASSENGERS RESTRAIN UNRULY MAN THREATENING TO 'TAKE THE PLANE DOWN'
Once the plane arrived in Louisiana, police boarded the plane to take Bane into custody. Bane reportedly punched two officers.
Officers used Tasers to subdue the "large and very muscular" veteran, according to court documents quoted by New Jersey.com.
FOLLOW US ON FACEBOOK FOR MORE FOX LIFESTYLE NEWS
As part of his plea agreement, Bane will receive only probation instead of the up to 20 year prison sentence that he could have faced, his attorney said to NOLA.com.
However, U.S. District Judge Jane Triche Milazzo could sentence him to the 20 years and give him a fine of up to $250,000 if she disagrees with the plea agreement.
Attorney Frank DeSalvo said his client suffers from post-traumatic stress disorder.
Sentencing is scheduled for December.