Nebraska's annual tourism guide accidentally features photo from Missouri's Union Station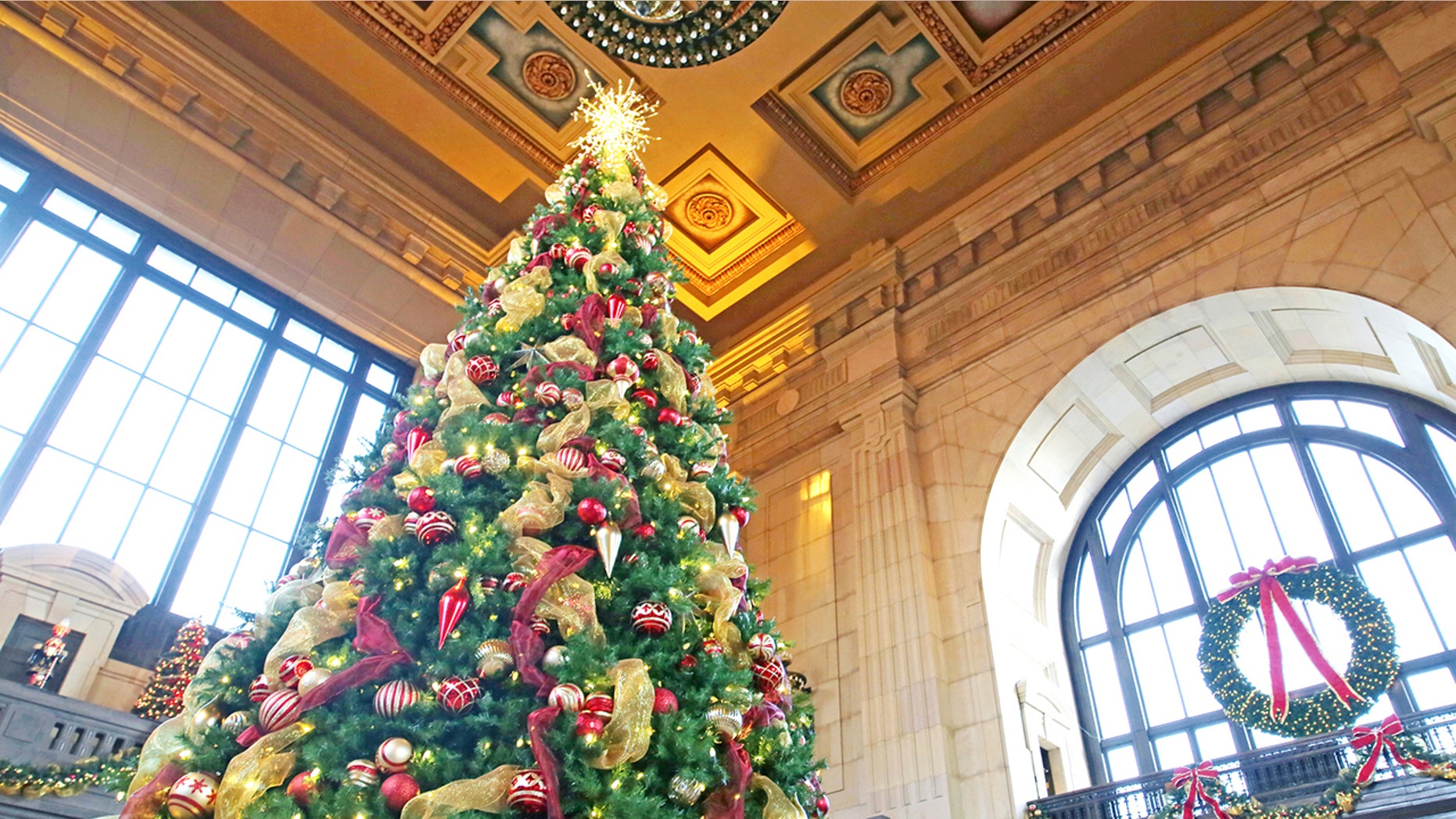 Turns out Nebraska's 2018 travel guide may be doing more good for Missouri than the state that commissioned it.
The Nebraska Tourism Commission has admitted that its 2018 Nebraska Official State Travel Guide features a photo taken inside Union Station in Kansas City, Mo., rather than Union Station in Omaha, as was originally intended, The Kansas City Star reported.
The photo, which appears on page 27 of Nebraska's travel guide, features a large Christmas tree photographed from below, underneath the ornately decorated ceiling of Kansas City's Union Station. The caption reads, "Come winter, there's no better place to kick off the season than Christmas at Union Station, where you can meet Santa himself by a 40-foot-tall Christmas tree."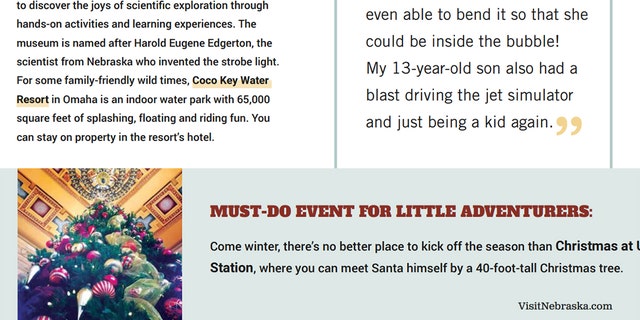 PICS: NEBRASKA TAKES FUNNY, 'HONEST' APPROACH TO TRAVEL IN TOURISM CAMPAIGN
A professional photographer only recently noticed the gaffe while browsing the travel guide, and – having photographed Kansas City's Union Station before – immediately pointed out the error.
"It was a picture of OUR Union Station Christmas tree and part of the multi-colored, Jarvis Hunt-designed ceiling, but the copy blurb implied it was the Omaha station," photographer Roy Inman told The Star.
John Ricks, the executive director of the Nebraska Tourism Commission, said a mistake like this sometimes "slips through" in a statement obtained by Fox News.
"First of all, understand that the picture in question is in the 2018 travel guide that has been out for nearly a year now and in January we will replace it with the 2019 guide," said Ricks, via the emailed statement. "The picture was brought to our attention by a professional photographer who often takes images for the Union Station in Kansas City. To the untrained eye this very small picture in our travel guide, that's main focus is a Christmas tree with a small portion of visible ceiling, could be easily mistaken for our Union Station in Omaha given they both similarly have adorned ceilings.
"We researched the picture and discovered it was indeed a mistake. And we're certainly sorry about that. However, I've been around this business for nearly 30 years and have been involved in the production of dozens of travel guides for a number of different destination marketing organizations. Inevitably, there are typos or stock pictures from other destinations that somehow find their way into travel guides. Our guide is reviewed by staff and external marketing partners constantly through the long development process – then reviewed again by a number of different people before production. Something inevitably slips through, even though every effort possible is taken to prevent things like this from happening.
"Honestly, we're not perfect."
Prior to Inman's discovery, however, workers for the Durham Museum – which itself operates out of Omaha's Union Station – claim they spotted the mistake months ago, but figured it wasn't much of an offense.
"I just chuckled — everyone makes mistakes," Jessica Brummer, the communications director for the Durham Museum, told the World-Herald.
A representative for Kansas City's Omaha Station has since admitted there are striking similarities between the two buildings, and only wished "the best" for Omaha's in the wake of the blunder.
TAXI DRIVER RETURNS $10,000 TO TOURIST AFTER RIDER LEAVES IT IN THE CAR
Nebraska's 2018 travel guide was printed at a cost of $94,000 and cost an additional $84,000 to distribute, the Associated Press reported. The guide was produced by a Colorado-based marketing firm, who used images provided by the Nebraska Tourism Commission along with pictures from other sources. However, the Commission had a final review of the guide before it went to production, the World-Herald added.
A marketing manager for the Nebraska Tourism Commission has since promised that next year's guide, which comes out next month, will not feature any more pictures from Missouri.
"The new 2019 Travel Guide will be out in January and there's not a picture of the KC Union Station in that one," Jenn Gjerde told the Star.
FOLLOW US ON FACEBOOK FOR MORE FOX LIFESTYLE NEWS
Nebraska's tourism department also made headlines earlier this year for its "honest" tourism campaign, which touted the state's "flat, boring landscape" and featured an ad declaring, "Lucky for you, there's nothing to do here."