'Mob' breaks out at Des Moines International Airport after 14-hour delay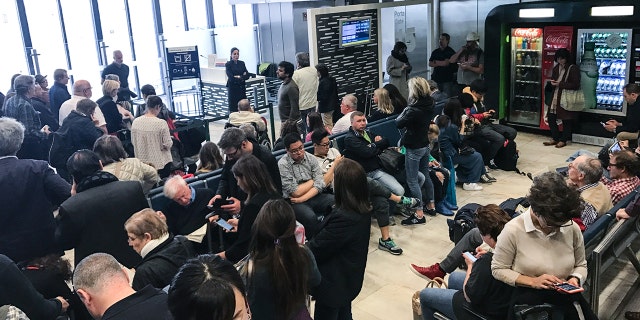 NEWYou can now listen to Fox News articles!
A 14-hour flight delay erupted in chaos at Des Moines International Airport overnight, causing police and security to be called in to calm the irate passengers.
Allegiant Air Flight 153 was supposed to leave Friday morning, but didn't take off until 2:30 am Saturday, KCCI reports, stranding passengers at the airport.
"They couldn't get a refund," Cassie Marks, whose parents were stranded in Des Moines, IA, on their way to Arizona, told KCCI. "They couldn't get their luggage. People were literally stuck."
PASSENGER'S CIGARETTE BREAK CAUSES MASSIVE AIRPORT DELAYS
According to airport officials, police were called in just after midnight when a "mob" broke out, a passenger said in an email to KCCI.
"The communication just wasn't happening, and people were so frustrated that law enforcement and security had to be called in," Marks said. "There was a screaming match going on."
Several passengers felt "lied to all day" and "strung along" by the airline.
Marks said her parents were "continually lied to a half-hour, an hour at a time."
Director of corporate communications for Allegiant Air, Hilarie Grey, apologized for the incident and told KCCI the delay was extremely unusual.
"We do understand that people were frustrated by that, and maybe the communication wasn't as good as it could have been while we thought it could get resolved quickly," Grey said.
FOLLOW US ON FACEBOOK FOR MORE FOX LIFESTYLE NEWS
Grey blamed "mechanical issues" and bad weather for the 14-hour delay.
A replacement aircraft flew in from Las Vegas to retrieve passengers just before 9 pm, but the flight didn't end up taking off until 2:30 am Saturday.
Passengers were given a $100 voucher, according to KCCI, but no refund.