Knott's Berry Farm closes controversial 'mental institution' themed haunted house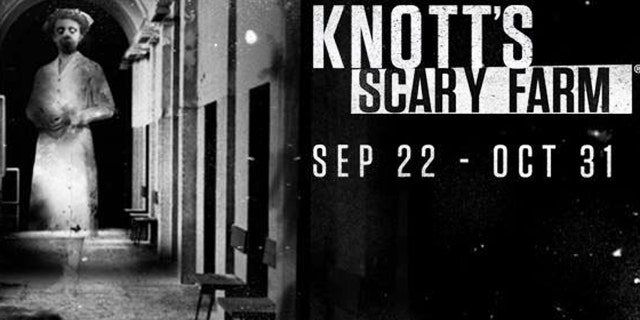 NEWYou can now listen to Fox News articles!
Knott's Berry Farm in Buena Park, Calif. will have one less attraction at its annual Halloween event this year after mental health advocates complained about a virtual reality attraction.
Fear VR was a new haunted house ride at Knott's Scary Farm event featuring a storyline about a possessed patient running around a mental institution. Park visitors were strapped into chairs and moved through the attraction wearing VR headsets.
The hospital-themed attraction, which opened Thursday Sept. 22, was originally named Fear VR 5150, numbers for the official state code used to authorize the detention of a person who may be suffering from a mental disorder that causes an individual to be considered a danger to others or himself or herself.
On its website, Knott's warns that attractions at the Halloween event contain "extremely adult material" and while there is no minimum age requirement, the "event is recommended for mature audiences only and not recommended for children under 13."
Immediately after its debut, the ride was criticized by several mental health advocates for its portrayal of mental illness.
Kay Warren, the wife of Saddleback pastor Rick Warren, told the OC Register that the attraction's original name struck a nerve because her son, who committed suicide in 2013, was "held on a 5150" several times. On the ride's opening day, the park announced that it would drop the "5150" from the attraction's name.
But many other California residents continued to speak out against the ride's portrayal of people suffering from mental illness.
Los Angeles resident Julia Robinson Shimizu penned an open letter about Knott's to an L.A. Times editor.
"Knott's Berry Farm is horrifying because it demonizes people with mental illness," wrote Shimizu of Los "Shame on Knott's Berry Farm and on Los Angeles Times for presenting illness as entertainment. People with mental illness are our loved ones and yours…. People with mental illness are statistically more likely to be a victim of a crime than to commit a crime.
The ride stayed open through the weekend but after numerous complaints continued, Knott's (which is owned by amusement giant Cedar Fair) announced that it would shutter the Fear VR attraction entirely.
The park sent a statement about the decision to the L.A. Times: "Over the past week we have heard from a number of people expressing their concern that one of our temporary, Halloween attractions — Fear VR — is hurtful to those who suffer from mental illnesses. Contrary to some traditional and social media accounts, the attraction's story and presentation were never intended to portray mental illness. As it is impossible to address both concerns and misconceptions in the Halloween timeframe, at this time we have decided to close the attraction."
California's Great America in Santa Clara, Calif. and Wonderland park in Toronto, Canada (both owned by Cedar Fair) also cancelled the featured attraction at their Halloween events in the wake of the controversy.
Mental health advocates praised the decision. "I feel good about what happened here," John Leyerle, president of the National Alliance on Mental Illness Orange County, told the OC Register. "Thankfully, this attraction will no longer further mental health stigma. By closing this ride down, they've moved things away from a negative place."
But Knott's Scary Farm, which has been held at the theme park every year 1973, isn't cheap. Nightly tickets cost $40 and many thrill seekers have started to criticize the park's decision to close the VR-enhanced haunted house.
@knotts I'm sorry that people complained about the vr 5150. When I attend Scary Farm I expect to be scared. I went on 9/23 and had a blast.

— T deadhead4life(✌⚡) (@Trissia) September 28, 2016
On Wednesday night, thousands signed a petition asking the park to re-open the ride.
"It is a haunted amusement park, the things that exist in it are meant to terrify and disturb you, this is what people sign on for when they go to the park," reads the Change.org page. It continues, "Closing the attraction is not going to help advocate the increase of knowledge on the subject either. People are still going to be afraid of what they do not understand in regards to mental illness."
The park states that there are no ticket refunds for the event.
Representatives for Knott's Berry Farm and Cedar Fair were not immediately available for comment.