JetBlue passenger gives birth to baby boy on flight from Puerto Rico to Florida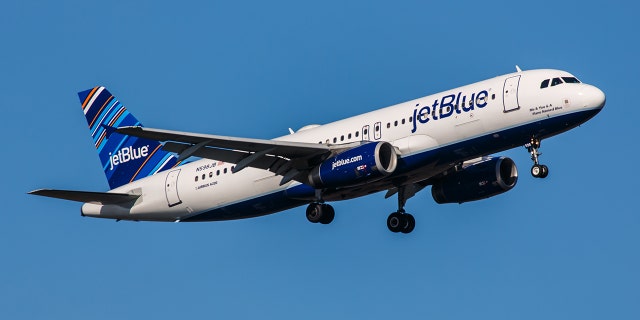 JetBlue has a surprise in store for its "youngest customer to date."
On Saturday, the airline confirmed that a passenger had given birth to a baby boy aboard Flight 1954 between Puerto Rico to Florida, and even hinted that the aircraft – which is coincidentally named "Born to Be Blue" – will soon be renamed in the baby's honor.
"Flight 1954 from San Juan to Fort Lauderdale was met by emergency medical services following the onboard delivery of our youngest customer to date," the airline wrote in a statement. "We'd like to thank the crew and medical professionals on board for their quick action under pressure, and wish the new mother and son all the best."
FLIGHT ATTENDANTS' UNION CALLS FOR INVESTIGATION INTO 'BURLESQUE' VIDEO
JetBlue added on Twitter that "more baby shower gifts" are coming, though the airline has yet to specify whether that means free travel deals, as airlines including Jet Airways and Spirit have done for customers who gave birth aboard their aircraft.
Yaqui Ramos, a member of JetBlue's ground operations, shared photos of the crew and the newborn upon landing in Fort Lauderdale, again thanking the crew for its efforts, per Good Morning America.
The outlet also confirmed the flight lasted only 2 hours and 40 minutes.
CLICK HERE TO GET THE FOX NEWS APP
Oddly enough, this isn't the first time baby names and airlines have influenced each other: In 2016, a Jetstar passenger named child after the airline after giving birth midflight (Saw Jet Star), and in 2012, an Emirates passenger named her baby after the flight number (EK) after delivering on the plane.