JetBlue flight makes emergency landing after striking bird; passenger claims engine blade cracked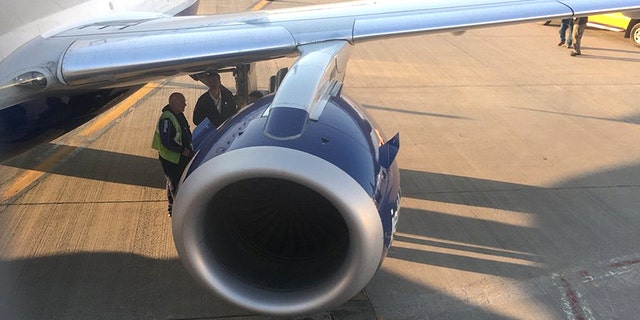 NEWYou can now listen to Fox News articles!
A Boston-bound JetBlue flight was forced to turn around shortly after takeoff from Buffalo when the plane struck a bird Thursday morning.
The incident happened around 6 a.m. The plane had only been in the air for about 10 minutes.
The captain flew back to Buffalo "out of an abundance of caution" and the plane landed safely.
SEARCH FOR MISSING CARNIVAL CRUISE PASSENGER HAS ENDED, COAST GUARD SAYS
Passenger Jess Murszewski tweeted that the plane had hit a seagull, causing an engine blade to crack, though the collision wasn't noticeable on board. JetBlue did not confirm the damage to the engine.
"I heard a loud engine noise on the pilot's side of the plane (the side I was seated). We didn't feel anything and the plane didn't shake. It was actually really surprising because we didn't see it happen when the seagull was sucked in," she wrote.
Murszewski also wrote that the flight was going to be "considerably delayed as they repair the damages," possibly even cancelled.
As a gesture of goodwill, JetBlue has issued $125 service credits to eligible customers, according to an email shared by Murszewski.
The passenger also praised the airline for how they dealt with the unfortunate circumstances. "Your crew was extremely professional and the captain did an exemplary job in handling the situation!"
A spokesperson for Jet Blue released the following statement to Fox News: "On May 24, 2018, Flight #2216 from Buffalo to Boston experienced a bird strike shortly after takeoff. Out of an abundance caution, the captain returned to Buffalo Airport where the plane landed safely. The aircraft will be inspected by maintenance. All customers will be accommodated on other flights."
Murszewski shared she'd been rebooked for a 12:30 p.m. flight the same day. "Hoping this goes smoothly," she wrote.
FOLLOW US ON FACEBOOK FOR MORE FOX LIFESTYLE NEWS
Last month, a cracked engine fan blade on a Southwest flight resulted in a fatal midair explosion, which killed one passenger and injured several others. The tragic incident sparked an industrywide inspection of aircraft engines in the hopes of preventing a similar accident in the future.
The Associated Press contributed to this report.