Hurricane season survival guide for cruisers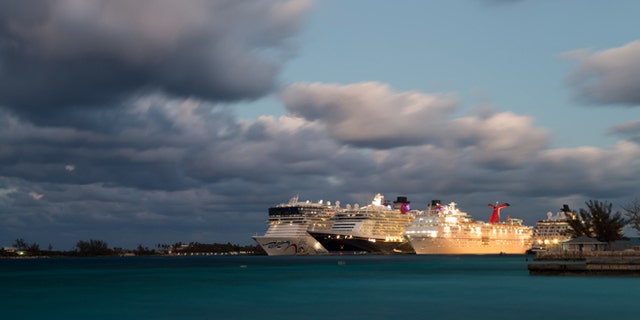 NEWYou can now listen to Fox News articles!
"You've got to ask yourself one question: Do I feel lucky?" That's the question Clint Eastwood as Dirty Harry asked a wounded bank robber as he weighed the possibility of his escape in the classic crime thriller "Dirty Harry."
That question could also be posed to anyone who books a cruise during the notorious Atlantic hurricane season. However, despite all the hype, the risks of sailing during this season are actually fairly limited. Hurricane season spans six months and dozens of cruise ships sail from a variety of ports in that zone throughout those months. The chance of your cruise being affected by a storm is quite minimal. Still, it's important to know what you're getting into so here is FoxNews.com's hurricane season survival guide for cruisers.
[pullquote]
When is hurricane season?
The Atlantic hurricane season spans six months: June 1 through November 30. While hurricanes can crop up outside of that time period, it's rare. Hurricanes also occur in the Eastern Pacific and can get in the way of cruises along the Mexican Riviera between May 15 and November 30. Hurricanes can sock Hawaii too, and its season also runs from June through November, with storms more likely between July and September (although it's been 21 years since the last devastating storm—Hurricane Iniki—hit Hawaii's Kauai island). If you're traveling to the southern hemisphere, say Australia or New Zealand, be aware of cyclones. Peak season Down Under is during March and April.
Which regions in the Caribbean are in the hurricane zone?
Atlantic hurricanes can wreak havoc on the Caribbean islands, the Bahamas, and the East Coast of the United States—sometimes even as far north as New England and Canada. But, by and large, most tropical storms bear down on the Caribbean.
Travelers should keep their eyes on the Eastern Caribbean, where hurricanes tend to be stronger than in the south. Mid-August through mid-September is peak hurricane time for the Eastern Caribbean, while the Western Caribbean's worst time of the year is mid-September through the beginning of November.
Sherry Laskin, travel writer and cruise expert at CruiseMaven.com, counsels travelers to, "Choose an itinerary that heads as far into the southern Caribbean as possible, especially if your cruise is in the late summer or early fall." Islands like Aruba, Bonaire, Curacao, and Trinidad and Tobago are on the far edge of the hurricane zone and are not affected by tropical storms as often as islands farther north.
East Pacific hurricanes hit the Pacific coast of Mexico. This region is the popular Mexican Riviera and includes ports like Cabo San Lucas, Mazatlan, Puerto Vallarta, Acapulco, and Ixtapa.
So what are exactly are the risks of sailing during hurricane season? Travelers often have myriad questions about the risks of cruising during hurricane season. Here are a few issues people worry about.
Is this ship safe?
The most important thing to know about cruising during hurricane season is that no cruise line will willingly put you or its ship in danger. When faced with a hurricane in its path, a cruise ship simply alters its itinerary to sail around the bad weather. Of course, sometimes a vessel will still encounter rough seas, wind, and rain despite having changed course. Today's cruise ships are built to withstand the harshest environments and are equipped with instruments that help predict weather patterns. If a storm is brewing, you needn't worry. Your ship's captain will be watching it closely. Laskin agrees that cruisers shouldn't worry about rough seas. "Just go and enjoy. Know that your captain will steer as far away from any impending tropical event as possible. And who knows? You may even get an extra day on your cruise if your homeport is closed due to a hurricane."
Will I get seasick?
The worst-case scenario is that you'll encounter rough seas and may battle seasickness. Not everyone gets green around the gills when the ship rocks and rolls, but if you usually do, board the ship prepared. Bring along items to treat motion sickness and dizziness like ginger candies, over the counter Bonine, or a prescription for meclizine or the Transderm Scop patch. If you do start to feel under the weather, be sure to eat something plain—like bread or crackers—and keep your eyes on the horizon. If things go downhill from there, you can always see the ship's doctor who can provide a shot of something like promethazine (phenergan) or hydroxyzine (vistaril) to combat your symptoms.
Will the itinerary change?
Travelers may be disappointed to find out that if a cruise does adjust its itinerary due to a hurricane, passengers are not entitled to any compensation. In fact, when you book an itinerary you agree to the contract that says the cruise line can change the lineup of ports at will. It's rare that it happens, but cases of bad weather can mean certain ports are swapped for others, or that the order of calls is changed. That's why it's especially important to book refundable shore excursions when traveling during hurricane season.
Know the lingo
As your vacation approaches, watch the weather forecast to determine if inclement weather will be an issue. It's important to understand the distinction to various types of storms. For example, a tropical depression means the weather event has a sustained surface wind speed of 38mph or less. A tropical storm ups the ante with winds ranging between 39 and 73mph. A storm graduates to hurricane status when sustained surface winds reach 74mph or more. The National Hurricane Center maintains a glossary of hurricane-related terms that will help you make sense of any storm.
Buy trip insurance or self-insure?
You've learned all about hurricane season and have weighed the pros and cons of booking a trip. You decide to go for it. The next decision is whether to purchase trip insurance or self-insure the vacation --or in other words eat the cost if something goes awry. The answer to that question will depend on how cheap or expensive the cruise fare is and your personal level of risk tolerance.
It's important to realize that most insurance policies won't cover your costs if you decide to preemptively cancel your cruise because the weather forecast looks dismal. Instead, the cruise will reimburse you if the trip is delayed (i.e., your flight to the embarkation port is delayed, causing you to miss the boat), interrupted, or outright cancelled. Laskin makes this suggestion for individuals who are really worried about the potential for a hurricane or bad storm: "Buy travel insurance that covers for "cancel for any reason," should you decide at the last minute to squash your cruise plans." These policies can be pricey, but may be right for certain situations. You can search for a variety of trip insurance policies at Insure My Trip or SquareMouth.
Cruise lines also offer trip coverage, but you need to understand what you're actually buying. Carrie Finley-Bajak, editor of Cruise Buzz says, "Most people need to realize that cruse line insurance is good, but it does not cover everything door-to-door. Make sure to include all the travel dates on your policy from the time you leave home until the time of return. I especially like the insurance plans that offer concierge-like services. Having a personal assistant help travelers in need is very reassuring. Read the fine print before you purchase. What are the cancellation policies? How are pre-existing medical conditions defined? What's the payback time? What is refunded? Total cruise fare or just a future cruise credit?" The answers to these questions will help you select the policy that's right for your hurricane-season cruise.
Travelers who don't buy insurance opt to self-insure. This may be the best way to go if the fare was extremely low and the transportation costs to the port are negligible.
Best cruise values during hurricane season
What cruise itineraries offer the best value during Atlantic hurricane season? Look for voyages to the Bahamas, the Caribbean, and—to a lesser extent—Bermuda. Carnival, Disney Cruise Line, Norwegian Cruise Line, and Royal Caribbean all offer Bahamas sailings out of embarkation ports like New York City, Jacksonville, Port Canaveral, Miami, Baltimore, Galveston, and Charleston. If you'd prefer a Caribbean voyage, look to Carnival, Disney, Pullmatur, or Royal Caribbean sailing out of Miami, Tampa, Fort Lauderdale, Port Canaveral, New Orleans, Galveston, San Juan, New York City, or Barbados.
Deals during August and September are particularly sweet with per person per day fares as low as $45–$75.