How to See National Parks Like a Pro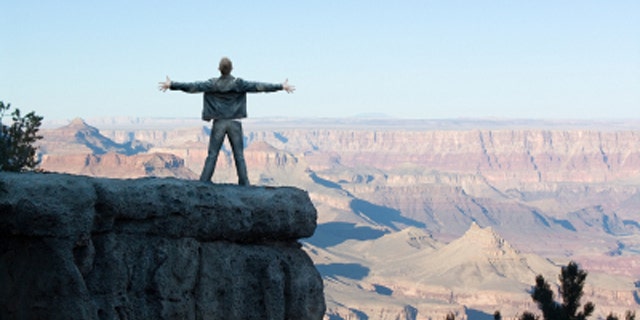 A lifelong national park goer and onetime backcountry ranger at Yosemite, Daniel Gibble quoted me a statistic that he says is known among park rangers: "95% of the people visiting a national park go no further than 100 feet from their car."
Gibble goes on to say that if he could offer one piece of advice to those of us visiting the parks during peak season it would be to "leave your vehicle, and travel at least a half mile from it on a trail."
Similar advice and a similar stat were offered up by travel specialist Caroline Wood, who spent nearly every summer of her youth in Yellowstone. For those of us planning a visit there or to Rocky Mountain or Wind Cave National Parks, she suggests leaving "your hotel at 6:00 a.m. to see popular sites and go eat breakfast at 9:00 a.m. After breakfast, go hiking -- less than 5% of visitors leave the roadways."
While Gibble and Wood aren't talking about 95 percent of us in precisely the same way, the spirit of what they're saying is the same: many of us are perhaps not squeezing all that's meant to be squeezed out of a national park visit.
Learn your park's secret spots.
Every national park has its own off-peak times and lesser-known experiences. For instance, says Wood, "if you drive up onto the Beartooth Pass in Montana outside the Northeast Entrance to Yellowstone, the views are incredible, there aren't too many people, and you will find parking at the trailheads and pull-outs for scenic vistas. But, if on that same day, you tried to park on the top of Logan Pass along the Going to the Sun Road in Glacier National Park at 10:30 a.m., you might have to circle the parking lot for an hour to get a spot."
During more than three years of photographing seven national parks, author Ann Torrence learned that it pays to be "somewhere special for sunrise or sunset at least once during a stay" at the parks. "I remember people literally cheering at the Grand Canyon for one sunset, and I pitied the folks who were at dinner. Bryce Canyon overlooks are some of the best sunrise-watching anywhere." If it's animals you're after at such parks as Grand Teton, Yellowstone, or Glacier, Torrence suggests striking out at dawn "for a couple hours of wildlife spotting, then have a hearty brunch. The other tourists will just be leaving the motel parking lot by 10 a.m., and you'll come back to have the restaurant to yourself."
Even if you've loaded up on insider advice before you go, there's always more at your park's visitor center, first stop for veteran national park goers like Dan Austin, who runs national park trips for Austin-Lehman Adventures and likes "to take in as many visitor centers as I can. You can watch a movie and get a history lesson as well as talk to a ranger about his or her favorite hike [or get] some tips on where certain animals are being spotted." Many of the park rangers also lead worthy walking tours.
Know if a park pass is worth it for you.
To buy or not to buy an $80 annual national park pass depends in part on how many parks you plan to visit during the year – one-time park entry fees hover in the $20-25 range. But another and lesser-noted consideration is how many people are in your party: the $80 pass - which officially goes by the austere name America the Beautiful National Parks and Federal Recreational Lands Pass - grants park admission to the pass holder and passengers in a non-commercial vehicle, meaning that the pass holder plus three adults get in with the pass; park goers under 16 are always free. If you're over 62, you can get a lifetime senior pass for $10 that also covers park admission for three additional adults traveling with you.
The $80 pass not only works in the national parks, says REI Adventures program manager Justin Wood, but it'll also get you access "to National Monuments and some fee areas within the National Forests. So if you are planning other outings, you might look to see how many of them take place in fee areas that are included in the cost of the pass." Also check the official National Park Service site at nps.gov to scope out occasional fee-free park days.
Decide if you want to be inside or outside.
Do you stay inside or outside your park? One consideration, Caroline Wood says, is "what the town on the outskirts is like. Springdale, Utah near Zion, Moab, Utah near Canyonlands, and Arches and Jackson, WY near Grand Teton are great. Glitter Gulch - the area outside Denali - Gardiner, MT near Yellowstone, and Tusayan outside Grand Canyon are not so great," she says, though having stayed in Gardiner I'll say in its defense that it has reasonably-priced hotels and to date the best prime rib I've ever consumed.
Being on the outskirts of your park won't be such a good value if you have to drive too far to get to attractions, suggests author Carol White, who has visited more than 150 national parks. Also be mindful of your park's hours. "My experience has been that staying in hotels some distance from the park works well if the park has open access," says photographer Carl Roessler, adding that in instances "where the park has posted hours and you can't get in, staying in a hotel within the park is worth the extra cost."
Use your head for more than a hat rack.
The national parks and its rangers "do a great job of posting warnings and trying to keep millions of visitors safe and out of harm's way," Austin says, "but none of it helps if you ignore -- like many do -- the warnings. Stay on the marked trails and stay appropriate distances from wildlife. Use your head for more than a hat rack and respect the directions and requests of those in the know."
Adventure planner and hiking expert Jeff Alt suggests inquiring "with park ranger staff about what animals you may encounter and how to safely navigate animal encounters, water resources, and other safety issues." If backcountry hiking is on your agenda, Alt suggests taking a wilderness first aid course and leaving a friend your itinerary, which should include such details as the dates of your hike, "what trails you plan to take, where you will be staying, and the park emergency contact numbers."
Safe driving is "one of the biggest overlooked safety issues" in the national parks says Stephanie Emery, whose Adventure Bus tours operate in more than 20 of the parks. "Vehicle related accidents are one of the top causes of deaths in our national parks. Drivers underestimate the hazards-- unpredictable wildlife, older, narrow, windy roads built in a time when there was considerably less traffic and smaller vehicles, and distracted drivers." Obey the speed limits and only stop "to view wildlife and scenery in appropriate pullouts," she urges.
Whether you tackle one park or many, the prevailing tip among longtime park goers is to take a moment to slow it way down. Torrence is a fan of lingering in a single park location. She "once spent a half day beside a single geyser in Yellowstone, noticing the cycle of the geyser and its neighbors, the wildlife, the plant life, how fast people rushed by. Another time my husband and I sat in our lawn chairs next to String Lake in Grand Teton for a couple hours toward late afternoon and watched a herd of female elk and their calves ford the lake. I will never forget one cow having to coax her little calf into the water."