How to Deal With Dirty Clothes on the Road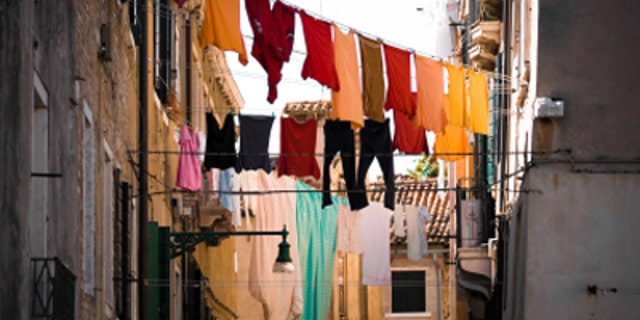 One of my hopes for the future was that we'd no longer have to worry about our dirty laundry while we traveled. But after reviewing blueprints for the constitution class federation starship - you know, the ones equipped for "five year missions" that'll be in use well into the 23rd century - I was dismayed to discover that Deck 8 had a laundry room.
Okay, so maybe the Star Trek Encyclopedia isn't the most definitive source about travel trends. The point is, dirty clothes are likely going to clutter up our voyages for many years to come. Until future technology does step up and deliver us from the chore, however, here's how some present-day frequent travelers keep their dirty clothes under control while they boldly go.
Pack low-maintenance duds.
Key to traveling light is getting multiple uses out of what you pack, a trick that works even better if your garments are laundry friendly. During their travels through six continents and 43 countries, Douglas and Stephanie Hackney have found that there's an advantage to packing quick-drying clothing. And in a nod to the tendency of the "Star Trek" crews to wear the same thing all the time, "taking along clothing that holds up to multiple wearings without appearing dirty - even if it is - is essential," Stephanie says. Also limit your clothing colors to "one to two choices so that like-colored items can be laundered together."
As you well know from overstuffing your dryers at home, "jeans take forever to dry," so avoid bringing them, notes packing expert Susan Foster, author of Smart Packing for Today's Traveler. Instead, pack "micro-fiber pants [that'll] dry quickly in a clothes dryer or will air dry overnight." Likewise, "wicking" micro-fiber undergarments are a better bet for your trip than the cotton undies you may sport at home.
Take matters into your own hands…or feet.
While she's been to nearly 90 countries, Trip Chicks tour guide Ann Lombardi says she has visited a laundromat only once during her travels. "It was in Iceland in the dead of winter," she recalls. My clothes were taking light years to dry in the hotel's vintage dryer." One of her preferred methods, which she says "must be my Italian wine country heritage surfacing," is showering with her clothes. "The grape-stomping foot action in the shower or tub works well to clean the dirtiest of my laundry," Lombardi says. After soaping and rinsing the garments she stomps out the excess water, wrings out the clothes, and either hangs them on a makeshift clothesline she's fashioned from string or puts them on "those water heater radiators common in Europe" or if available "those nifty towel rack warmers."
Clotheslines made from string are one thing, but if you long for travel gadgets geared toward laundering, Foster says you might pack a braided travel clothesline that doesn't require clothespins. And there's also such a thing as an inflatable hanger, which she says will "provide better air circulation" for your drip-drying garments. More old school but just as helpful to pack, Foster says, are a few clothespins with attached hangers - enabling you to safely clip socks to lampshade to dry - as well as a flat rubber sink stopper, especially handy if bathtub stomping's not an option.
As part of her strategy for packing light, Foster will hand wash any dirty items she needs to wear again as soon as possible or save them "for a coin-operated laundry load at the next stop. If [the dirty clothes] need to be packed into the suitcase, I isolate them in a separate plastic bag or plastic-lined zipper pocket. Soiled things limit options, and keeping things clean and wearable maximizes choice."
Embrace the home away from home approach.
If you're got kids you may decide to do laundry a few times during the course of your trip or simply bring more clothes. WeJustGotBack.com co-founder and mother of three Suzanne Rowan Kelleher has tried both strategies and suggests that for families "it makes a lot of financial sense to book a stay in an extended-stay or all-suite hotel or a vacation rental property with kitchen and laundry facilities in your unit. Not only do you save on food, but it's incredibly convenient to have a washer and dryer." It's easy enough to buy some detergent on site, she adds, "because I'll be picking up basic food supplies anyway and we'll quickly go through the single tiny box of detergent that's typically provided."
Staying true to her no laundromat policy, Lombardi says if she's "traveling longer than usual - say, for four to six weeks - at least twice about mid-way through my travels I include a stay in the home of friends old and new" through couchsurfing and home stay programs like Servas. "I have not only the chance to catch a taste of local life and meet neat people," she says, "but also a convenient laundry pit stop in someone's home."
Outsource, baby.
Often traveling for weeks at a time, JohnnyJet.com founder John E. DiScala says he only packs about a week's worth of clothes. "What I tend to do is look for a local cleaners in cities," he says. "In Sydney it cost me [around $11] for a load and they do it for you. In New York City it's $1 a pound, Los Angeles $1.25 a pound. South Africa might've been the cheapest of them all. What's nice is you just drop it off in the morning and pick it up a few hours later and sometimes I'll offer a couple more dollars for a rush."
Traveling technical trainer Ken Walker's work brings him to a different city each week so his attitude is that "it really doesn't matter if I wear the same clothes from week to week." Since his company permits him to expense his laundry, he packs "enough clothes to wear for a week and I rotate them through the hotel's laundry service." The result is laundry that's vigorously project managed. Walker explains that "when I check in on Sunday night, I immediately give them my dirty laundry from last Thursday and Friday. I have Monday through Wednesdays clothes already clean in my suitcase and on Wednesday afternoon, I bring the dirty stuff to the hotel laundry and pick up my clean stuff for Thursday and Friday. At checkout time, I neatly fold and pack my dirty clothes in a plastic bag, zip up the suitcase, and fly home. I don't even bother bringing the suitcase into the house."
Yet another way to avoid the hassle of dirty clothes is to leave them behind, either by donating them to your destination's thrift store or simply leaving them in your hotel room. Leisure travelers have used this strategy for years, often packing clothes that they were planning to throw away anyway. Foster recounts that during a trip to China, "friends left some old clothing at their Shanghai hotel, as they had purchased some new things and were making space [in their luggage]. Upon their return to the United States, a package came from the hotel in China containing their old clothes, beautifully cleaned and repaired."