How does American Airlines' new premium economy stack up to the competition?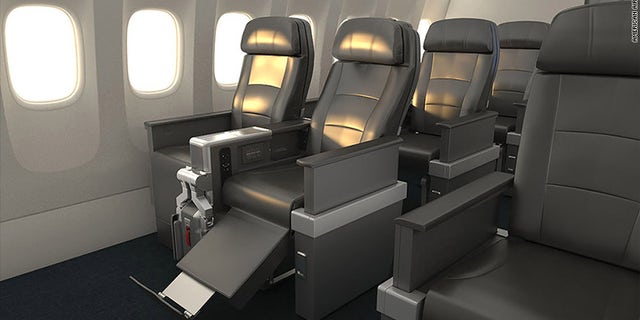 Last week, American Airlines announced it would be unveiling a new seat class category that international fliers have been enjoying for years—premium economy.
With roomier seats than traditional economy class but fewer amenities than business class, premium economy helps give fliers on a budget more options on long-haul flights.
"Business class has become so nice that people want to pay for something more comfortable but they can't afford business class," Seth Kaplan, managing partner for the trade publication Airline Weekly, told the Los Angeles Times.
When it unveils premium economy seats on international wide-body planes in late 2016, American will offer a total of six seat class categories throughout its entire fleet—the most of any U.S. carrier.
According to the carrier's announcement, the new class will offer "a leather seat featuring 38 inches of pitch (the space between a point on one seat and the same point on the seat in front of it), personal on-demand entertainment systems, larger touchscreen monitors with access to movies, TV shows, music and games, and noise reducing headphones." Customers will also enjoy being able to check up to two bags without incurring any extra fees and board earlier with priority boarding.
Premium economy flyers will have access to complimentary wine, beer and spirits and an "enhanced meal service."
American will first install the new class on Boeing 787-9s, expected to enter service in late 2016. Premium Economy will also be installed on the Airbus A350, which arrives in 2017. Other planes in the fleet will be retrofitted over the next three years.
But how will it compare to other carriers' premium economy classes?
American's new premium economy seats will be 19 inches wide with a 38 inch pitch, which is slightly larger and roomier compared to the international premium economy average of a 17-18.5 inch width and 31-32 inch seat pitch, according to Skift.
Here's how the main features break down:
| | | | |
| --- | --- | --- | --- |
| Premium Economy: | Seat Width (in) | Seat Pitch (in) | Wi-Fi? |
| American | 19 | 38 | Yes |
| British Airways | 18.5 | 38 | No |
| Lufthansa | 18 – 18.7 | 37-38 | Limited |
| Cathay Pacific | 17.8 – 19.5 | 38 | No |
| Virgin Atlantic | 21 | 38 | Limited |
(Figures from SeatGuru.com)
American may be late to the international Premium Economy game, but it's still the first U.S.-based carrier to offer a distinct class type between the lowest tier economy and business class.
The company has yet to announce routes and pricing but company spokesman Andrew Nocella told Skift last week that fares may be comparable to those of British Airways.
Currently, a one-way flight from New York's John F. Kennedy airport to London's Heathrow flying out on a Wednesday would cost about $1,150 in American's economy class, and $7,800 in the airline's business section. British Airways offers a $2,462 fare in its premium economy section for the same route.