Historic Riviera Hotel and Casino demolished in Las Vegas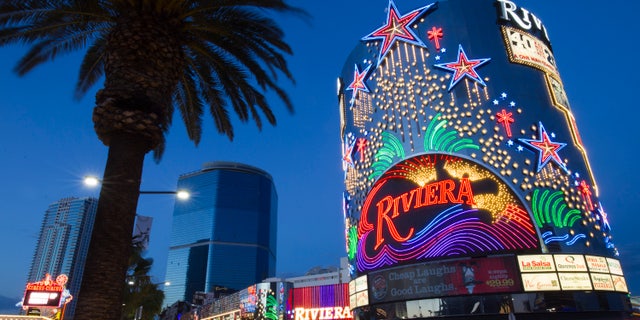 NEWYou can now listen to Fox News articles!
Today was the end for the infamous Riviera Hotel and Casino, Las Vegas' first high-rise and one of Sin City's most notorious mobster-owned properties. Its exit was as appropriate as its celebrated past. The hotel imploded in the early hours of the morning, complete with a fireworks show.
The hotel, known as "The Riv," was closed in May of 2015 by the Las Vegas Convention and Visitors Authority, which purchased the property with plans to use its 26 acres to expand the Las Vegas Convention Center.
The CVB is spending approximately $42 million to level the 13 buildings that make up the resort, starting with the 24-story Monaco tower, which is the only section of the property that was imploded this morning. The Monte Carlo tower will meet its maker sometime in August. The two towers are the only ones to be imploded. Other buildings will use more traditional methods of demolition. Hazardous materials will also be removed before the buildings are taken down.
The Riviera joins a long line of iconic Las Vegas properties that have since been demolished and replaced with newer, shinier casino resorts. The only two properties that still harken back to Vegas' mob era are the Tropicana and the Flamingo. The Tropicana, although renovated, still has parts of the original buildings. The Flamingo, on the other hand, was torn down and rebuilt in the same place.
More from TravelPulse
5 Adventures for Dad This Father's Day
Frequent Fliers Unhappy, But AAdvantage Changes Were Inevitable
ASTA Study Shows Travel Agent Popularity On The Rise
Ten Things You Must See In Wales
A Quest to Find the World's Best Beer in Belgium
The Riviera came about in true Sin City fashion. The original proposal for the property was made by Detroit mobster William Bischoff but, when he withdrew, businessman Samuel Cohen, who was a member of Miami's S&G gambling syndicate, took over. However, when that didn't work out, the project was taken over by an investment group, although rumors of Cohen's involvement still persisted. The Marx Brothers were also a part of the transaction. Harpo and Gummo held minority interests when the property opened.
The Riviera went bankrupt after it opened but that didn't end its mobster beginnings. Stories of embezzlement and murder followed the property until the late 1960s. In 2010, the casino filed for bankruptcy yet again but even a purchase by Starwood Capital Group couldn't breathe life back into the hotel.
The economic downturn put the final nail in the property's coffin. When neighbors Stardust, New Frontier and the Westward Ho were all demolished to make way for new construction there might have been hope for a comeback, but when construction was put on hold for these newer properties, a decline in foot traffic ultimately led to the casino's demise.
Visit Las Vegas filmed the implosion and posted the video to Facebook, embedded below: