Hangar collapses at Houston's Hobby Airport during strong winds
NEWYou can now listen to Fox News articles!
Several planes were damaged at Houston's William P. Hobby Airport after strong winds caused a large hangar to collapse on Tuesday night.
The hangar, which was leased by a private company called Jet Aviation, succumbed to 60 mph wind gusts shortly before midnight, Click 2 Houston reports.
BIRD STRIKE CAUSED DELTA FLIGHT TO MAKE EMERGENCY LANDING
Lt. Larry Crowson of the Houston Police Department confirmed that no one was injured during the collapse, despite earlier reports that a pilot may have been inside when the structure failed.
Photos and footage from the site also appear to show debris from the hangar scattered across the tarmac, as well as planes obscured by the collapsed roof. Bill Begley, the public information officer for Hobby Airport, estimated the damage to the facility to be in the millions of dollars.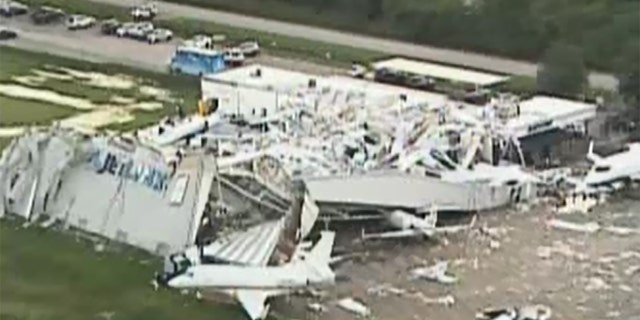 Eight planes were damaged in the collapse, including four inside the hangar and another four nearby, Houston's KTRK reports.
Lt. Crowson also indicated to reporters that a building just to the south was also damaged when a piece of debris flew from the hangar and punctured a hole in the wall of the second structure.
PLANE CRASHES ON RUNWAY OF INDIANA AIRPORT, KILLING 2 FIREFIGHTERS
Begley added that there's only "so much" the airport can prepare for, in a statement obtained by KTRK.
"We lease this area out to companies and they build the facilities so we're trying to support them and trying to recover what's happening here. Mother Nature can be pretty strong."
The airport further confirmed on Twitter that the incident has not affected commercial flights out of the airport.
The Associated Press contributed to this report.