Germany's ridiculously large water park looks like enormous fun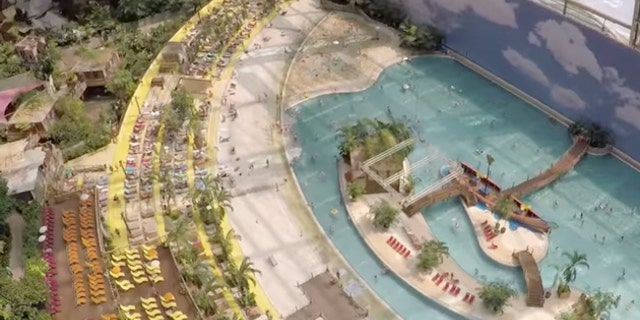 NEWYou can now listen to Fox News articles!
When you have access to one giant room, logic tells you to fill the thing with sand and create a very enjoyable water park.
That's sort of what happened in Germany when a disused aircraft hangar became the world's largest indoor water park, complete with a balloon that shows tourists that wide area afforded to visitors.
Tom Scott stopped by and regaled the Internet with one of the more peculiar theme parks—one that he states will allow you to catch some sun indoors.
If you ever dreamed of a ridiculously large rumpus room, you can hardly do better than this marvel in Krausnick, Germany.
he entire park is massive and is all thanks to officials making amusement park magic where an otherwise abandoned structure would have lived.
Now, instead of a huge aircraft hangar just sitting on an airfield, it is home to a tropical rainforest, miniature golf and more.
You can get all the information you need for a visit of your own at the website, which states you get to enjoy "A walk on the Pacific beach, an expedition through the tropical rainforest, relaxing hours in the sauna area, lots of exciting attractions for kids, fun for the whole family, good food, shows and fantastic accommodations."
And did we mention there was a balloon that takes you to the high reaches of the water park wonder?
There are even onsite mobile homes and campsites that keep you near all the frivolity. Or, if you are into more fantastic stays, you can camp out inside the park in the rainforest camps.
Consider this a means to bring the "roughing it" aspects of camping indoors, where the weather is always nice.
This has us wondering how big of a balloon we can get inside our own home.
More from TravelPulse:
Is This The Airport Of The Future?
10 Trips To Relive the Best and Worst Shark Movies Ever
Walt Disney World Unveils Fall Hotel Savings
5 Attractions We'd Love To See at The New Disney's Hollywood Studios
Top 5 Places to Visit in the Caribbean