Frontier Airlines passenger recorded verbally attacking flight attendants, officers
A verbally abusive Frontier Airlines passenger was recorded hurling a series of highly profane insults at flight attendants, and later police officers.
The unidentified passenger became unglued on a Thursday flight from Las Vegas to San Antonio, Texas, fellow passenger Clifton McBee said to News4 San Antonio.
McBee, who recorded the more than two-minute footage of the man yelling inflight, said everyone on the plane could hear the passenger's outburst.
FRONTIER AIRLINES PASSENGERS GET INTO SHOVING FIGHT AFTER BUMPING INTO EACH OTHER WHILE DEPLANING
"You don't want to go sleep, cause what's the guy going to do?" said McBee to News4. "You hope security did their job."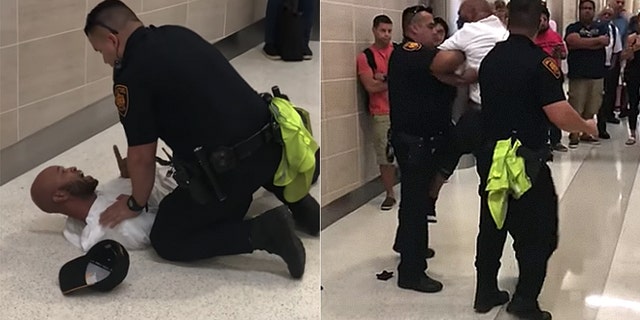 The man was placed in handcuffs and escorted off the plane by police officers.
In the cellphone video taken by McBee, the man continues to scream and yell obscenities in the terminal. At one point the man becomes upset asking about his five-year-old child and the police officer tackles him to the ground to keep him still until more officers arrive.
"It seemed like the more people that were around, the angrier he got," said McBee to News4. "It seemed like he wanted to put on a show for everybody."
FRONTIER AIRLINES PASSENGER ARRESTED AFTER PEEING ON SEAT IN FRONT OF HIM DURING FLIGHT
The man can be heard screaming at officers about his son. He also repeatedly informed officers that they were hurting "his surgery," and claimed that he had bullets in his body that were causing him discomfort.
"Sir, I'm disabled, I've got bullets in my f---ing body, and I'm f---ing hurt," he said to the officer, before turning his head to yell at bystanders.
It was reported that "authorities took care of the child," when the man was taken off the flight.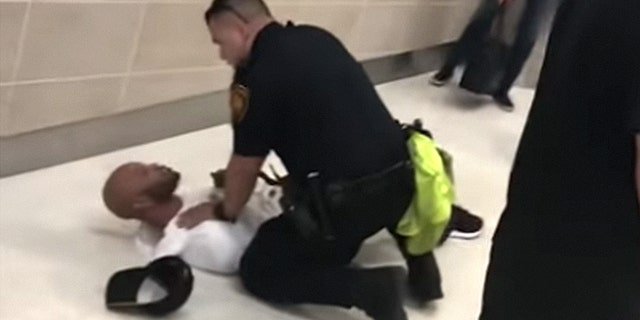 According to the San Antonio Police Department, the man was taken into custody and later transported to a mental health facility for evaluation, News4 reports.
STRANDED FRONTIER PASSENGERS OFFERED $400 VOUCHERS THAT ALLEGEDLY WON'T ARRIVE FOR 30 DAYS
It is unclear what prompted the man's verbal attack. The FBI is currently investigating the incident.
Frontier Airlines confirmed the incident to Fox News and are cooperating with the investigation.
"Safety is the top priority at Frontier Airlines and we have zero tolerance for anything that threatens the security of our customers or crew. A passenger became disruptive during flight 1144 from Las Vegas to San Antonio on August 30. Police arrested the passenger upon landing in San Antonio. The FBI was investigating because part of the incident occurred inflight. Out of respect for the investigation, we defer to the FBI for any further details," Frontier said in a statement to Fox News.
FOLLOW US ON FACEBOOK FOR MORE FOX LIFESTYLE NEWS
Clifton McBee did not immediately respond to Fox News request for comment.