Fly like the 1 percent for a fraction of the cost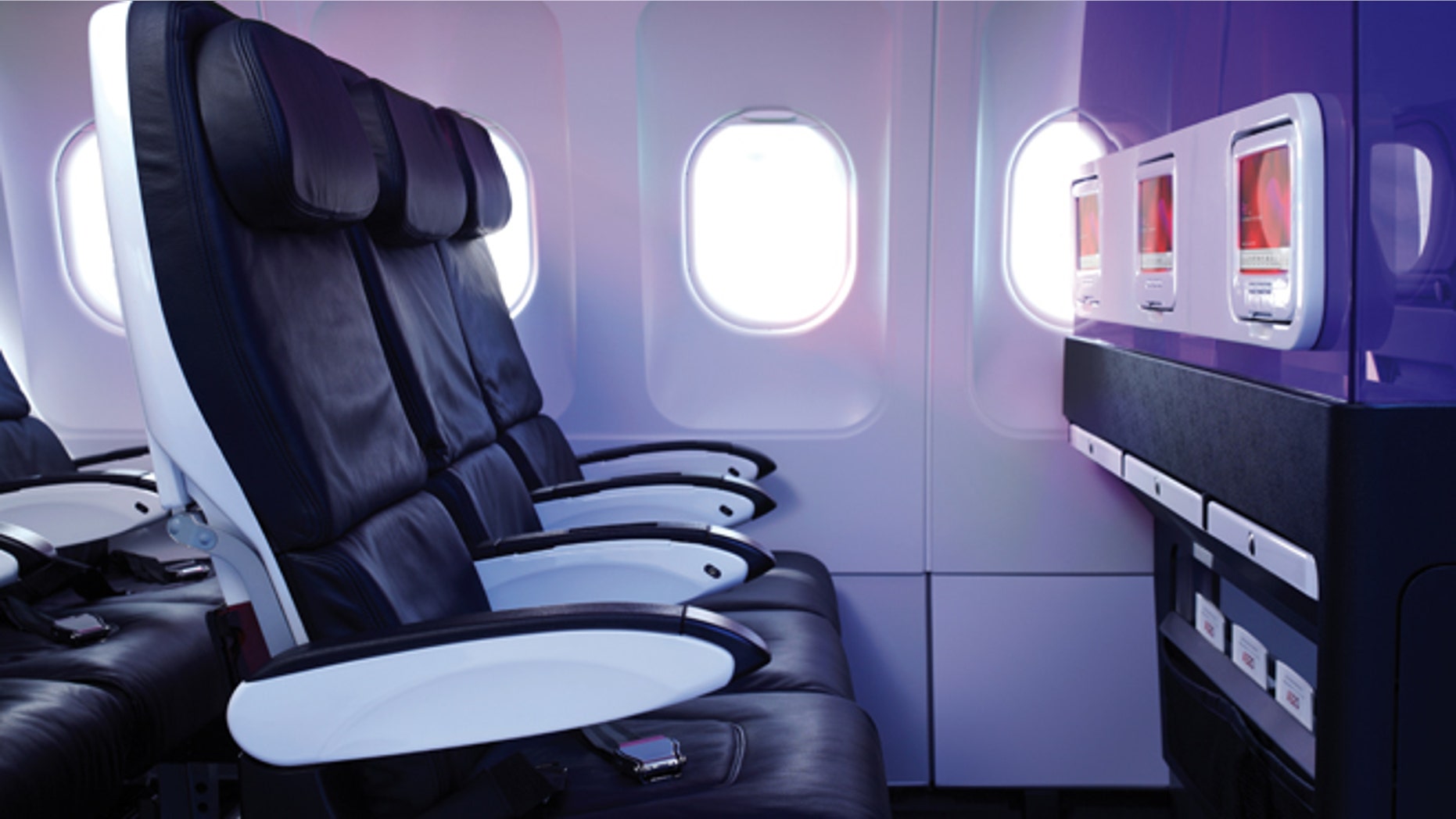 Priority boarding. Extra legroom. Champagne before takeoff. It's not just the stuff of business class dreams.
With fewer available flights, widespread passenger dissatisfaction, and glamour a distant Eisenhower-era memory, the ailing airline industry is rolling out the red carpet in small but significant ways to woo back customers. Enter "Premium Economy" class, an increasingly popular option offering a superior flight experience at a fraction of the exorbitant cost of business class.
A hybrid between Business and Economy, Premium Economy has been available for years on long-haul international carriers like Air New Zealand and Virgin Atlantic—where 10+ hour flights necessitate extra conveniences to keep passengers from revolting. Recently, U.S. carriers have also adopted the trend, with Premium Economy options (known respectively as Main Cabin Extra, Economy Comfort, Economy Plus and Main Cabin Select) now available on American, Delta, United and Virgin America.
In short, pay a bit more money—a nominal fee on U.S. domestic routes, a more significant but still relatively-affordable one for long-haul international—and enjoy, at a minimum, several more inches of legroom. Depending on the carrier and the route, Premium Economy might also garner you priority boarding and 50 percent more seat recline (such as on Delta), or a separate cabin with dedicated bathrooms (such as on Air New Zealand). For an hour-long puddle jump, the extra space might barely register. But on a five and a half hour LAX to JFK redeye—to say nothing of international flights for small business owners or honeymooners—suddenly every little bit counts.
"Airlines aren't chasing volume anymore, they're chasing the bottom line," explains Mike Boyd, chairman of Boyd Group International, an Aviation consulting firm in Evergreen, Colorado. "Part of this is this Premium Economy thing. Business class has become the battleground. That went up and up in terms of perks but has become too expensive, so now we've gone back to introducing another class—we've gone full circle. And internationally, Premium Economy is what business class was 20 years ago."
The Perks of Upgrading to Premium
Premium Economy benefits vary wildly depending on the airline, route and whether it's a domestic or international flight. Not all upgrades are created equal. To see how they stacked up, we compared the four U.S. carriers offering Premium Economy options: American, Delta, United and Virgin America.
--American is in the process of upgrading their entire mainline fleet for Main Cabin Extra, which will offer 4-6 inches more leg room than in economy and priority boarding. Upgrades will be available for between $8 - $108, depending on length of flight.
--Delta's Economy Comfort features 4 inches of extra legroom and priority boarding, as well as 50 percent more recline on international flights, all for a $79 upgrade after purchasing a ticket. We found a Delta ticket from San Francisco to JFK for $345 that, after upgrading with Economy Comfort, costs $424. (A business class ticket on the same five and a half hour flight was $2391.) Delta Economy Comfort is already available internationally, and is currently rolling out to Delta's entire mainline fleet, as well as 250 regional jets.
--United's Economy Plus offers 5 inches of extra legroom for at little as $9, but no priority boarding or extra recline—regardless of whether it's a domestic or international route.
--Virgin America's Main Cabin Select benefits from the superior Virgin America flight experience—including wi-fi and personal TVs—making the 6 extra inches of legroom, free food and drink, and priority boarding feel very luxe, indeed.
Superior International Amenities
If an upgrade is in your budget, you'll get the most bang for your Premium Economy buck when flying an international carrier like British Airways, Cathay Pacific or Qantas, where the white-gloved amenities are nearly indistinguishable from domestic Business Class.
We found a round-trip business class ticket from Los Angeles to London on Virgin Atlantic for $5098. The same 11 hour flight in Premium Economy, with dedicated check-in, priority boarding, a separate cabin with private bathrooms, champagne before takeoff, and several extra inches of recline? $1550.
Not bad for a third of the price.
Premium Economy: The Best
-- Best All-Around Domestic: Virgin America, with priority boarding, 6 inches extra leg-room, wi-fi, power outlets, personal TVs and free food/drink
--Best All-Around International: Air New Zealand, with priority boarding, privacy-encouraging "Spaceseats" featuring a 9 inch recline, two-free checked bags, free New Zealand wines, on-board concierge and 50 percent more recline
--Widest Seats: Virgin Atlantic, 21 inches
--Most Recline: Qantas, 9 inches