First look at Disney's new Fantasy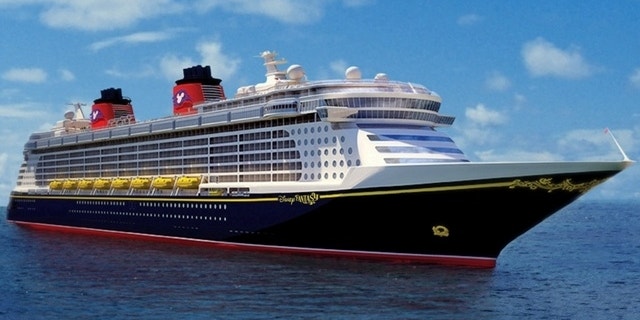 After much anticipation, a brand new cruise liner for Disney Cruises is one step closer to its maiden voyage.
Disney Fantasy, a 130,000-ton, 1,115 foot-long ship is undergoing final sea worthiness tests before its final delivery. After years of construction, it recently left Meyer Werft shipyard in Papenburg, Germany where the majority of the building was done.
Last week a select group of journalists donned hard hats for a first look at Disney Fantasy in Amsterdam, where the vessel is in its final stages of preparation for her New York debut in March, where it will be christened.
Fantasy is the sister ship to Disney Dream, unveiled just last year. These two are the first additions to the Disney cruise fleet since the two original ships, Disney Magic and Disney Wonder, arrived in 1999 and 2000.
The Fantasy, which leaves New York on March 2 for Port Canaveral and her maiden voyage on March 31, will sail out of Port Canaveral, Fla. offering seven-night cruises to the Eastern and Western Caribbean and the Bahamas.
With only four ships, the line focuses more on quality than quantity.
"Disney is a very demanding customer," said Bernard Meyer, president of the Meyer Werft shipyard. "They know exactly what they want and accept nothing less."
Disney Dream and Fantasy are the largest and roomiest ships ever to emerge from Papenburg, with 2,500 berths and a total capacity of 4,000 passengers each when you add in extra beds for third, fourth and even fifth passengers in family-style staterooms.
While the two new ships are very similar in superstructure, the décor and added features make Fantasy unique. Dream displays the more industrialized look of Art Deco, but Fantasy has an Art Nouveau theme with softer, more delicate lines and colors. It seems like a subtle difference, but it affects a lot.
The decorative themes are subtle, but everywhere -- especially in the fabrics, railings, ceiling trims, carpet and drape patterns, even the china. It is most noticeable in the Buena Vista movie theater, where first-run Disney movies are shown in the same 3–D format as theaters on land.
Dining on Fantasy
On Fantasy's longer cruises, passengers eat at the same restaurant each night, butin order to give dinners different experiences will use Animator's Palate -- where guests' own drawings come to life.
Fantasy debuts a new concept dinner called "Animation Magic," where guests draw an original character on their placemats and Disney "Imagineers" make a cartoon in which that character interacts with animated Disney celebrities. The original artist gets a facsimile of the final product and a Disney Animation Artist certificate.
Like Disney Dream, Fantasy also has an Enchanted Garden restaurant, and features upgrades from its sister ship. The room magically transforms from day to nighttime during the meal, but the nighttime experience is more authentic, and the special "night-blooming" murano-glass chandeliers are mechanized so they will all bloom each night.
For the adults, Disney Dream's Palo's and Remy's alternative fine dining restaurants are replicated on Fantasy. The only difference is a few larger banquettes in both.
All-New Adult Areas
Fantasy is optimized for seven-night and longer cruises, and although kids don't mind repetition, adults need variety. So many of Fantasy's new features are in the adult-only section called Europa, a pastiche of connected nightspots with varied themes. It begins with Italian flair at La Piazza, featuring plush, semi-private banquettes surrounding a carousel-styled cocktail bar adorned by Tivoli lights and a façade of Venetian masks.
Next door is Ooh La La, sure to tickle the fancy of the ladies. Styled on a French boudoir with pink champagne-colored tufted velvet walls, the bar resembles a music box and the main libation is a variety of champagnes. The guys will gather in O'Gills Pub, an Irish sports bar with wood, leather, brass and Kelly-green accents and satellite-fed, high-definition flat screen TVs. A separate food-service area with a vast selection of hot and cold hors d' oeuvres will permit "chance encounters" for patrons of both spots. These areas all have outdoor seating access, which was not in the Disney Dream design.
Fantasy's Skyline Bar, similar to the one on Disney Dream, is a romantic "window on the world" nightspot where the entire room -- walls and ceiling -- emulates the complete sequence of a sundown in a different world-class European capital each night.
Finally, what looks and feels like a secret passage leads to the main nightclub of Europa – The Tube, with decor inspired by the official red and royal blue colors of the London Underground, including authentic British telephone booths. There is live music and a D.J. booth with eclectic lighting effects over an expansive dance floor.
Another adult night spot is Bon Voyage in the atrium on deck 3. Here adults can mix with their kids and enjoy a drink before dinner in the Royal Court. This is a new feature; Fantasy's atrium area has been expanded and made more relaxing than the one on Disney Dream.
Entertainment
Entertainment is where Disney excels. Remember that Jennifer Hudson got her start on Disney Wonder -- which is why she was the godmother of Disney Dream when it was christened last year. The godmother for Fantasy's March 1 christening has not yet been announced.
Fantasy's Walt Disney Theater will have the largest variety of shows in the fleet, since it will sail longer cruises. The brand new production "Wishes" centers on three children who hope to retain their child-like wonder as they grow up.
"Aladdin" is a proven hit from the California Adventure theme park at Disneyland in Anaheim. Both shows feature flying people and props, acrobatics and first rate music and talent. "Believe", a show developed for Disney Dream, will also be on the Fantasy. There will also be deck parties, welcome and farewell shows and, of course, fireworks.
Additions Unique to Fantasy
While the Oceaneer Club play area has princess costumes and makeup available for play time, the girls can't take the costumes home. But the Bippity Boppity Boutique, new to Fantasy, will sell them.
Once a week the costumes will be changed to pirate garb for the boys. Aahhr.
Disney Dream introduced "Enchanted Artwork" that appears as framed cartoon cels from famous Disney animated movies. But they come to life when you get near with short animated sequences. The Enchanted Artwork also contains games with hidden clues that can only be seen with a magic looking glass provided by the ship. One new game will involve the newly adopted Muppets, now a part of the Disney family.
The "virtual portholes" in the inside cabins, which are really round video screens showing the view from the bridge, will have new, longer animated sequences then those on Dream. So, while you are watching the approach to Nassau, don't be surprised if you see Oscar the Grouch coming out of a garbage can.
In another departure from Dream, Fantasy includes a new adult area on the top pool deck called "Satellite Falls." What is an inaccessible area on Dream is now Fantasy's "concept pool," where a satellite globe is encircled by a 360-degree waterfall. There is also new family wading pool where the waterfall encapsulates fog. When you break the waterfall, the fog comes out -- or you can walk through and enter the cloud.
On the deck below this is a new feature for kids called "Aqualab." It is described as a water-based version of "Whack-a-Mole." Also for kids, the nursery on Fantasy has also been enlarged. While Disney Fantasy is a near copy of Disney Dream, with all of the famous Dream features such as the AquaDuck water coaster and the magic floor games in the kids' areas, there is enough to remind people they are on an entirely different ship.
Paul Motter is the co-founder and editor of CruiseMates.com cruise travel guide.