Fall foliage road trip along Michigan's Upper Peninsula
Fall colors are as short-lived as they are glorious. While there's no shortage of beautiful mountain ranges, national forests, and wooded shorelines in the U.S. to enjoy this season, Michigan's Upper Peninsula offers some of the most rugged terrain and diverse natural scenery you'll find anywhere. A driving tour across the U.P., as it's known, will let you take in all of the stunning scenery, outdoor recreation opportunities, and delicious food and beer.
The UP is vast. It stretches some 384 miles from east to west, and has 4,300 inland lakes and 1,700 miles of shoreline on three Great Lakes. Much is forest, so you'll be able to take in all of the reds, oranges, golds, and greens of the season.
To cover all the ground, give yourself about six days. That will give you enough time to hike, bike, eat and hang with the people that live in the U.P., called "Yoopers".
Here's a suggested itinerary
1. Day 1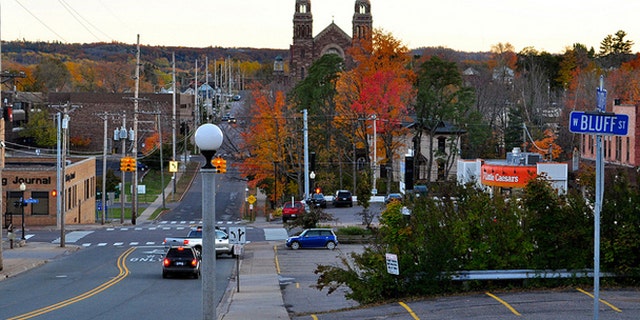 While the Upper Peninsula is bordered by Wisconsin to the west, the better-known access point is over the Mackinac Bridge, the longest suspension bridge in the Western Hemisphere. Start there. The bridge takes you into the city of St. Ignace where you should load up on pasties and locally-made jerky and smoked fish. Pasties are a handy hand-held hot meal, basically a potpie completely encased in a rich buttery crust. You'll find these Cornish pastries all over the U.P. Finnish immigrants brought the pasty with them in the 1800s when they came to the U.P. to work the copper mines, and it has been an integral part of Yooper cuisine ever since. Jerky (mostly beef, but also turkey and venison) and smoked whitefish pulled straight out of the surrounding Great Lakes are also in great abundance, available at pretty much every gas station and convenience store. Also learn to embrace famed butter burgers, pizza burgers, and the U.P.'s own special version of the spicy Italian sausage sub, the Cudighi.
Once you've got a cooler full of pasties, jerky and smoked fish, it's time to get on the road. (You're going to be in the car a LOT, and some areas are pretty remote. It's best to have snacks with you at all times.)
From St. Ignace, head north towards Tahquamenon State Park. Tahquamenon is the second largest of Michigan's state parks, bordered to the north by the majestic Lake Superior and also home to Tahquamenon Falls. These 50-foot falls are the second most voluminous east of the Mississippi, after Niagara. The park has 22 miles of hiking trails, and rowboats and canoes are available to rent to approach the Lower Falls. There are five campgrounds in the park, or you can stay at the handsome Magnuson Grand Hotel Lakefront eight miles from the park, which serves breakfast daily.
Before turning in for the night, head over to the Tahquamenon Falls Brewery for dinner and a couple of pints, known for having excellent food and beer. Just don't overdo it: you have an early morning tomorrow.
2. Day 2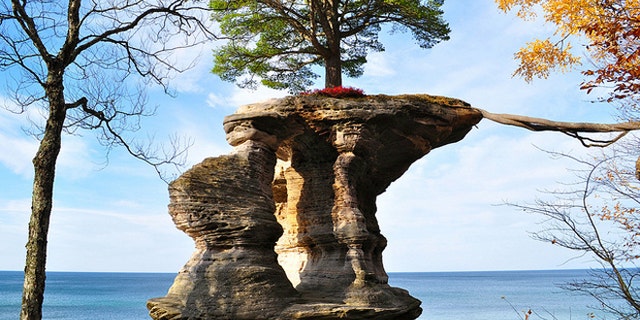 Get an early start for your visit to Pictured Rocks National Lakeshore. The lakeshore extends for 42 miles along the Lake Superior shoreline, but the portion you really want to visit is the 15 miles that give it its name with the colorful 200-foot-high sandstone cliffs just east of Munising that some say comprise the most beautiful shoreline in the U.S. There are several boat tour companies that will take you on a cruise through Pictured Rocks, as well as paddling outfitters that rent canoes and kayaks and also offer half- and full-day guided paddling tours. Check out Uncle Ducky Outdoors for tours and rentals.
The U.P. has more than 300 waterfalls that range from tiny rapids to majestic vertical falls like Tahquamenon. Pictured Rocks has some of the most spectacular. While some cascade off the sides of the Pictured Rocks cliffs like the seasonal Bridalveil Falls, most are only accessible by hiking. Pictured Rocks National Lakeshore has 90 miles of trails that vary in length and difficulty; hikers can go out for a couple of hours or for days at a time with camping gear.
Just east of Munising, the Chapel Basin–Mosquito Beach area of Pictured Rocks offers a number of different trails and scenic sights, including Chapel Falls, Chapel Rock, Chapel Lake, Spray Falls, Mosquito Beach, and Mosquito Falls. The trailhead for all of these sites is located five miles down the all-dirt Chapel Road about 14 miles east of Munising. There are separate trails for shorter hikes with their own sets of falls and scenic sites, or you can opt for the full Chapel loop which takes you past Chapel Falls, Chapel Rock, and along the Pictured Rocks cliffs to Grand Portal Point and the Mosquito River where you can then connect to the Mosquito Falls trail and back to the trailhead (a little over 10 miles total). About six miles east of Munising is Miners Castle Road, where you will find lookout points for Miners Castle as well as the trailhead for the relatively short hikes to Miners Falls and Miners Beach.
Stay the night at one of the many clean and economical hotels, motels and lodges along M-28 between Munising and Marquette. For dinner, head to the impressive Rock River Café in Chatham for farm-to-table dining featuring fresh local beef, fish, produce, and organic fair trade Michigan-roasted coffee, along with traditional Finnish dishes and vegetarian and vegan options. The Rock River Lunch Bag in Munising is excellent for coffee, homemade baked goods, and sandwiches on the go.
3. Days 3-4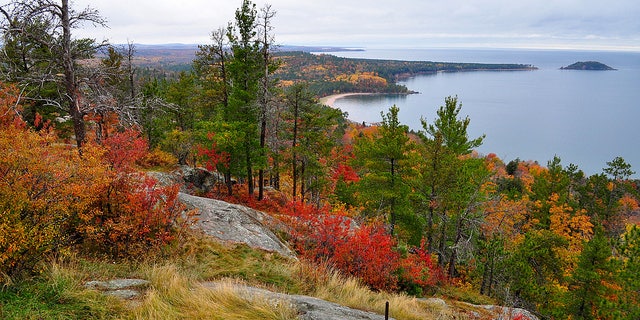 From Munising it's about an hour drive west to Marquette, the most cosmopolitan city in the U.P. As you drive down M-28, it's worth taking a few minutes to stop at Lakenenland, a free scrap iron sculpture park owned and maintained by ironworker-turned-artist Tom Lakenen.
Marquette is home to Northern Michigan University, and as such has that college town vibe. There are lots of bars, breweries, and restaurants as well as plenty of outdoor recreation opportunities to keep you occupied for a few days.
For outdoors enthusiasts, check out Presque Isle. The 323-acre isle juts out into Lake Superior and has hiking trails, picnic areas, playgrounds, and the picturesque Black Rocks – where all the cool kids go cliff-diving. You can also rent a bike from Marquette Bike Rentals and bike the Isle and country roads surrounding the city.
Hikers will find plenty of challenging and rewarding hikes on the surrounding Marquette, Sugarloaf, and Hogback Mountains, each with their own spectacular summit views, while Wetmore Landing offers equally stunning scenery through much less physically challenging terrain.
But if all the physical activity of the last few days has you ready to just sit in a cozy brew pub and relax, you can do that here too. Visit Vierling Restaurant and Marquette Harbor Brewery for whitefish and house microbrews. Grab some pizza and beers at Vango's. Head to the Portside Inn for great food in a great atmosphere with eight Michigan beers on tap. Get more pizza and Michigan beers at Aubree's. Check out Black Rocks Brewery and Ore Dock for more Marquette microbrews. Close out the popular local watering hole Remie's. In the morning, grab a bagel from Third Street Bagel, locally-roasted coffee from Dead River Coffee, or have a beautiful breakfast made from scratch with local ingredients at Sweet Water Café.
4. Days 5-6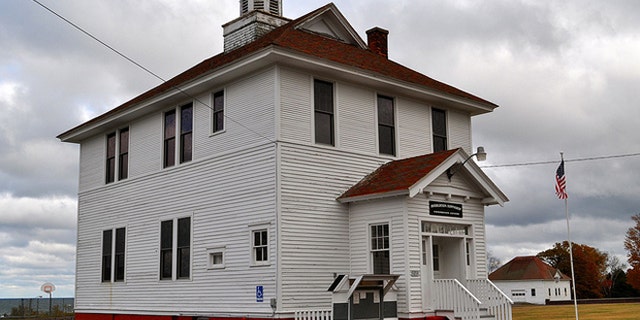 Stay in Marquette for a night or two, whatever you need to feel nice and rejuvenated. There are plenty of affordable lodging options in and around the city to choose from. As soon as you're ready to leave Marquette, head two and a half hours northwest to the Keweenaw Peninsula. Accessible only by lift bridge, the Keweenaw represents the Upper Peninsula in all its most rugged, most fierce, most majestic glory.
To get to the Keweenaw Peninsula, you have to cross the Houghton-Hancock Lift Bridge. Since you're driving through Houghton anyway, stop by the Keweenaw Brewing Company for a pint. Once you've crossed the bridge into Hancock, hit up the Ambassador Restaurant for some oddball pizza, grab a fresh fried fish sandwich from Peterson's Fish Market, or stop by the excellent Keweenaw Co-op for fresh, healthy prepared foods and stock up on local beers and specialty food items. On your way back through, stop by Suomi Home Bakery for breakfast and homemade pannukakku (Finnish pancakes).
The Keweenaw is vast and there are plenty of interesting places worth investigating, including many of the long-shuttered copper mines. The western Upper Peninsula is also known as "Copper Country" and was once the nation's lead producer of copper. Take some time to explore Calumet, once at the center of the Copper Country mining industry, and now mostly a ghost town working its way towards revival. Grab a cup of coffee at Keweenaw Coffee Works, a local roaster. Grab a bite at the cozy Omphale Gallery & Café, featuring homemade breakfast items and baked goods (including some gluten-free items) made from all natural and organic ingredients with works by local and regional artists on the walls. And be sure to walk through the opulent Calumet Theatre, a National Historic Landmark open to the public for self-guided tours. In fact, stop by the Keweenaw Convention & Visitors Bureau office for self-guided tour maps of Calumet and neighboring Laurium, and check out early 20th century treasures like the Works Progress Administration (a New Deal program) mural inside the Calumet Post Office.
The Keweenaw has a unique natural environment with copper-tinged cliffs and centuries-old virgin pines, more Scandinavian in appearance than northern Michigan. The area abounds with excellent hiking opportunities at Brockway Mountain, Bare Bluff, Mount Baldy, the Estivant Pines Wilderness Nature Sanctuary, Hungarian Falls and more. You can also take the ski lift up to the top of Mount Bohemia for only $8 per person and take in the views. Spend the day hiking then spend the night (or several nights…it should probably be at least two nights) at the superlative Eagle River Inn, home of Fitzgerald's, aka "The Fitz," which boasts an outstanding selection of rare craft beers; an extensive collection of bourbons, whiskeys, and Scotches; and excellent house-smoked barbecue. As the only beachfront restaurant with a patio on the shores of Lake Superior attached to a comfortable (and about as contemporary as you're going to find in the U.P.) inn, the Fitz is the crown jewel of dining destinations in the U.P. And pretty much in all of Michigan. Go there and go there often. Watch the waves of the mighty Lake Superior crash against the beach and let that sound lull you to sleep at night.
While staying at Eagle River Inn, drive north to Copper Harbor through the Keweenaw's own "Tunnel of Trees" along U.S. 41 --the road is very twisty so this is one experience you'll have to record with your mind's eye instead of your iPhone. Grab some fresh-brewed coffee and homemade baked goods at Brockway Inn. Belly up to the bar and chat with some very cool locals while knocking back a few pints at Brickside Brewery. And every morning without exception, stop by the Jam Pot for some monk muffins, boozey breads and cakes, and outstanding jams you'll want to eat right out of the jar with a spoon.