Environmentalists slam Nickelodeon's proposed underwater theme park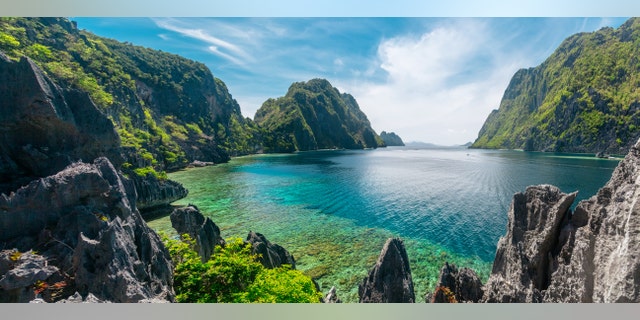 NEWYou can now listen to Fox News articles!
SpongeBob Squarepants may live in a pineapple under the sea but environmentalists in the Philippines are fighting to keep the beloved cartoon out of their oceans.
On Monday, Viacom International, Nickelodeon's parent company, announced its first collaboration with Coral World Park Undersea Resorts Inc., to develop the undersea attraction in Palawan-- an archipelagic province in the western Philippines in the Mimaropa region.
But as soon as the project for the nearly 1,000 acre theme park was announced, environmentalists raised alarm, citing Palawan's pristine natural beaches and coral reefs could be jeopardized by extensive development, reports CNN.
MASSIVE NICKELODEON THEME PARK COMPLEX PLANNED FOR NEW JERSEY
The theme park, slated to open in 2020, would feature a slew of attractions based on Viacom owned properties including "SpongeBob SquarePants," "Teenage Mutant Ninja Turtles," and "Dora the Explorer."
According to a press release, the park would be located amidst a cluster of 16 white sand islands of the Coral World Park (CWP) providing visitors with a multi-island experience accessible by speedboat. The theme park would also include hidden lagoons, hot springs, an animal reserve and world-class diving among shipwrecks. The resort would also feature a hotel, multiple restaurants and lounges located 20 feet below sea level.
The companies also claim that once completed, CWP will be the largest coral reef conservation program in Asia as the characters within the park will "advocate ocean protection."

But environmentalists have denounced Viacom's plans and are calling for an immediate halt to the project.
On Wednesday, Regina Lopez, Secretary of the Department of Environment and Natural Resources (DENR) said she would not allow the underwater theme park to go forward.
Criticisms of the park continued to escalate among conservation groups Wednesday. A petition created by co-founder of Save Philippine Seas, Anna Oposa, urges people to say no to the underwater theme park in Palawan and had already received over 150,000 signatures by Wednesday morning.
"Palawan, specifically Coron is a beautiful place. I think it would be shameful if there would be a theme park built. #CoronIsNotBikiniBottom."
"By building artificial structures, you will undeniably damage and disrupt Palawan's marine ecosystems -- our Last Frontier," Oposa says. "For a channel that targets children, Nickelodeon is setting a terrible example to the younger generation by taking away their right to enjoy our natural resources," said Oposa.
FOR THE LATEST TRAVEL FEATURES FOLLOW FOX LIFESTYLE ON FACEBOOK
A letter to the chairman of Coral World Park Undersea Resorts Inc. has been sent along with the signatures of people backing the campaign, asking for a dialogue regarding the issues, according to the petition.
Dozens of social media posts also echo Oposa's position.
The Palawan Council for Sustainable Development said the project had yet to be approved. Palawan Governor Pepito Alvarez told CNN that "his office has not received any application to put up the theme park."